Earlier Versions
| | | | | | |
| --- | --- | --- | --- | --- | --- |
| 2.12 release | 129.59 KB | Nov 4, 2021 | 9.1.5 | 40 | Download |
| V 2.11 release | 129.58 KB | Aug 9, 2021 | 9.1.0 | 197 | Download |
| V 2.10 release | 129.04 KB | Jul 21, 2021 | 9.1.0 | 138 | Download |
| V 2.09 release | 128.78 KB | Jul 7, 2021 | 9.1.0 | 150 | Download |
| V 2.08 release | 128.46 KB | Jul 6, 2021 | 9.1.0 | 59 | Download |
| V 2.06 release | 125.95 KB | May 3, 2021 | 9.0.5 | 413 | Download |
| V 2.05 release | 125.27 KB | May 2, 2021 | 9.0.5 | 42 | Download |
| V 2.04 release | 125.70 KB | Feb 15, 2021 | 9.0.2 | 222 | Download |
| V 2.03 release | 125.66 KB | Jan 24, 2021 | 9.0.2 | 201 | Download |
| V 3.03.d release | 125.30 KB | Jan 1, 2021 | 9.0.2 | 227 | Download |
| V 2.02.c release | 124.63 KB | Dec 17, 2020 | 9.0.2 | 171 | Download |
| V 2.02.b release | 124.52 KB | Dec 17, 2020 | 9.0.2 | 42 | Download |
| V 2.02.b release | 124.11 KB | Dec 10, 2020 | 9.0.2 | 127 | Download |
| 2.02.a release | 124.08 KB | Dec 9, 2020 | 9.0.2 | 97 | Download |
| V 2.02 release | 123.94 KB | Dec 7, 2020 | 9.0.2 | 118 | Download |
| V 2.01 release | 122.98 KB | Nov 14, 2020 | 9.0.1 | 102 | Download |
| V 2.0 release | 122.83 KB | Oct 14, 2020 | 9.0.1 | 75 | Download |
| V 1.05.b release | 122.08 KB | Mar 28, 2020 | 8.3.0 | 233 | Download |
| V 1.05 release | 122.17 KB | Mar 28, 2020 | 8.3.0 | 73 | Download |
| V 1.04.b release | 118.55 KB | Mar 22, 2020 | 8.3.0 | 175 | Download |
| V 1.04 release | 117.43 KB | Mar 21, 2020 | 8.3.0 | 37 | Download |
| V 1.03 release | 116.94 KB | Mar 15, 2020 | 8.3.0 | 105 | Download |
| V 1.02.b release | 116.77 KB | Mar 12, 2020 | 8.3.0 | 93 | Download |
| V 1.02 release | 116.78 KB | Mar 12, 2020 | 8.3.0 | 37 | Download |
| V 1.01 release | 104.00 KB | Feb 28, 2020 | 8.3.0 | 121 | Download |
| V 1.00.b release | 103.98 KB | Feb 19, 2020 | 8.3.0 | 85 | Download |
| V 1.0 release | 103.72 KB | Feb 5, 2020 | 8.3.0 | 64 | Download |
| V 0.6 beta | 100.19 KB | Jan 25, 2020 | 8.3.0 | 75 | Download |
| 0.4 beta | 104.08 KB | Nov 15, 2019 | 8.2.5 | 51 | Download |
| V 0.3 beta | 75.83 KB | Oct 24, 2019 | 8.2.5 | 34 | Download |
| V 0.2 beta | 73.65 KB | Oct 13, 2019 | 8.2.5 | 28 | Download |
| V 0.1 beta | 69.83 KB | Oct 7, 2019 | 8.2.5 | 34 | Download |
Description
Avyr Raid Tools
Create and display notes for raid cooldown assignments with entries that are highlighted based on encounter time or raid health.
Shortcut: /art
Languages: English and German
Key features:
Note display
The ability to have the current and the next entries up highlighted.
Automatic scrolling to always see the current/next entry.
Set personal keywords and cooldowns to have entries containing these highlighted.
Set up sounds to be played when entries containing keywords/your cooldowns are triggered.
A global sound can be set for all keywords/cooldowns and sound overrides can be set for specific keywords/cooldowns.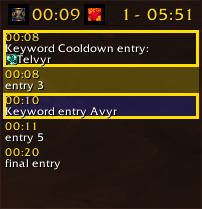 Note editor
Create note entries to be trigger based on time, damage taken by ability, raid HP of a combination.
Drag and drop cooldowns with healer names into these entries

Use (and adjust based on personal preferences) premade notes for encounters in Ny'alotha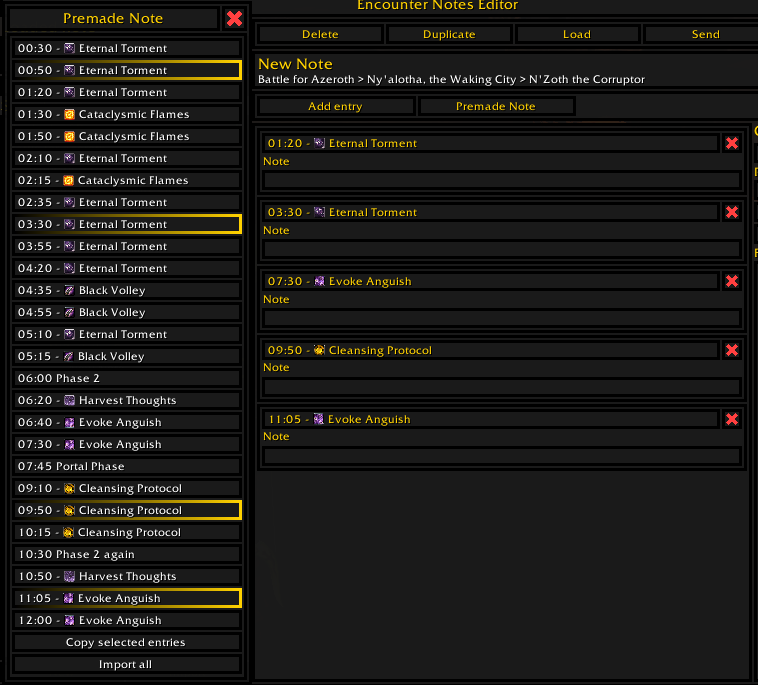 Information display
Enable an information display to show encounter time and BRez count and time (any component including the icons can be disabled).

Healer mana bars
Display the mana bars of all healers in one convenient place (zone check included, to filter out benched healers).

Any feedback, bug reports or suggestions for new features (large or small) are always welcome.