Earlier Versions
| | | | | | |
| --- | --- | --- | --- | --- | --- |
| v3.7 release | 6.97 KB | Sep 18, 2022 | 9.2.7 | 16 | Download |
| v3.6 release | 6.94 KB | Sep 14, 2022 | 9.2.7 | 70 | Download |
| v3.5 release | 6.36 KB | May 10, 2020 | 8.3.0 | 814 | Download |
| v3.4 release | 6.20 KB | Oct 12, 2019 | 8.2.5 | 480 | Download |
| v3.3 release | 6.15 KB | Oct 12, 2019 | 8.2.5 | 93 | Download |
| v3.2 release | 6.16 KB | Oct 12, 2019 | 8.2.5 | 18 | Download |
| v3.1 release | 6.08 KB | Dec 22, 2018 | 8.1.0 | 634 | Download |
| v3.0 release | 5.95 KB | Jul 18, 2018 | 8.0.1 | 1,049 | Download |
Description
Donate using PayPal if you ❤ this addon!
Alerts you when Battle.net friends switch WoW characters or games.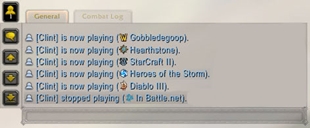 Features
Uses Battle.net color, sound, game icons, and clickable names for an authentic Blizzard feel.
Does NOT interfere with options Interface > Battle.net > Online Friends | Offline Friends.
Slash Commands
/bnfa window <name> : Set the name of the window to use for alerts. Use "default" to reset to DEFAULT_CHAT_FRAME.
/bnfa flash <setting> on|off : Enable or disable chat tab flash on alert.
/bnfa : Print commands listed above.
Use /bnfa window or /bnfa flash without parameters to print their current values.
Alternate /battlenetfriendalert
Why did you make this addon?
With the Battle.net App open after exiting games, many players are now in a perpetual online or away status. The online and offline in-game alerts no longer allow you to see when these friends start or stop playing.
Bugs & Suggestions
Please make sure you have the latest version and post into the Curse.com comments with details and if possible a screenshot. Thank you for taking the time to report an issue, it helps make the addon better for everyone.
Addons by cmc3215
CollectionShop
Professions Complete
Battle.net Friend Alert
Hide Clean Up Bags Button
Class Order Halls Complete
War Campaigns Complete
Work Orders Complete