Earlier Versions
| | | | | | |
| --- | --- | --- | --- | --- | --- |
| 205r002 release | 1.97 KB | Jan 19, 2022 | 2.5.2 | 0 | Download |
| C11400r1 release | 1.97 KB | Oct 16, 2021 | 1.14.1 | 488 | Download |
| 205r001 release | 1.97 KB | Oct 11, 2021 | 1.14.1 +1 | 1,212 | Download |
| 205b001 release | 1.97 KB | Apr 3, 2021 | 2.5.1 +1 | 1,992 | Download |
| 820r200 release | 1.97 KB | Aug 13, 2019 | 9.1.0 +2 | 8,735 | Download |
| 800r100 release | 1.97 KB | Apr 23, 2018 | 8.0.1 +1 | 2,687 | Download |
| 730r100 release | 1.97 KB | Sep 5, 2017 | 7.3.0 | 2,160 | Download |
| 7.1.0 r1 release | 2.06 KB | Oct 26, 2016 | 7.3.0 +4 | 1,170 | Download |
| 6.1.0 r1 release | 1.97 KB | Mar 18, 2015 | 6.1.0 | 1,600 | Download |
| 6.0.2 r1 release | 1.97 KB | Oct 14, 2014 | 6.0.2 | 1,116 | Download |
| BaudMark release | 1.97 KB | Jan 2, 2014 | 5.4.2 | 1,205 | Download |
| Buad Mark 1.2.1 release | 1.97 KB | Sep 9, 2012 | 5.0.4 | 1,919 | Download |
| Baud Mark 1.2.0 release | 1.82 KB | Sep 9, 2012 | 5.0.4 | 209 | Download |
| Baud Mark Continued release | 2.12 KB | Mar 29, 2010 | 3.3.3 | 259 | Download |
| 1.1 release | 2.07 KB | Oct 20, 2008 | 3.0.2 | 16,813 | Download |
| 1.011 release | 2.07 KB | Apr 16, 2008 | 2.4.0 | 1,590 | Download |
| 1.01 release | 2.02 KB | Nov 24, 2007 | 2.3.0 | 446 | Download |
| 1.0 release | 2.02 KB | Nov 12, 2007 | 2.2.3 | 510 | Download |
| 7.0.3 b1 beta | 1.97 KB | May 12, 2016 | 6.2.4 | 236 | Download |
| 7.0.3 a1 beta | 1.97 KB | Apr 27, 2016 | 6.2.4 | 152 | Download |
Description
Ready for

Burning Crusade

,

Classic

, and

Shadowlands

!
DejaDonate:
For target as well as world marker functionality, check out DejaMark.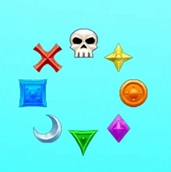 Changes from the original:
The center is blank, click it to clear the mark from your target,
Skull is now at the top.
Removed the limitation of not being able to mark targets when you are solo or not the party leader.
Enjoy!
What it does:
BuadMark:
Displays a circular menu around your cursor with marking symbols while a hotkey is held. The menu disappears when a symbol is selected, and reappears when you select another target (As long as the hotkey is still held).
Please see the screenshots to see the result.
Use:
Install to your addon directory and login to WoW. There are no preferences, only a key-binding.
With the hotkey held down right or left click on a symbol to mark a target with that symbol.
With the hotkey held down you can also right or left click on any symbol to clear that symbol's mark on a target.
To set a hotkey, look for the Baud Mark heading near the bottom of Blizzard's key-binding list.
Special Thanks:
This addon was written by Baudzila, I, Dejoblue, have been given his permission to maintain it as he plays WoW less these days. I have brought it back to make everyone's raiding life a little bit easier.