Earlier Versions
| | | | | | |
| --- | --- | --- | --- | --- | --- |
| Update 1.1 for your Enjoyment! release | 13.36 KB | Aug 28, 2019 | 1.13.2 | 577 | Download |
| WOTLK 3.3.5a Version alpha | 13.19 KB | May 21, 2020 | 3.3.5 | 12 | Download |
Description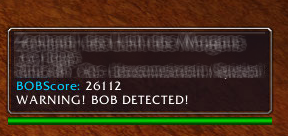 To revive the traditional Experience for the upcoming release of WoW Classic, I have redone my classic Addon "BOBScore" to work with classic!
Enjoy!
Fear no more mighty [insert your Name here],
with BOBScore there is finally the ultimate way to check if a player is skilled enough to join your raid / party!
Forget about Gearscore and other addons that just lead you to false intentions on a player all based on gear level!
With BOBScore you can see deep inside the heart of a player, where his true SKILL resides!
The absolutely accurate BOBScore value is shown in a nice and conveniant way inside the tooltip. As if that is not already awesome enough, no!
Watch your step as here comes the fancy part: BOBScore even shows you a nice quick text about the players SKILL and a warnings if you are facing a true BOB or even a real Pro Gamer!
BOBScore uses higher mathematics stolen from deep inside the KGB laboratorys, originally created to calculate the risk of nuclear strikes by aliens from Uranus! So you can be SURE that the BOBScore Value you are facing is nothing but the darn truth!!!!
And always remember -> It is NOT just a game!
Have Fun using BOBScore, and Populate it to become even more important that other comparable Addons ever were!
Rage
P.S. Of course BOBScore is intended to be fun, no one should feel insulted if his true level of SKILL is revealed by BOBScore! P.P.S. Feel free to help me continue developing BOBScore to get even better results, the formula behind BOBScore is yet very simple and needs a lot of work to be done :-)