Earlier Versions
| | | | | | |
| --- | --- | --- | --- | --- | --- |
| v016-classic release | 4.85 KB | Sep 7, 2021 | 1.13.7 | 0 | Download |
| v016-bcc release | 4.85 KB | Sep 7, 2021 | 2.5.2 | 0 | Download |
| v016 release | 4.85 KB | Sep 7, 2021 | 9.1.0 | 0 | Download |
| v015 release | 4.22 KB | Jul 1, 2021 | 1.13.7 +2 | 25 | Download |
| v014 release | 4.19 KB | May 21, 2021 | 1.13.7 +2 | 31 | Download |
| v013 release | 3.49 KB | Mar 10, 2021 | 9.0.5 | 1,758 | Download |
| v012 release | 3.47 KB | Mar 8, 2021 | 9.0.2 | 20 | Download |
| v011 release | 3.47 KB | Nov 19, 2020 | 9.0.2 | 21 | Download |
| v010 release | 3.47 KB | Oct 15, 2020 | 9.0.1 | 27 | Download |
| v009 release | 3.45 KB | Jan 16, 2020 | 8.3.0 | 41 | Download |
| v008 release | 3.45 KB | Oct 8, 2019 | 8.2.5 | 39 | Download |
| c001 release | 3.90 KB | Aug 10, 2019 | 1.13.2 | 178 | Download |
| v007 release | 3.45 KB | Jun 27, 2019 | 8.2.0 | 47 | Download |
| v006 release | 3.45 KB | Dec 14, 2018 | 8.1.0 | 97 | Download |
| v005 release | 3.45 KB | Jul 19, 2018 | 8.0.1 | 65 | Download |
| v004 release | 3.45 KB | Mar 28, 2018 | 7.3.5 | 87 | Download |
| v003 release | 3.42 KB | Jan 13, 2018 | 7.3.0 | 56 | Download |
| v002 release | 3.42 KB | Jan 13, 2018 | 7.3.0 | 23 | Download |
| v001 release | 2.59 KB | Jan 12, 2018 | 7.3.0 | 72 | Download |
Description
This addon can help you to bind multi-frames to a screen corner, so you can click the corner to hide or show all those frames, also show those hidden frames when move mouse to the corner.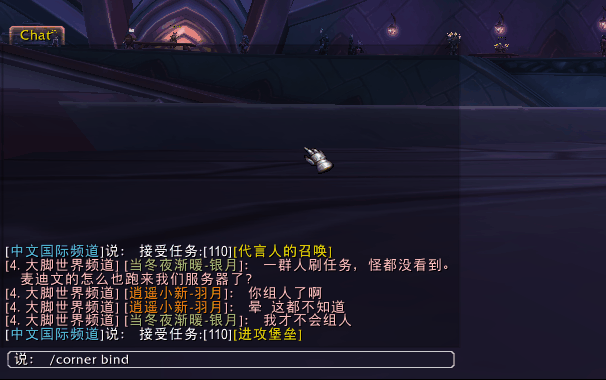 There are only one command can be used :
/corner bind [name] – Start the binding process, if the name isn't applied, you can select the frame by mouse, use mouse wheel to toggle the frame or it's parent, only frame with global name can be bind, left-click the frame to bind it or right-click it to cancel the binding process, then you can click any corner to bind the frame.
Install
1. You need download the ploop and Scorpio lib for working.
2. Or you can use the Twitch.App to download it automatically.
Q: How do I release the frames?
A: Just right-click the corner.
Q: Shall it works on the secure frames?
A: From v002, secure frames like raid panel, action buttons that created from the secure template can be toggled during combat(normally to say, the secure frames from the 3rd-party addons), most original frames are protected but not secure like the WorldMapFrame, it may cause taint if you use this addon to toggle them.