Earlier Versions
| | | | | | |
| --- | --- | --- | --- | --- | --- |
| GogoLoot (TBC) release | 223.42 KB | Aug 24, 2021 | 2.5.1 | 0 | Download |
| GogoLoot (Classic Era) release | 223.42 KB | Aug 24, 2021 | 1.13.7 | 0 | Download |
| GogoLoot (TBC) release | 222.92 KB | Aug 21, 2021 | 2.5.1 | 1,338 | Download |
| GogoLoot (Classic Era) release | 222.92 KB | Aug 21, 2021 | 1.13.7 | 28 | Download |
| GogoLoot (TBC) release | 228.81 KB | Aug 16, 2021 | 2.5.1 | 1,658 | Download |
| GogoLoot (Classic Era) release | 228.81 KB | Aug 16, 2021 | 1.13.7 | 34 | Download |
| GogoLoot (TBC) release | 218.46 KB | May 31, 2021 | 2.5.1 | 3,448 | Download |
| GogoLoot (Classic Era) release | 219.32 KB | May 31, 2021 | 1.13.7 | 196 | Download |
| GogoLoot-v1.6.zip release | 215.91 KB | Feb 7, 2021 | 1.13.6 | 3,898 | Download |
| GogoLoot-v1.5.zip release | 215.40 KB | Jan 21, 2021 | 1.13.6 | 877 | Download |
| GogoLoot-v1.4.zip release | 216.22 KB | Jan 7, 2021 | 1.13.6 | 454 | Download |
| GogoLoot-v1.3.zip release | 147.65 KB | Dec 8, 2020 | 1.13.6 | 160 | Download |
| GogoLoot-v1.2.zip release | 144.33 KB | Dec 5, 2020 | 1.13.6 | 56 | Download |
| GogoLoot-v1.1.zip release | 143.82 KB | Dec 4, 2020 | 1.13.6 | 21 | Download |
Description
GogoLoot
Don't Let Loot Slow Down Your Zug!
A Classic WoW Master Looting & Loot Automation Tool.
Updated for TBC!
NEW FEATURES FOR VERSION 1.8
Fixed an issue where GogoLoot would attempt to loot items from World Bosses in TBC.
Performance improvements!
New options for auto-roll rules based on Item Quality… Auto-Greed on Greens, Manual Rolls on Blues and Purples by Default.
New logic to never auto-roll on Recipes, Pets, or Mounts.
New default item ignore list for TBC content.
New option for Announcing Trades when in a Party or Raid.
Features for Master Looters
GogoLoot gives users the ability to set Loot Destinations so Master Looting works more like Regular Looting; see sparkles and click to have all of the gray, white, green, blue, or purple items sent to your designated targets so you spend more time killing bosses and less time in the Master Looter menu.
Don't worry, there's an Item Exceptions list as well. So if you want to vacuum up all the loot, but not accidentally loot a Nether Vortex to the wrong person we've got you covered. Also, just to avoid any drama, GogoLoot won't attempt to handle Mounts, Pets, or Recipes.
If you want to use GogoLoot just for non-Epics, that's fine too — just set it to use the "Standard Master Loot Window" for the quality of item you want to manually distribute. (Orange items will always appear in the Standard Master Loot Window.)
GogoLoot integrates with Softres.it (https://softres.it/)! Simply paste in your CSV export from Softres.it and GogoLoot will automatically loot items to the people who it can; when more than one person had a SR on an item, the Master Looter can manually call for a roll on that item.
GogoLoot settings will appear when you are promoted to Master Looter, or you can type /gl to bring up the window.
Other Features
By default "Auto Loot"and "Speedy Loot (No Loot Window)" settings are enabled.
By default, "Auto Greed on Green BoEs" is enabled.
And just a reminder, GogoLoot will never attempt to automatically roll on Mounts, Pets, or Recipes.
General Settings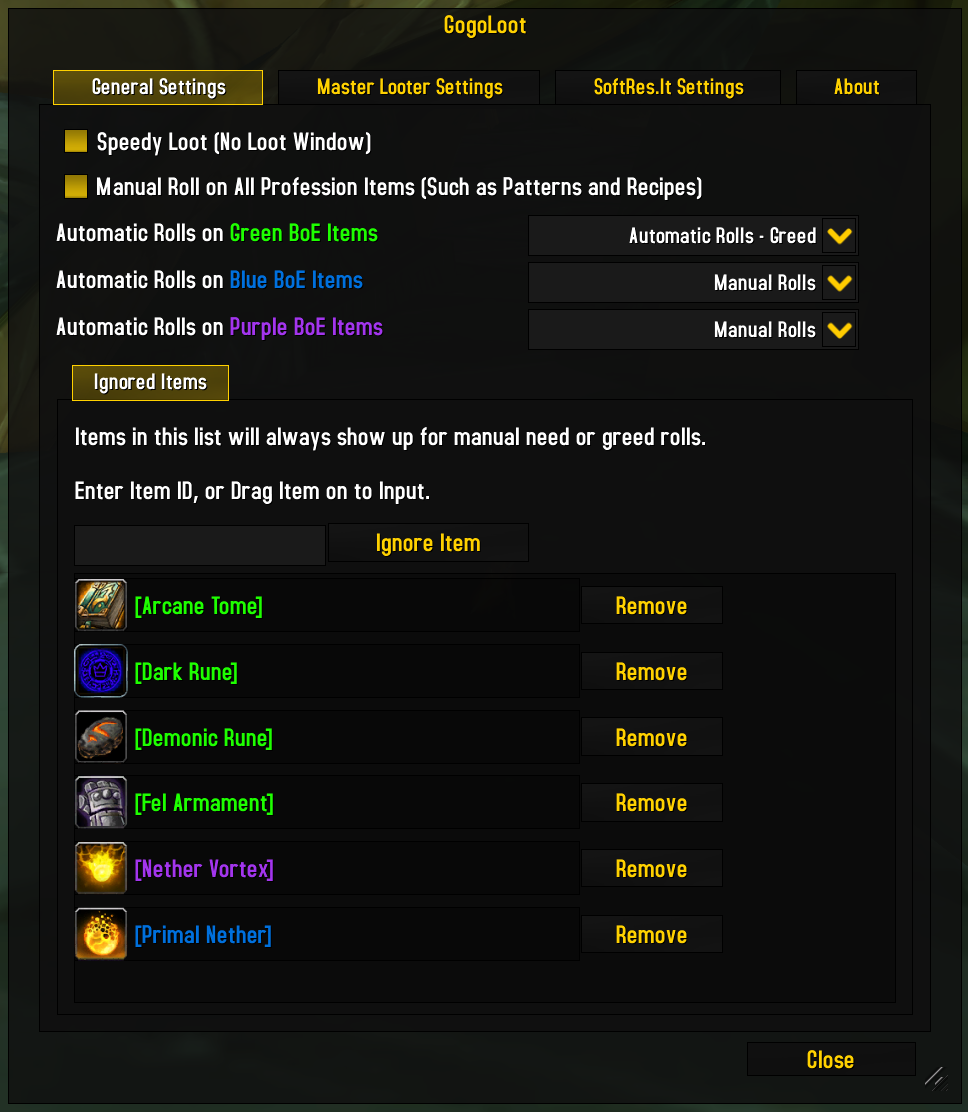 Master Loot Settings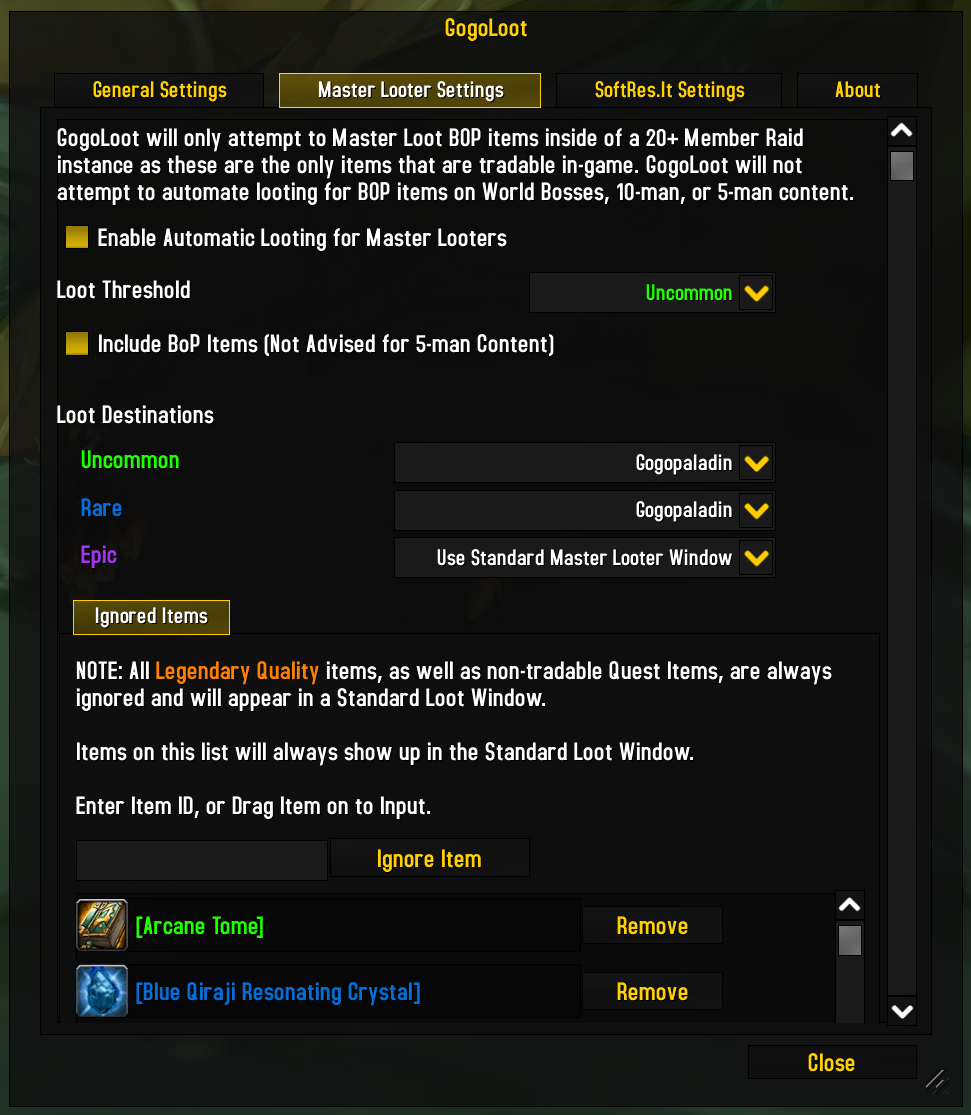 Feedback?
Discord – https://discord.gg/GegY9JMuKQ
GitHub – https://github.com/Gogo1951/GogoLoot/projects/