Earlier Versions
| | | | | | |
| --- | --- | --- | --- | --- | --- |
| GroupfinderFlags 0.15a release | 51.38 KB | Dec 26, 2022 | 10.0.2 | 36,935 | Download |
| GroupfinderFlags 0.15 release | 51.29 KB | Dec 24, 2022 | 10.0.2 | 17,987 | Download |
| GroupfinderFlags 0.14a release | 74.27 KB | Nov 21, 2022 | 10.0.2 | 31,572 | Download |
| GroupfinderFlags 0.14 release | 74.21 KB | Nov 16, 2022 | 10.0.2 | 20,531 | Download |
| GroupfinderFlags 0.13 release | 49.35 KB | Oct 28, 2022 | 10.0.0 | 25,079 | Download |
| GroupfinderFlags 0.12 release | 113.58 KB | Oct 18, 2020 | 9.0.1 | 81,365 | Download |
| GroupfinderFlags 0.11 release | 49.34 KB | Aug 2, 2019 | 8.2.0 | 34,473 | Download |
| GroupfinderFlags 0.10 release | 113.62 KB | Dec 13, 2018 | 8.1.0 | 19,329 | Download |
| GroupfinderFlags 0.9 release | 113.45 KB | Jul 29, 2018 | 8.0.1 | 12,444 | Download |
| GroupfinderFlags 0.8 release | 112.29 KB | Jul 18, 2018 | 8.0.1 | 8,059 | Download |
| GroupfinderFlags 0.7 release | 75.37 KB | Oct 18, 2017 | 7.3.0 | 7,461 | Download |
| GroupfinderFlags 0.6 release | 28.68 KB | Sep 6, 2017 | 7.3.0 | 1,773 | Download |
| GroupfinderFlags 0.5 release | 28.56 KB | Feb 24, 2017 | 7.1.5 | 1,992 | Download |
| GroupfinderFlags 0.4a release | 26.74 KB | Jan 22, 2017 | 7.1.5 | 624 | Download |
| GroupfinderFlags 0.4 release | 26.22 KB | Dec 20, 2016 | 7.1.0 | 533 | Download |
| GroupfinderFlags 0.3 release | 25.83 KB | Nov 13, 2016 | 7.1.0 | 414 | Download |
| GroupfinderFlags 0.2b release | 17.64 KB | Nov 3, 2016 | 7.1.0 | 225 | Download |
| GroupfinderFlags 0.2a release | 17.72 KB | Nov 2, 2016 | 7.1.0 | 134 | Download |
| GroupfinderFlags 0.2 release | 17.66 KB | Nov 2, 2016 | 7.1.0 | 102 | Download |
| GroupfinderFlags 0.1 release | 7.89 KB | Oct 28, 2016 | 7.1.0 | 184 | Download |
Description
GroupfinderFlags
This Addon adds flags to various ui elements to indicate a player's realm language and country.
European and american/oceanic regions only.
Usage
Options are integrated into Blizzard's Interface-Optionswindow
Access the options through GameMenu>Interface>AddOns>GroupfinderFlags …
… or simply type /gff or /groupfinderflags into your chat
Features
These flags are shown next to an applicant in the Group Finder (Premade Groups)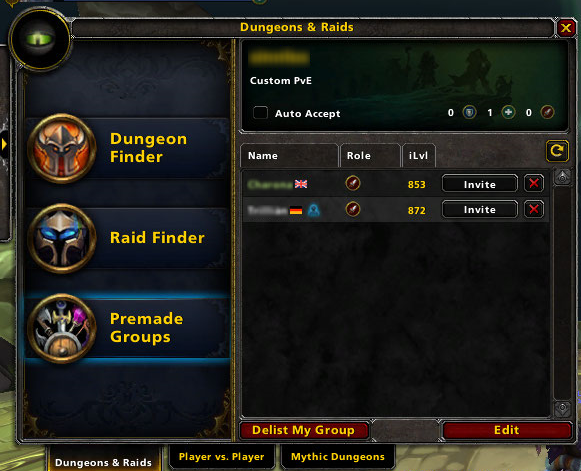 In the "Find a Group" section the flag of the group leader's realm is shown in the appropriate tooltip.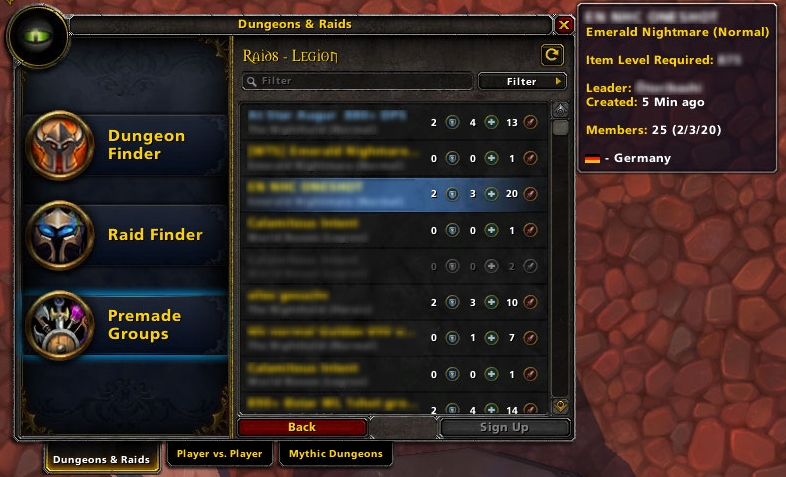 In addition these flags are also added to players' tooltips.