Earlier Versions
| | | | | | |
| --- | --- | --- | --- | --- | --- |
| r609 release | 254.41 KB | Jul 20, 2022 | 9.2.5 | 187 | Download |
| r608 release | 254.39 KB | Jul 14, 2022 | 9.2.5 | 1,022 | Download |
| r607 release | 254.33 KB | Jul 12, 2022 | 9.2.5 | 564 | Download |
| r606 release | 254.15 KB | Jul 8, 2022 | 9.2.5 | 801 | Download |
| r605 release | 249.02 KB | Jul 4, 2022 | 9.2.5 | 760 | Download |
| r604 release | 248.96 KB | Jun 30, 2022 | 9.2.5 | 803 | Download |
| r603 release | 248.87 KB | Jun 28, 2022 | 9.2.5 | 708 | Download |
| r602 release | 248.58 KB | Jun 5, 2022 | 9.2.5 | 1,778 | Download |
| r601 release | 248.58 KB | May 27, 2022 | 9.2.0 | 1,428 | Download |
| r600 release | 248.58 KB | May 23, 2022 | 9.2.0 | 921 | Download |
| r599 release | 247.54 KB | May 19, 2022 | 9.2.0 | 864 | Download |
| r598 release | 247.44 KB | May 16, 2022 | 9.2.0 | 817 | Download |
| r597 release | 247.47 KB | May 13, 2022 | 9.2.0 | 1,177 | Download |
| r596 release | 247.19 KB | May 11, 2022 | 9.2.0 | 786 | Download |
| r595 release | 246.73 KB | May 5, 2022 | 9.2.0 | 1,287 | Download |
| r594 release | 246.66 KB | Apr 29, 2022 | 9.2.0 | 1,419 | Download |
| r593 release | 246.42 KB | Apr 28, 2022 | 9.2.0 | 572 | Download |
| r592 release | 246.41 KB | Apr 27, 2022 | 9.2.0 | 541 | Download |
| r591 release | 246.36 KB | Apr 26, 2022 | 9.2.0 | 644 | Download |
| r590 release | 246.28 KB | Apr 15, 2022 | 9.2.0 | 1,843 | Download |
| r589 release | 246.25 KB | Apr 11, 2022 | 9.2.0 | 1,026 | Download |
| r588 release | 246.21 KB | Apr 7, 2022 | 9.2.0 | 1,175 | Download |
| r587 release | 246.17 KB | Apr 5, 2022 | 9.2.0 | 825 | Download |
| r586 release | 240.00 KB | Apr 1, 2022 | 9.2.0 | 1,086 | Download |
| r585 release | 239.89 KB | Mar 24, 2022 | 9.2.0 | 1,420 | Download |
| r584 release | 239.84 KB | Mar 3, 2022 | 9.2.0 | 2,201 | Download |
| r583 release | 239.79 KB | Feb 6, 2022 | 9.1.5 | 2,586 | Download |
| r582 release | 239.73 KB | Jan 28, 2022 | 9.1.5 | 1,377 | Download |
| r581 release | 239.39 KB | Dec 22, 2021 | 9.1.5 | 2,511 | Download |
| r580 release | 238.27 KB | Dec 5, 2021 | 9.1.5 | 1,804 | Download |
| r579 release | 238.20 KB | Nov 26, 2021 | 9.1.5 | 1,449 | Download |
| r578 release | 238.11 KB | Nov 22, 2021 | 9.1.5 | 1,025 | Download |
| r577 release | 238.05 KB | Nov 18, 2021 | 9.1.5 | 1,153 | Download |
| r576 release | 237.95 KB | Oct 7, 2021 | 9.1.0 | 2,746 | Download |
| r575 release | 237.40 KB | Sep 27, 2021 | 9.1.0 | 1,539 | Download |
| r574 release | 237.23 KB | Sep 24, 2021 | 9.1.0 | 1,031 | Download |
| r573 release | 237.14 KB | Sep 17, 2021 | 9.1.0 | 1,470 | Download |
| r572 release | 237.08 KB | Sep 16, 2021 | 9.1.0 | 490 | Download |
| r571 release | 234.35 KB | Aug 2, 2021 | 9.1.0 | 3,021 | Download |
| r570 release | 234.25 KB | Jul 31, 2021 | 9.1.0 | 1,168 | Download |
| r569 release | 234.21 KB | Jul 26, 2021 | 9.1.0 | 1,522 | Download |
| r568 release | 234.13 KB | Jul 22, 2021 | 9.1.0 | 1,535 | Download |
| r567 release | 234.09 KB | Jul 15, 2021 | 9.1.0 | 1,920 | Download |
| r566 release | 234.07 KB | Jul 2, 2021 | 9.1.0 | 2,485 | Download |
| r565 release | 233.83 KB | May 21, 2021 | 9.0.5 | 3,204 | Download |
| r564 release | 233.81 KB | May 14, 2021 | 9.0.5 | 1,859 | Download |
| r563 release | 233.81 KB | May 4, 2021 | 9.0.5 | 2,001 | Download |
| r562 release | 233.70 KB | Apr 22, 2021 | 9.0.5 | 2,301 | Download |
| r561 release | 233.49 KB | Mar 24, 2021 | 9.0.5 | 3,331 | Download |
| r560 release | 233.30 KB | Mar 5, 2021 | 9.0.2 | 3,486 | Download |
| r559 release | 233.25 KB | Mar 2, 2021 | 9.0.2 | 1,576 | Download |
| r558 release | 233.25 KB | Mar 1, 2021 | 9.0.2 | 885 | Download |
| r557 release | 242.49 KB | Feb 19, 2021 | 9.0.2 | 2,552 | Download |
| r556 release | 241.85 KB | Feb 16, 2021 | 9.0.2 | 1,639 | Download |
| r555 release | 241.71 KB | Feb 15, 2021 | 9.0.2 | 1,002 | Download |
| r554 release | 242.51 KB | Feb 12, 2021 | 9.0.2 | 1,748 | Download |
| r553 release | 242.50 KB | Feb 5, 2021 | 9.0.2 | 1,795 | Download |
| r552 release | 242.20 KB | Jan 25, 2021 | 9.0.2 | 3,095 | Download |
| r550 release | 241.91 KB | Dec 25, 2020 | 9.0.2 | 4,458 | Download |
| r549 release | 241.88 KB | Dec 22, 2020 | 9.0.2 | 2,204 | Download |
| r545 release | 209.20 KB | Nov 18, 2018 | 8.0.1 | 29,498 | Download |
| r543 release | 208.76 KB | Nov 11, 2018 | 8.0.1 | 6,297 | Download |
| r541 release | 208.68 KB | Oct 30, 2018 | 8.0.1 | 9,598 | Download |
| r539 release | 208.70 KB | Oct 28, 2018 | 8.0.1 | 3,318 | Download |
| r536 release | 208.54 KB | Oct 21, 2018 | 8.0.1 | 5,623 | Download |
| r533 release | 208.27 KB | Oct 1, 2018 | 8.0.1 | 5,661 | Download |
| r531 release | 212.52 KB | Sep 22, 2018 | 8.0.1 | 13,712 | Download |
| r530 release | 212.50 KB | Sep 13, 2018 | 8.0.1 | 10,938 | Download |
| r529 release | 212.49 KB | Sep 11, 2018 | 8.0.1 | 9,033 | Download |
| r526 release | 212.98 KB | Sep 8, 2018 | 8.0.1 | 7,564 | Download |
| r523 release | 212.60 KB | Sep 3, 2018 | 8.0.1 | 7,779 | Download |
| r517 release | 210.89 KB | Aug 17, 2018 | 8.0.1 | 16,194 | Download |
| r506 release | 210.70 KB | Aug 10, 2018 | 8.0.1 | 10,163 | Download |
| r502 release | 210.51 KB | Aug 8, 2018 | 8.0.1 | 4,881 | Download |
| r501 release | 203.66 KB | Aug 7, 2018 | 8.0.1 | 2,899 | Download |
| Hedd-8.0.1-9.zip release | 144.98 KB | Jul 31, 2018 | 8.0.1 | 8,887 | Download |
| r492 release | 105.23 KB | Dec 26, 2017 | 7.3.0 | 31,531 | Download |
| r491 release | 105.28 KB | Dec 23, 2017 | 7.3.0 | 5,363 | Download |
| r487 release | 104.65 KB | Dec 13, 2017 | 7.3.0 | 9,746 | Download |
| r486 release | 104.14 KB | Dec 11, 2017 | 7.3.0 | 6,512 | Download |
| r485 release | 104.11 KB | Dec 8, 2017 | 7.3.0 | 6,932 | Download |
| r484 release | 104.02 KB | Nov 27, 2017 | 7.3.0 | 3,155 | Download |
| r482 release | 103.83 KB | Oct 24, 2017 | 7.3.0 | 19,029 | Download |
| r481 release | 103.80 KB | Oct 17, 2017 | 7.3.0 | 10,842 | Download |
| r477 release | 103.40 KB | Sep 15, 2017 | 7.3.0 | 17,440 | Download |
| r476 release | 103.43 KB | Sep 8, 2017 | 7.3.0 | 11,486 | Download |
| r475 release | 103.34 KB | Sep 1, 2017 | 7.3.0 | 11,746 | Download |
| r474 release | 103.31 KB | Aug 31, 2017 | 7.3.0 | 9,249 | Download |
| r473 release | 103.28 KB | Aug 29, 2017 | 7.3.0 | 10,937 | Download |
| r472 release | 102.94 KB | Aug 25, 2017 | 7.2.5 | 8,900 | Download |
| r467 release | 102.58 KB | Jul 24, 2017 | 7.2.5 | 17,674 | Download |
| r466 release | 102.42 KB | Jul 21, 2017 | 7.2.5 | 7,195 | Download |
| r463 release | 101.65 KB | Jul 6, 2017 | 7.2.5 | 14,943 | Download |
| r461 release | 101.48 KB | Jul 4, 2017 | 7.2.5 | 7,516 | Download |
| r459 release | 101.48 KB | Jul 1, 2017 | 7.2.5 | 9,279 | Download |
| r458 release | 101.37 KB | Jun 30, 2017 | 7.2.5 | 4,156 | Download |
| r457 release | 101.38 KB | Jun 29, 2017 | 7.2.5 | 5,788 | Download |
| r456 release | 100.89 KB | Jun 27, 2017 | 7.2.5 | 7,772 | Download |
| r453 release | 100.09 KB | Jun 22, 2017 | 7.2.5 | 10,560 | Download |
| r452 release | 99.57 KB | Jun 19, 2017 | 7.2.5 | 9,685 | Download |
| r451 release | 99.47 KB | Jun 17, 2017 | 7.2.5 | 8,273 | Download |
| r443 release | 96.55 KB | Apr 17, 2017 | 7.2.0 | 22,694 | Download |
| r442 release | 96.54 KB | Apr 14, 2017 | 7.2.0 | 9,620 | Download |
| r441 release | 96.37 KB | Apr 13, 2017 | 7.2.0 | 6,535 | Download |
| r440 release | 96.24 KB | Mar 28, 2017 | 7.1.5 | 20,680 | Download |
| r439 release | 96.22 KB | Mar 24, 2017 | 7.1.5 | 10,343 | Download |
| r435 release | 95.94 KB | Mar 14, 2017 | 7.1.5 | 14,039 | Download |
| r434 release | 95.83 KB | Mar 13, 2017 | 7.1.5 | 4,726 | Download |
| r430 release | 96.71 KB | Mar 6, 2017 | 7.1.5 | 12,613 | Download |
| r429 release | 96.66 KB | Mar 3, 2017 | 7.1.5 | 9,922 | Download |
| r428 release | 96.63 KB | Mar 1, 2017 | 7.1.5 | 8,624 | Download |
| r425 release | 96.19 KB | Feb 17, 2017 | 7.1.5 | 16,794 | Download |
| r421 release | 95.52 KB | Feb 3, 2017 | 7.1.5 | 19,568 | Download |
| r420 release | 95.09 KB | Feb 1, 2017 | 7.1.5 | 10,314 | Download |
| r418 release | 94.79 KB | Jan 23, 2017 | 7.1.5 | 17,222 | Download |
| r417 release | 94.77 KB | Jan 20, 2017 | 7.1.5 | 13,437 | Download |
| r412 release | 93.63 KB | Dec 12, 2016 | 7.1.0 | 30,360 | Download |
| r411 release | 93.58 KB | Dec 8, 2016 | 7.1.0 | 14,156 | Download |
| r410 release | 93.36 KB | Dec 7, 2016 | 7.1.0 | 6,930 | Download |
| r409 release | 93.32 KB | Nov 30, 2016 | 7.1.0 | 16,712 | Download |
| r408 release | 93.30 KB | Nov 28, 2016 | 7.1.0 | 11,151 | Download |
| r407 release | 93.68 KB | Nov 25, 2016 | 7.1.0 | 14,006 | Download |
| r406 release | 91.09 KB | Nov 11, 2016 | 7.1.0 | 24,239 | Download |
| r405 release | 90.87 KB | Nov 10, 2016 | 7.1.0 | 8,865 | Download |
| r404 release | 90.81 KB | Oct 30, 2016 | 7.1.0 | 24,247 | Download |
| r403 release | 90.76 KB | Oct 28, 2016 | 7.1.0 | 13,476 | Download |
| r402 release | 90.60 KB | Oct 26, 2016 | 7.1.0 | 16,962 | Download |
| r401 release | 90.58 KB | Oct 26, 2016 | 7.1.0 | 4,672 | Download |
| r399 release | 90.67 KB | Oct 18, 2016 | 7.0.3 | 22,780 | Download |
| r397 release | 90.59 KB | Oct 12, 2016 | 7.0.3 | 18,183 | Download |
| r396 release | 90.58 KB | Oct 11, 2016 | 7.0.3 | 9,508 | Download |
| r395 release | 90.49 KB | Oct 11, 2016 | 7.0.3 | 5,107 | Download |
| r394 release | 90.53 KB | Oct 10, 2016 | 7.0.3 | 8,603 | Download |
| r392 release | 90.55 KB | Oct 8, 2016 | 7.0.3 | 12,301 | Download |
| r391 release | 90.67 KB | Sep 30, 2016 | 7.0.3 | 21,199 | Download |
| r389 release | 90.78 KB | Sep 23, 2016 | 7.0.3 | 20,282 | Download |
| r388 release | 90.81 KB | Sep 20, 2016 | 7.0.3 | 16,337 | Download |
| r387 release | 90.90 KB | Sep 15, 2016 | 7.0.3 | 17,090 | Download |
| r386 release | 90.81 KB | Sep 14, 2016 | 7.0.3 | 9,177 | Download |
| r385 release | 90.61 KB | Sep 13, 2016 | 7.0.3 | 8,740 | Download |
| r384 release | 91.25 KB | Sep 12, 2016 | 7.0.3 | 6,978 | Download |
| r383 release | 91.38 KB | Sep 10, 2016 | 7.0.3 | 13,153 | Download |
| r380 release | 91.17 KB | Sep 7, 2016 | 7.0.3 | 12,376 | Download |
| r379 release | 91.14 KB | Sep 5, 2016 | 7.0.3 | 11,557 | Download |
| r378 release | 90.93 KB | Sep 5, 2016 | 7.0.3 | 5,002 | Download |
| r377 release | 91.05 KB | Sep 3, 2016 | 7.0.3 | 10,347 | Download |
| r376 release | 90.90 KB | Sep 3, 2016 | 7.0.3 | 5,772 | Download |
| r372 release | 89.72 KB | Sep 1, 2016 | 7.0.3 | 10,326 | Download |
| r371 release | 89.34 KB | Aug 31, 2016 | 7.0.3 | 7,909 | Download |
| r370 release | 89.28 KB | Aug 30, 2016 | 7.0.3 | 8,904 | Download |
| r367 release | 89.44 KB | Aug 25, 2016 | 7.0.3 | 14,097 | Download |
| r365 release | 117.71 KB | Aug 23, 2016 | 7.0.3 | 8,064 | Download |
| r363 release | 113.51 KB | Aug 20, 2016 | 7.0.3 | 8,721 | Download |
| r362 release | 110.05 KB | Aug 18, 2016 | 7.0.3 | 7,784 | Download |
| r361 release | 110.26 KB | Aug 17, 2016 | 7.0.3 | 5,375 | Download |
| r360 release | 109.49 KB | Aug 16, 2016 | 7.0.3 | 5,244 | Download |
| r358 release | 103.74 KB | Aug 14, 2016 | 7.0.3 | 7,571 | Download |
| r357 release | 103.72 KB | Aug 12, 2016 | 7.0.3 | 6,970 | Download |
| r356 release | 103.60 KB | Aug 10, 2016 | 7.0.3 | 7,831 | Download |
| r355 release | 102.82 KB | Aug 9, 2016 | 7.0.3 | 4,859 | Download |
| r354 release | 102.63 KB | Aug 9, 2016 | 7.0.3 | 2,101 | Download |
| r352 release | 102.53 KB | Aug 8, 2016 | 7.0.3 | 2,618 | Download |
| r350 release | 100.36 KB | Aug 7, 2016 | 7.0.3 | 3,209 | Download |
| r348 release | 99.32 KB | Aug 4, 2016 | 7.0.3 | 5,873 | Download |
| r347 release | 99.20 KB | Aug 4, 2016 | 7.0.3 | 1,602 | Download |
| r346 release | 98.72 KB | Aug 3, 2016 | 7.0.3 | 3,952 | Download |
| r345 release | 98.44 KB | Aug 2, 2016 | 7.0.3 | 2,628 | Download |
| r343 release | 95.06 KB | Aug 1, 2016 | 7.0.3 | 4,399 | Download |
| r342 release | 94.79 KB | Jul 31, 2016 | 7.0.3 | 2,173 | Download |
| r340 release | 94.81 KB | Jul 31, 2016 | 7.0.3 | 2,246 | Download |
| r339 release | 94.54 KB | Jul 29, 2016 | 7.0.3 | 4,649 | Download |
| r338 release | 93.56 KB | Jul 28, 2016 | 7.0.3 | 3,239 | Download |
| r337 release | 90.30 KB | Jul 27, 2016 | 7.0.3 | 3,312 | Download |
| r336 release | 90.22 KB | Jul 27, 2016 | 7.0.3 | 1,154 | Download |
| r335 release | 90.75 KB | Jul 26, 2016 | 7.0.3 | 3,052 | Download |
| r332 release | 90.00 KB | Jul 24, 2016 | 7.0.3 | 5,076 | Download |
| r329 release | 89.64 KB | Jul 22, 2016 | 7.0.3 | 4,226 | Download |
| r328 release | 89.49 KB | Jul 21, 2016 | 7.0.3 | 4,065 | Download |
| r326 release | 89.44 KB | Jul 21, 2016 | 7.0.3 | 385 | Download |
| r325 release | 89.12 KB | Jul 21, 2016 | 7.0.3 | 2,157 | Download |
| r324 release | 84.24 KB | Jul 20, 2016 | 7.0.3 | 2,059 | Download |
| r322 release | 84.14 KB | Jul 19, 2016 | 6.2.4 | 4,007 | Download |
| r321 release | 87.27 KB | Jul 18, 2016 | 6.2.4 | 1,951 | Download |
| r319 release | 87.04 KB | Jul 15, 2016 | 6.2.4 | 2,467 | Download |
| r318 release | 86.73 KB | Jul 14, 2016 | 6.2.4 | 993 | Download |
| r315 release | 85.64 KB | Jul 12, 2016 | 7.0.3 | 216 | Download |
| r313 release | 79.47 KB | Jun 15, 2016 | 6.2.4 | 7,297 | Download |
| r311 release | 79.66 KB | Jun 8, 2016 | 6.2.4 | 3,679 | Download |
| r310 release | 79.44 KB | Jun 6, 2016 | 6.2.4 | 1,719 | Download |
| r309 release | 79.18 KB | May 31, 2016 | 6.2.4 | 2,839 | Download |
| r306 release | 79.26 KB | May 20, 2016 | 6.2.4 | 3,543 | Download |
| r305 release | 79.46 KB | May 13, 2016 | 6.2.4 | 3,054 | Download |
| r304 release | 79.43 KB | May 10, 2016 | 6.2.4 | 1,984 | Download |
| r302 release | 79.69 KB | May 5, 2016 | 6.2.4 | 2,274 | Download |
| r301 release | 79.96 KB | Apr 21, 2016 | 6.2.4 | 4,025 | Download |
| r300 release | 79.85 KB | Apr 20, 2016 | 6.2.4 | 1,246 | Download |
| r299 release | 79.67 KB | Apr 18, 2016 | 6.2.4 | 1,504 | Download |
| r298 release | 79.55 KB | Apr 14, 2016 | 6.2.4 | 2,224 | Download |
| r297 release | 78.99 KB | Apr 13, 2016 | 6.2.4 | 721 | Download |
| r296 release | 78.77 KB | Apr 7, 2016 | 6.2.4 | 2,639 | Download |
| r295 release | 77.42 KB | Apr 4, 2016 | 6.2.4 | 1,912 | Download |
| r294 release | 77.49 KB | Apr 2, 2016 | 6.2.4 | 1,262 | Download |
| r292 release | 77.51 KB | Mar 30, 2016 | 6.2.4 | 2,160 | Download |
| r288 release | 76.59 KB | Mar 28, 2016 | 6.2.4 | 1,487 | Download |
| r287 release | 76.07 KB | Mar 27, 2016 | 6.2.4 | 1,327 | Download |
| r284 release | 75.54 KB | Mar 21, 2016 | 6.2.3 | 2,156 | Download |
| r283 release | 75.49 KB | Mar 17, 2016 | 6.2.3 | 1,521 | Download |
| r281 release | 75.06 KB | Mar 14, 2016 | 6.2.3 | 1,761 | Download |
| r279 release | 74.49 KB | Mar 11, 2016 | 6.2.3 | 1,528 | Download |
| r277 release | 74.17 KB | Mar 10, 2016 | 6.2.3 | 936 | Download |
| r273 release | 73.39 KB | Mar 3, 2016 | 6.2.3 | 1,825 | Download |
| r272 release | 73.50 KB | Mar 1, 2016 | 6.2.3 | 1,555 | Download |
| r271 release | 73.44 KB | Mar 1, 2016 | 6.2.3 | 263 | Download |
| r270 release | 73.30 KB | Feb 29, 2016 | 6.2.3 | 736 | Download |
| r269 release | 73.23 KB | Feb 25, 2016 | 6.2.3 | 1,622 | Download |
| r268 release | 73.22 KB | Feb 18, 2016 | 6.2.3 | 1,851 | Download |
| r266 release | 73.05 KB | Feb 16, 2016 | 6.2.3 | 1,377 | Download |
| r264 release | 72.97 KB | Feb 5, 2016 | 6.2.3 | 2,284 | Download |
| r263 release | 67.79 KB | Feb 2, 2016 | 6.2.3 | 1,481 | Download |
| r262 release | 67.73 KB | Feb 1, 2016 | 6.2.3 | 769 | Download |
| r261 release | 67.49 KB | Jan 31, 2016 | 6.2.3 | 909 | Download |
| r255 release | 63.07 KB | Jan 21, 2016 | 6.2.3 | 2,071 | Download |
| r252 release | 62.75 KB | Jan 18, 2016 | 6.2.3 | 1,313 | Download |
| r251 release | 62.01 KB | Jan 15, 2016 | 6.2.3 | 1,292 | Download |
| r243 release | 59.94 KB | Dec 25, 2015 | 6.2.3 | 3,097 | Download |
| r242 release | 59.52 KB | Dec 21, 2015 | 6.2.3 | 890 | Download |
| r241 release | 59.46 KB | Dec 14, 2015 | 6.2.3 | 2,003 | Download |
| r239 release | 59.57 KB | Nov 6, 2015 | 6.2.2 | 3,994 | Download |
| r234 release | 59.34 KB | Oct 30, 2015 | 6.2.2 | 1,369 | Download |
| r232 release | 55.34 KB | Oct 26, 2015 | 6.2.2 | 1,071 | Download |
| r231 release | 54.88 KB | Oct 23, 2015 | 6.2.2 | 878 | Download |
| r230 release | 54.63 KB | Oct 22, 2015 | 6.2.2 | 851 | Download |
| r228 release | 52.95 KB | Oct 19, 2015 | 6.2.2 | 862 | Download |
| r225 release | 52.53 KB | Oct 8, 2015 | 6.2.2 | 1,472 | Download |
| r223 release | 51.94 KB | Oct 6, 2015 | 6.2.2 | 667 | Download |
| r220 release | 50.83 KB | Oct 3, 2015 | 6.2.2 | 862 | Download |
| r219 release | 50.68 KB | Sep 30, 2015 | 6.2.2 | 704 | Download |
| r216 release | 49.01 KB | Sep 24, 2015 | 6.2.2 | 1,149 | Download |
| r214 release | 48.65 KB | Sep 22, 2015 | 6.2.2 | 725 | Download |
| r213 release | 48.29 KB | Sep 21, 2015 | 6.2.2 | 599 | Download |
| r212 release | 48.27 KB | Sep 18, 2015 | 6.2.2 | 623 | Download |
| r210 release | 48.31 KB | Aug 31, 2015 | 6.2.0 | 1,627 | Download |
| r209 release | 47.54 KB | Aug 24, 2015 | 6.2.0 | 1,109 | Download |
| r208 release | 47.56 KB | Aug 21, 2015 | 6.2.0 | 755 | Download |
| r207 release | 47.52 KB | Aug 21, 2015 | 6.2.0 | 291 | Download |
| r202 release | 46.95 KB | Aug 14, 2015 | 6.2.0 | 1,017 | Download |
| r200 release | 45.80 KB | Jul 23, 2015 | 6.2.0 | 1,769 | Download |
| r199 release | 45.50 KB | Jul 21, 2015 | 6.2.0 | 556 | Download |
| r198 release | 45.25 KB | Jul 20, 2015 | 6.2.0 | 646 | Download |
| r197 release | 46.18 KB | Jul 13, 2015 | 6.2.0 | 1,038 | Download |
| r195 release | 45.73 KB | Jul 8, 2015 | 6.2.0 | 779 | Download |
| r191 release | 43.35 KB | Jul 3, 2015 | 6.2.0 | 938 | Download |
| r189 release | 43.27 KB | Jun 30, 2015 | 6.2.0 | 742 | Download |
| r188 release | 43.14 KB | Jun 29, 2015 | 6.2.0 | 550 | Download |
| r187 release | 42.76 KB | Jun 24, 2015 | 6.2.0 | 948 | Download |
| r186 release | 42.62 KB | Jun 23, 2015 | 6.2.0 | 466 | Download |
| r185 release | 41.50 KB | Jun 22, 2015 | 6.1.0 | 577 | Download |
| r180 release | 63.16 KB | Jun 15, 2015 | 6.1.0 | 687 | Download |
| r179 release | 61.56 KB | Jun 12, 2015 | 6.1.0 | 636 | Download |
| r176 release | 59.74 KB | May 28, 2015 | 6.1.0 | 695 | Download |
| r175 release | 59.45 KB | May 27, 2015 | 6.1.0 | 365 | Download |
| r165 release | 55.84 KB | Apr 11, 2015 | 6.1.0 | 1,080 | Download |
| r164 release | 55.87 KB | Apr 10, 2015 | 6.1.0 | 215 | Download |
| r550-b beta | 242.20 KB | Jan 22, 2021 | 9.0.2 | 363 | Download |
| r431 beta | 96.72 KB | Mar 7, 2017 | 7.1.5 | 373 | Download |
| r415 beta | 94.48 KB | Jan 13, 2017 | 7.1.5 | 8,256 | Download |
| r414 beta | 94.32 KB | Jan 12, 2017 | 7.1.5 | 430 | Download |
| r413 beta | 93.96 KB | Jan 11, 2017 | 7.1.5 | 357 | Download |
| r366 beta | 87.05 KB | Aug 24, 2016 | 7.0.3 | 404 | Download |
| r364 beta | 117.49 KB | Aug 22, 2016 | 7.0.3 | 427 | Download |
| r308 beta | 79.85 KB | May 25, 2016 | 6.2.4 | 293 | Download |
| r289 beta | 77.09 KB | Mar 29, 2016 | 6.2.4 | 212 | Download |
| r282 beta | 75.21 KB | Mar 16, 2016 | 6.2.3 | 275 | Download |
| r276 beta | 73.49 KB | Mar 10, 2016 | 6.2.3 | 152 | Download |
| r275 beta | 73.44 KB | Mar 9, 2016 | 6.2.3 | 137 | Download |
| r265 beta | 73.00 KB | Feb 15, 2016 | 6.2.3 | 187 | Download |
| r259 beta | 67.37 KB | Jan 28, 2016 | 6.2.3 | 232 | Download |
| r254 beta | 62.93 KB | Jan 20, 2016 | 6.2.3 | 219 | Download |
| r247 beta | 61.06 KB | Jan 12, 2016 | 6.2.3 | 273 | Download |
| r245 beta | 60.78 KB | Jan 11, 2016 | 6.2.3 | 267 | Download |
| r240 beta | 59.44 KB | Dec 10, 2015 | 6.2.3 | 900 | Download |
| r238 beta | 59.46 KB | Nov 5, 2015 | 6.2.2 | 274 | Download |
| r237 beta | 59.49 KB | Nov 3, 2015 | 6.2.2 | 217 | Download |
| r233 beta | 55.70 KB | Oct 27, 2015 | 6.2.2 | 258 | Download |
| r229 beta | 53.84 KB | Oct 20, 2015 | 6.2.2 | 248 | Download |
| r227 beta | 52.90 KB | Oct 16, 2015 | 6.2.2 | 243 | Download |
| r218 beta | 50.25 KB | Sep 29, 2015 | 6.2.2 | 247 | Download |
| r204 beta | 47.03 KB | Aug 19, 2015 | 6.2.0 | 214 | Download |
| r201 beta | 46.95 KB | Aug 11, 2015 | 6.2.0 | 253 | Download |
| r196 beta | 46.14 KB | Jul 13, 2015 | 6.2.0 | 215 | Download |
| r190 beta | 43.35 KB | Jul 2, 2015 | 6.2.0 | 234 | Download |
| r184 beta | 41.01 KB | Jun 22, 2015 | 6.1.0 | 216 | Download |
| r181 beta | 63.54 KB | Jun 16, 2015 | 6.1.0 | 110 | Download |
| r178 beta | 61.50 KB | Jun 11, 2015 | 6.1.0 | 460 | Download |
| r168 beta | 57.59 KB | May 13, 2015 | 6.1.0 | 386 | Download |
| r167 beta | 57.70 KB | Apr 30, 2015 | 6.1.0 | 470 | Download |
| r162 beta | 55.65 KB | Apr 1, 2015 | 6.1.0 | 673 | Download |
| r160 beta | 55.87 KB | Mar 26, 2015 | 6.1.0 | 551 | Download |
| r159 beta | 55.83 KB | Mar 24, 2015 | 6.1.0 | 428 | Download |
| r157 beta | 55.52 KB | Mar 20, 2015 | 6.1.0 | 531 | Download |
| r156 beta | 55.48 KB | Mar 19, 2015 | 6.1.0 | 374 | Download |
| r155 beta | 55.44 KB | Mar 18, 2015 | 6.1.0 | 253 | Download |
| r154 beta | 55.40 KB | Mar 4, 2015 | 6.1.0 | 779 | Download |
| r153 beta | 53.33 KB | Feb 27, 2015 | 6.1.0 | 589 | Download |
| r151 beta | 53.38 KB | Feb 25, 2015 | 6.1.0 | 581 | Download |
| r150 beta | 53.22 KB | Feb 20, 2015 | 6.1.0 | 596 | Download |
| r149 beta | 53.20 KB | Feb 19, 2015 | 6.0.3 | 352 | Download |
| r148 beta | 53.06 KB | Feb 17, 2015 | 6.0.3 | 327 | Download |
| r147 beta | 53.35 KB | Feb 16, 2015 | 6.0.3 | 410 | Download |
| r146 beta | 53.22 KB | Feb 10, 2015 | 6.0.3 | 611 | Download |
| r145 beta | 53.19 KB | Feb 9, 2015 | 6.0.3 | 410 | Download |
| r141 beta | 53.20 KB | Jan 19, 2015 | 6.0.3 | 869 | Download |
| r138 beta | 51.96 KB | Jan 6, 2015 | 6.0.3 | 651 | Download |
| r132 beta | 51.73 KB | Dec 2, 2014 | 6.0.3 | 888 | Download |
| r131 beta | 48.70 KB | Nov 13, 2014 | 6.0.3 | 564 | Download |
| r130 beta | 46.68 KB | Nov 10, 2014 | 6.0.3 | 443 | Download |
| r128 beta | 46.26 KB | Oct 20, 2014 | 6.0.2 | 586 | Download |
| r127 beta | 45.66 KB | Oct 10, 2014 | 6.0.2 | 348 | Download |
| r125 beta | 45.36 KB | Oct 8, 2014 | 6.0.2 | 112 | Download |
| r123 beta | 44.60 KB | Oct 3, 2014 | 6.0.2 | 145 | Download |
| r121 beta | 43.79 KB | Sep 12, 2014 | 6.0.1 | 212 | Download |
| r118 beta | 37.54 KB | Dec 4, 2012 | 5.1.0 | 1,293 | Download |
| r117 beta | 37.39 KB | Nov 28, 2012 | 5.1.0 | 353 | Download |
| r116 beta | 37.31 KB | Nov 27, 2012 | 5.0.5 | 278 | Download |
| r115 beta | 37.31 KB | Nov 27, 2012 | 5.0.5 | 107 | Download |
| r113 beta | 37.09 KB | Nov 27, 2012 | 5.0.5 | 148 | Download |
| r112 beta | 37.13 KB | Oct 10, 2012 | 5.0.5 | 523 | Download |
| r111 beta | 37.07 KB | Sep 27, 2012 | 5.0.5 | 391 | Download |
| r110 beta | 36.84 KB | Sep 22, 2012 | 5.0.5 | 230 | Download |
| r105 beta | 34.31 KB | May 2, 2012 | 4.3.4 | 1,340 | Download |
| r104 beta | 33.81 KB | Mar 5, 2012 | 4.3.0 | 690 | Download |
| r102 beta | 33.96 KB | Feb 28, 2012 | 4.3.0 | 397 | Download |
| r100 beta | 33.85 KB | Feb 24, 2012 | 4.3.0 | 367 | Download |
| r99 beta | 34.21 KB | Feb 22, 2012 | 4.3.0 | 428 | Download |
| r97 beta | 34.20 KB | Feb 17, 2012 | 4.3.0 | 363 | Download |
| r96 beta | 34.04 KB | Feb 16, 2012 | 4.3.0 | 269 | Download |
| r93 beta | 33.57 KB | Feb 14, 2012 | 4.3.0 | 326 | Download |
| r92 beta | 32.26 KB | Feb 14, 2012 | 4.3.0 | 188 | Download |
| r91 beta | 32.23 KB | Feb 13, 2012 | 4.3.0 | 263 | Download |
| r89 beta | 32.41 KB | Feb 11, 2012 | 4.3.0 | 333 | Download |
| r88 beta | 32.39 KB | Feb 10, 2012 | 4.3.0 | 304 | Download |
| r87 beta | 32.48 KB | Feb 10, 2012 | 4.3.0 | 234 | Download |
| r85 beta | 31.74 KB | Feb 6, 2012 | 4.3.0 | 346 | Download |
| r82 beta | 31.87 KB | Jan 31, 2012 | 4.3.0 | 405 | Download |
| r81 beta | 31.83 KB | Jan 31, 2012 | 4.3.0 | 168 | Download |
| r79 beta | 31.73 KB | Jan 30, 2012 | 4.3.0 | 197 | Download |
| r75 beta | 31.20 KB | Jan 27, 2012 | 4.3.0 | 277 | Download |
| r74 beta | 31.08 KB | Jan 26, 2012 | 4.3.0 | 249 | Download |
| r73 beta | 30.71 KB | Jan 25, 2012 | 4.3.0 | 280 | Download |
| r70 beta | 29.07 KB | Jan 12, 2012 | 4.3.0 | 321 | Download |
| r69 beta | 28.96 KB | Dec 16, 2011 | 4.3.0 | 458 | Download |
| r68 beta | 28.93 KB | Dec 14, 2011 | 4.3.0 | 326 | Download |
| r67 beta | 28.88 KB | Dec 13, 2011 | 4.3.0 | 236 | Download |
| r66 beta | 28.83 KB | Dec 13, 2011 | 4.3.0 | 470 | Download |
| r64 beta | 28.38 KB | Dec 5, 2011 | 4.3.0 | 617 | Download |
| r63 beta | 28.29 KB | Nov 30, 2011 | 4.3.0 | 580 | Download |
| r61 beta | 28.17 KB | Nov 3, 2011 | 4.2.0 | 709 | Download |
| r60 beta | 28.26 KB | Oct 14, 2011 | 4.2.0 | 557 | Download |
| r59 beta | 27.92 KB | Sep 21, 2011 | 4.2.0 | 602 | Download |
| r57 beta | 27.84 KB | Sep 15, 2011 | 4.2.0 | 497 | Download |
| r56 beta | 27.80 KB | Sep 14, 2011 | 4.2.0 | 296 | Download |
| r54 beta | 27.18 KB | Sep 12, 2011 | 4.2.0 | 297 | Download |
| r53 beta | 27.01 KB | Sep 7, 2011 | 4.2.0 | 244 | Download |
| r51 beta | 26.89 KB | Sep 5, 2011 | 4.2.0 | 227 | Download |
| r50 beta | 26.84 KB | Aug 24, 2011 | 4.2.0 | 359 | Download |
| r49 beta | 26.80 KB | Aug 23, 2011 | 4.2.0 | 302 | Download |
| r48 beta | 26.76 KB | Aug 23, 2011 | 4.2.0 | 213 | Download |
| r47 beta | 26.69 KB | Jul 28, 2011 | 4.2.0 | 410 | Download |
| r45 beta | 26.52 KB | Jul 25, 2011 | 4.2.0 | 190 | Download |
| r43 beta | 26.71 KB | Jul 7, 2011 | 4.2.0 | 336 | Download |
| r42 beta | 26.64 KB | Jul 5, 2011 | 4.2.0 | 182 | Download |
| r41 beta | 26.48 KB | Jul 4, 2011 | 4.2.0 | 189 | Download |
| r39 beta | 26.50 KB | Jun 29, 2011 | 4.2.0 | 162 | Download |
| r38 beta | 26.46 KB | Jun 28, 2011 | 4.2.0 | 143 | Download |
| r36 beta | 26.31 KB | Jun 27, 2011 | 4.2.0 | 91 | Download |
| r34 beta | 25.35 KB | Jun 17, 2011 | 4.1.0 | 117 | Download |
| r33 beta | 25.42 KB | Jun 16, 2011 | 4.1.0 | 185 | Download |
| r32 beta | 26.07 KB | Jun 15, 2011 | 4.1.0 | 159 | Download |
| r31 beta | 25.71 KB | Jun 14, 2011 | 4.1.0 | 141 | Download |
| r30 beta | 25.01 KB | Jun 10, 2011 | 4.1.0 | 154 | Download |
| r29 beta | 24.83 KB | Jun 8, 2011 | 4.1.0 | 140 | Download |
| r28 beta | 23.82 KB | Jun 6, 2011 | 4.1.0 | 91 | Download |
| r27 beta | 23.30 KB | Jun 2, 2011 | 4.1.0 | 202 | Download |
| r26 beta | 22.55 KB | May 27, 2011 | 4.1.0 | 185 | Download |
| r24 beta | 22.60 KB | May 20, 2011 | 4.1.0 | 80 | Download |
| r23 beta | 22.42 KB | May 19, 2011 | 4.1.0 | 122 | Download |
| r22 beta | 21.95 KB | May 17, 2011 | 4.1.0 | 106 | Download |
| r21 beta | 22.00 KB | May 17, 2011 | 4.1.0 | 132 | Download |
| r20 beta | 21.95 KB | May 16, 2011 | 4.1.0 | 186 | Download |
| r19 beta | 21.73 KB | May 13, 2011 | 4.1.0 | 144 | Download |
| r18 beta | 21.76 KB | May 13, 2011 | 4.1.0 | 190 | Download |
| r17 beta | 22.06 KB | May 12, 2011 | 4.1.0 | 117 | Download |
| r16 beta | 20.30 KB | May 11, 2011 | 4.1.0 | 124 | Download |
| r14 beta | 20.01 KB | May 10, 2011 | 4.1.0 | 136 | Download |
| r13 beta | 19.73 KB | May 10, 2011 | 4.1.0 | 149 | Download |
| r12 beta | 18.78 KB | Apr 28, 2011 | 4.1.0 | 144 | Download |
| r11 beta | 18.34 KB | Apr 27, 2011 | 4.1.0 | 107 | Download |
| r9 beta | 18.15 KB | Apr 26, 2011 | 4.0.6 | 468 | Download |
| r8 beta | 17.99 KB | Apr 25, 2011 | 4.0.6 | 220 | Download |
| r7 beta | 15.49 KB | Apr 22, 2011 | 4.0.6 | 200 | Download |
| r6 beta | 15.19 KB | Apr 21, 2011 | 4.0.6 | 118 | Download |
| r5 beta | 14.98 KB | Apr 20, 2011 | 4.0.6 | 146 | Download |
| r4 beta | 14.84 KB | Apr 20, 2011 | 4.0.6 | 190 | Download |
| r2 beta | 12.80 KB | Apr 18, 2011 | 4.0.6 | 425 | Download |
Description
Supported classes in 9.2.0
DH.
DK.
Surv Hunter.
Supported classes in 9.1.0
Death Knight (Blood, Frost, Unholy)
Supported classes in 9.0.2
BM hunter – raiding.
Enh shaman – raiding.
Shadow priest – leveling.
The other classes are not updated, and will not work or they MIGHT work without the new spells.
This is the one-icon priority based DPS (and a little Tanking) addon for classes that I play. It shows what spell and when you need to cast next.
It's optimized for top tier equipment but may work for lower levels and gear.
I am using current theorycraft from:
http://www.simulationcraft.org
http://www.icy-veins.com/wow/
and other resources. But sometimes it must be tweaked for a human use…
Click on the icon to switch modes – auto and single target.



Auto mode will add some aoe spells into rotation if it detects that you hit more then one target with your abilities. You need to force it by casting your aoe or cleaving spells.
It has CD bar with toggles to include/exclude them in rotation.


Right-click on spell that you want to use manually. If there is no border around it then it is disabled in the rotation.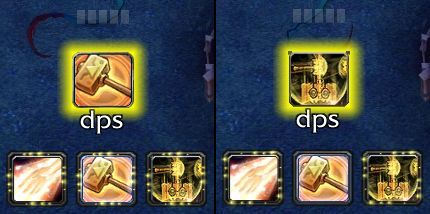 If you want to hide the CD toggle from CD bar – go to the addon menu and right-click on it. If it has an overlay over it then it is hidden from CD bar. Hidden CDs keep the last state – Enabled or Disabled.


Sometimes I don't add CDs as I see them to be used manually or they are not good for the spec. Or I forgot about that.
There is the ingame menu for resizing/moving/hiding.
/hedd options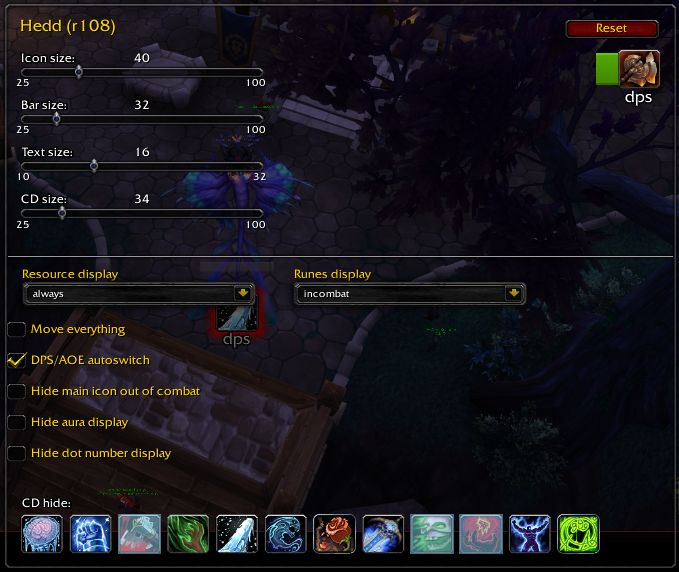 Optional Dependencies:
OminCC – for numerical cooldowns.
SpellFlash or SpellFlashCore – Flashing next priority spell.
Since my wf3sec is no longer usefull I decided to write something new for Enhancement Shamans.
I have many twinks but I don't have much time to play them all.
Feedback, bug reports and suggestions are welcome.
PS. English is not my main language.