Earlier Versions
| | | | | | |
| --- | --- | --- | --- | --- | --- |
| v3.4.9 release | 111.30 KB | Feb 14, 2023 | 3.4.1 | 16,884 | Download |
| v1.14.39 release | 110.80 KB | Feb 14, 2023 | 1.14.3 | 644 | Download |
| v10.0.9 release | 112.68 KB | Feb 14, 2023 | 10.0.5 | 36,197 | Download |
| v10.0.8 release | 112.53 KB | Jan 25, 2023 | 10.0.5 | 42,215 | Download |
| v1.14.38 release | 110.70 KB | Jan 17, 2023 | 1.14.3 | 761 | Download |
| v3.4.8 release | 111.19 KB | Jan 17, 2023 | 3.4.1 | 22,988 | Download |
| v1.14.37 release | 110.33 KB | Nov 22, 2022 | 1.14.3 | 1,053 | Download |
| v3.4.7 release | 110.82 KB | Nov 22, 2022 | 3.4.0 | 25,780 | Download |
| v10.0.7 release | 111.89 KB | Nov 22, 2022 | 10.0.2 | 46,156 | Download |
| v10.0.6 release | 111.87 KB | Nov 16, 2022 | 10.0.2 | 24,578 | Download |
| v10.0.5 release | 111.63 KB | Nov 4, 2022 | 10.0.0 | 28,254 | Download |
| v1.14.36 release | 109.96 KB | Nov 1, 2022 | 1.14.3 | 465 | Download |
| v3.4.6 release | 110.45 KB | Nov 1, 2022 | 3.4.0 | 22,247 | Download |
| v10.0.4 release | 111.42 KB | Nov 1, 2022 | 10.0.0 | 14,849 | Download |
| v1.14.35 release | 109.78 KB | Oct 29, 2022 | 1.14.3 | 191 | Download |
| v3.4.5 release | 110.27 KB | Oct 29, 2022 | 3.4.0 | 13,818 | Download |
| v10.0.3 release | 111.06 KB | Oct 29, 2022 | 10.0.0 | 19,067 | Download |
| v10.0.2 release | 111.06 KB | Oct 29, 2022 | 10.0.0 | 705 | Download |
| v10.0.1 release | 111.05 KB | Oct 28, 2022 | 10.0.0 | 7,366 | Download |
| v1.14.34 release | 109.76 KB | Oct 27, 2022 | 1.14.3 | 160 | Download |
| v3.4.4 release | 110.25 KB | Oct 27, 2022 | 3.4.0 | 11,777 | Download |
| v10.0.0 release | 109.39 KB | Oct 26, 2022 | 10.0.0 | 19,567 | Download |
| v3.4.3 release | 109.82 KB | Oct 14, 2022 | 3.4.0 | 21,684 | Download |
| v1.14.33 release | 109.32 KB | Oct 14, 2022 | 1.14.3 | 350 | Download |
| v9.2.15 release | 110.41 KB | Oct 14, 2022 | 9.2.7 | 19,583 | Download |
| v9.2.14 release | 110.12 KB | Sep 20, 2022 | 9.2.7 | 7,217 | Download |
| v3.4.2 release | 109.52 KB | Sep 1, 2022 | 3.4.0 | 24,144 | Download |
| v3.4.1 release | 109.22 KB | Aug 21, 2022 | 3.4.0 | 4,627 | Download |
| v2.5.34 release | 109.01 KB | Aug 21, 2022 | 2.5.4 | 12,043 | Download |
| v1.14.32 release | 109.03 KB | Aug 21, 2022 | 1.14.3 | 1,011 | Download |
| v9.2.14 release | 110.12 KB | Aug 21, 2022 | 9.2.7 | 25,257 | Download |
| v9.2.13 release | 110.06 KB | Aug 20, 2022 | 9.2.7 | 8,033 | Download |
| v3.4.0 release | 109.16 KB | Aug 13, 2022 | 3.4.0 | 182 | Download |
| v2.5.33 release | 108.91 KB | Jun 25, 2022 | 2.5.4 | 10,949 | Download |
| v1.14.31 release | 108.92 KB | Jun 25, 2022 | 1.14.3 | 537 | Download |
| v9.2.12 release | 110.02 KB | Jun 25, 2022 | 9.2.5 | 26,144 | Download |
| v2.5.32 release | 108.63 KB | Jun 24, 2022 | 2.5.4 | 1,608 | Download |
| v1.14.30 release | 108.64 KB | Jun 24, 2022 | 1.14.3 | 132 | Download |
| v9.2.11 release | 109.74 KB | Jun 24, 2022 | 9.2.5 | 4,687 | Download |
| v2.5.31 release | 108.05 KB | Jun 20, 2022 | 2.5.4 | 4,161 | Download |
| v1.14.29 release | 108.10 KB | Jun 20, 2022 | 1.14.3 | 237 | Download |
| v9.2.10 release | 109.23 KB | Jun 20, 2022 | 9.2.5 | 11,003 | Download |
| v2.5.30 release | 107.51 KB | Jun 7, 2022 | 2.5.4 | 5,881 | Download |
| v1.14.28 release | 107.57 KB | Jun 7, 2022 | 1.14.3 | 319 | Download |
| v9.2.9 release | 108.70 KB | Jun 7, 2022 | 9.2.5 | 15,872 | Download |
| v2.5.29 release | 106.72 KB | Jun 1, 2022 | 2.5.4 | 4,555 | Download |
| v1.14.27 release | 106.78 KB | Jun 1, 2022 | 1.14.3 | 242 | Download |
| v9.2.8 release | 107.93 KB | Jun 1, 2022 | 9.2.5 | 15,175 | Download |
| v1.14.26 release | 106.45 KB | May 30, 2022 | 1.14.3 | 207 | Download |
| v2.5.28 release | 106.46 KB | May 25, 2022 | 2.5.4 | 4,995 | Download |
| v1.14.25 release | 106.52 KB | May 25, 2022 | 1.14.3 | 288 | Download |
| v9.2.7 release | 107.67 KB | May 25, 2022 | 9.2.0 | 12,958 | Download |
| v1.14.24 release | 106.15 KB | May 23, 2022 | 1.14.3 | 183 | Download |
| v2.5.27 release | 106.09 KB | May 23, 2022 | 2.5.4 | 2,412 | Download |
| v9.2.6 release | 107.30 KB | May 23, 2022 | 9.2.0 | 6,641 | Download |
| v1.14.23 release | 99.26 KB | Apr 26, 2022 | 1.14.3 | 674 | Download |
| v1.14.22 release | 98.90 KB | Apr 19, 2022 | 1.14.2 | 446 | Download |
| v2.5.26 release | 99.57 KB | Apr 19, 2022 | 2.5.4 | 12,899 | Download |
| v9.2.5 release | 100.56 KB | Apr 19, 2022 | 9.2.0 | 20,900 | Download |
| v2.5.25 release | 99.21 KB | Apr 17, 2022 | 2.5.4 | 3,420 | Download |
| v9.2.4 release | 100.20 KB | Apr 17, 2022 | 9.2.0 | 8,060 | Download |
| v2.5.24 release | 98.70 KB | Apr 14, 2022 | 2.5.4 | 3,957 | Download |
| v1.14.21 release | 98.80 KB | Apr 14, 2022 | 1.14.2 | 381 | Download |
| v9.2.3 release | 99.68 KB | Apr 14, 2022 | 9.2.0 | 8,956 | Download |
| v1.14.20 release | 97.69 KB | Mar 24, 2022 | 1.14.2 | 621 | Download |
| v9.2.2 release | 98.44 KB | Mar 24, 2022 | 9.2.0 | 16,711 | Download |
| v2.5.23 release | 97.41 KB | Mar 24, 2022 | 2.5.4 | 8,351 | Download |
| v2.5.22 release | 97.31 KB | Mar 6, 2022 | 2.5.3 | 7,628 | Download |
| v1.14.19 release | 97.61 KB | Mar 6, 2022 | 1.14.2 | 548 | Download |
| v9.2.1 release | 98.36 KB | Mar 6, 2022 | 9.2.0 | 14,415 | Download |
| v9.2.0 release | 98.25 KB | Feb 22, 2022 | 9.2.0 | 11,153 | Download |
| v2.5.21 release | 97.22 KB | Feb 17, 2022 | 2.5.3 | 6,648 | Download |
| v9.1.22 release | 98.25 KB | Feb 17, 2022 | 9.1.5 | 6,757 | Download |
| v1.14.18 release | 97.50 KB | Feb 17, 2022 | 1.14.2 | 656 | Download |
| v1.14.17 release | 96.99 KB | Feb 14, 2022 | 1.14.2 | 399 | Download |
| v2.5.20 release | 96.72 KB | Feb 13, 2022 | 2.5.3 | 3,531 | Download |
| v1.14.16 release | 97.00 KB | Feb 13, 2022 | 1.14.2 | 216 | Download |
| v9.1.21 release | 97.69 KB | Feb 13, 2022 | 9.1.5 | 5,175 | Download |
| v9.1.20 release | 97.69 KB | Feb 13, 2022 | 9.1.5 | 591 | Download |
| v2.5.19 release | 95.49 KB | Feb 10, 2022 | 2.5.3 | 3,696 | Download |
| v1.14.15 release | 95.63 KB | Feb 10, 2022 | 1.14.2 | 408 | Download |
| v9.1.19 release | 96.37 KB | Feb 10, 2022 | 9.1.5 | 5,313 | Download |
| v2.5.18 release | 94.99 KB | Feb 8, 2022 | 2.5.3 | 3,383 | Download |
| v1.14.14 release | 95.14 KB | Feb 8, 2022 | 1.14.1 | 494 | Download |
| v9.1.18 release | 95.86 KB | Feb 8, 2022 | 9.1.5 | 4,690 | Download |
| v2.5.17 release | 94.91 KB | Feb 7, 2022 | 2.5.3 | 746 | Download |
| v1.14.13 release | 95.05 KB | Feb 7, 2022 | 1.14.1 | 134 | Download |
| v9.1.17 release | 95.78 KB | Feb 7, 2022 | 9.1.5 | 1,230 | Download |
| v2.5.16 release | 93.75 KB | Feb 1, 2022 | 2.5.3 | 5,089 | Download |
| v1.14.12 release | 93.90 KB | Feb 1, 2022 | 1.14.1 | 520 | Download |
| v9.1.16 release | 94.62 KB | Feb 1, 2022 | 9.1.5 | 7,037 | Download |
| v2.5.15 release | 93.73 KB | Feb 1, 2022 | 2.5.3 | 1,520 | Download |
| v9.1.15 release | 94.60 KB | Feb 1, 2022 | 9.1.5 | 2,397 | Download |
| v1.14.11 release | 93.88 KB | Feb 1, 2022 | 1.14.1 | 236 | Download |
| v1.14.10 release | 93.83 KB | Jan 27, 2022 | 1.14.1 | 388 | Download |
| v2.5.14 release | 97.00 KB | Jan 4, 2022 | 2.5.2 | 7,838 | Download |
| v1.14.9 release | 96.87 KB | Jan 4, 2022 | 1.14.1 | 1,045 | Download |
| v9.1.14 release | 97.87 KB | Jan 4, 2022 | 9.1.5 | 10,662 | Download |
| v9.1.13 release | 97.86 KB | Jan 4, 2022 | 9.1.5 | 120 | Download |
| v2.5.13 release | 95.13 KB | Dec 27, 2021 | 2.5.2 | 4,377 | Download |
| v1.14.8 release | 95.00 KB | Dec 27, 2021 | 1.14.1 | 789 | Download |
| v9.1.12 release | 96.00 KB | Dec 27, 2021 | 9.1.5 | 6,745 | Download |
| v2.5.12 release | 93.52 KB | Dec 18, 2021 | 2.5.2 | 4,313 | Download |
| v1.14.7 release | 93.38 KB | Dec 18, 2021 | 1.14.1 | 857 | Download |
| v9.1.11 release | 94.38 KB | Dec 18, 2021 | 9.1.5 | 7,639 | Download |
| v2.5.11 release | 92.60 KB | Dec 7, 2021 | 2.5.2 | 4,990 | Download |
| v1.14.6 release | 92.48 KB | Dec 7, 2021 | 1.14.1 | 897 | Download |
| v9.1.10 release | 93.34 KB | Dec 7, 2021 | 9.1.5 | 8,170 | Download |
| v2.5.10 release | 92.47 KB | Dec 2, 2021 | 2.5.2 | 3,051 | Download |
| v1.14.5 release | 92.35 KB | Dec 2, 2021 | 1.14.1 | 674 | Download |
| v9.1.9 release | 93.20 KB | Dec 2, 2021 | 9.1.5 | 6,105 | Download |
| v2.5.9 release | 91.94 KB | Nov 26, 2021 | 2.5.2 | 3,657 | Download |
| v1.14.4 release | 91.81 KB | Nov 26, 2021 | 1.14.1 | 842 | Download |
| v9.1.8 release | 92.67 KB | Nov 26, 2021 | 9.1.5 | 6,979 | Download |
| v1.14.3 release | 91.29 KB | Nov 11, 2021 | 1.14.1 | 1,203 | Download |
| v9.1.7 release | 92.15 KB | Nov 2, 2021 | 9.1.5 | 10,803 | Download |
| v2.5.8 release | 91.41 KB | Oct 18, 2021 | 2.5.2 | 7,403 | Download |
| v1.14.2 release | 91.14 KB | Oct 18, 2021 | 1.14.0 | 343 | Download |
| v9.1.6 release | 92.14 KB | Oct 18, 2021 | 9.1.0 | 8,725 | Download |
| v1.14.1 release | 88.27 KB | Oct 2, 2021 | 1.14.0 | 284 | Download |
| v1.14.0 release | 88.27 KB | Oct 1, 2021 | 1.14.0 | 192 | Download |
| v2.5.7 release | 88.71 KB | Sep 15, 2021 | 2.5.2 | 7,429 | Download |
| v1.13.53 release | 87.39 KB | Sep 15, 2021 | 1.13.7 | 207 | Download |
| v9.1.5 release | 89.45 KB | Sep 15, 2021 | 9.1.0 | 10,552 | Download |
| v2.5.6 release | 88.71 KB | Sep 11, 2021 | 2.5.2 | 3,632 | Download |
| v1.13.52 release | 87.40 KB | Sep 11, 2021 | 1.13.7 | 248 | Download |
| v9.1.4 release | 89.45 KB | Sep 11, 2021 | 9.1.0 | 6,082 | Download |
| v2.5.5 release | 88.40 KB | Sep 6, 2021 | 2.5.2 | 3,891 | Download |
| v1.13.51 release | 87.11 KB | Sep 6, 2021 | 1.13.7 | 159 | Download |
| v9.1.3 release | 89.15 KB | Sep 6, 2021 | 9.1.0 | 6,762 | Download |
| v2.5.4 release | 88.35 KB | Sep 6, 2021 | 2.5.2 | 1,796 | Download |
| v1.13.50 release | 87.07 KB | Sep 6, 2021 | 1.13.7 | 165 | Download |
| v9.1.2 release | 89.09 KB | Sep 6, 2021 | 9.1.0 | 3,309 | Download |
| v2.5.3 release | 60.46 KB | Jul 13, 2021 | 2.5.1 | 7,735 | Download |
| v1.13.49 release | 59.18 KB | Jul 13, 2021 | 1.13.7 | 239 | Download |
| v9.1.1 release | 61.47 KB | Jul 13, 2021 | 9.1.0 | 14,903 | Download |
| v2.5.2 release | 60.43 KB | Jun 29, 2021 | 2.5.1 | 5,312 | Download |
| v1.13.48 release | 59.15 KB | Jun 29, 2021 | 1.13.7 | 224 | Download |
| v9.1.0 release | 61.43 KB | Jun 29, 2021 | 9.1.0 | 12,790 | Download |
| v2.5.1 release | 60.41 KB | Jun 5, 2021 | 2.5.1 | 6,428 | Download |
| v1.13.47 release | 59.13 KB | Jun 5, 2021 | 1.13.7 | 319 | Download |
| v9.0.31 release | 61.42 KB | Jun 5, 2021 | 9.0.5 | 12,762 | Download |
| v2.5.0 release | 58.74 KB | May 23, 2021 | 2.5.1 | 3,132 | Download |
| v1.13.46 release | 57.49 KB | Apr 27, 2021 | 1.13.7 | 2,497 | Download |
| v9.0.30 release | 59.67 KB | Apr 27, 2021 | 9.0.5 | 14,118 | Download |
| v1.13.45 release | 55.88 KB | Apr 4, 2021 | 1.13.6 | 1,516 | Download |
| v9.0.29 release | 58.03 KB | Apr 4, 2021 | 9.0.5 | 12,788 | Download |
| v1.13.44 release | 54.32 KB | Mar 20, 2021 | 1.13.6 | 1,298 | Download |
| v9.0.28 release | 56.46 KB | Mar 20, 2021 | 9.0.5 | 12,443 | Download |
| v1.13.43 release | 54.11 KB | Mar 9, 2021 | 1.13.6 | 1,031 | Download |
| v9.0.27 release | 56.21 KB | Mar 9, 2021 | 9.0.5 | 12,684 | Download |
| v1.13.42 release | 54.10 KB | Mar 2, 2021 | 1.13.6 | 921 | Download |
| v9.0.26 release | 56.20 KB | Mar 2, 2021 | 9.0.2 | 9,834 | Download |
| v1.13.41 release | 48.58 KB | Feb 27, 2021 | 1.13.6 | 677 | Download |
| v9.0.25 release | 50.65 KB | Feb 27, 2021 | 9.0.2 | 8,419 | Download |
| v1.13.40 release | 44.67 KB | Feb 13, 2021 | 1.13.6 | 942 | Download |
| v9.0.24 release | 47.03 KB | Feb 13, 2021 | 9.0.2 | 12,053 | Download |
| v1.13.39 release | 44.68 KB | Feb 12, 2021 | 1.13.6 | 303 | Download |
| v9.0.23 release | 47.04 KB | Feb 12, 2021 | 9.0.2 | 5,248 | Download |
| v1.13.38 release | 44.33 KB | Feb 10, 2021 | 1.13.6 | 472 | Download |
| v9.0.22 release | 46.65 KB | Feb 10, 2021 | 9.0.2 | 6,873 | Download |
| v1.13.37 release | 44.33 KB | Feb 10, 2021 | 1.13.6 | 255 | Download |
| v9.0.21 release | 46.65 KB | Feb 10, 2021 | 9.0.2 | 2,338 | Download |
| v1.13.36 release | 44.33 KB | Feb 10, 2021 | 1.13.6 | 171 | Download |
| v9.0.20 release | 46.65 KB | Feb 10, 2021 | 9.0.2 | 713 | Download |
| v1.13.35 release | 44.26 KB | Feb 9, 2021 | 1.13.6 | 268 | Download |
| v9.0.19 release | 46.58 KB | Feb 9, 2021 | 9.0.2 | 3,355 | Download |
| v1.13.34 release | 38.75 KB | Jan 9, 2021 | 1.13.6 | 1,016 | Download |
| v9.0.18 release | 41.04 KB | Jan 9, 2021 | 9.0.2 | 15,880 | Download |
| v1.13.33 release | 38.36 KB | Jan 3, 2021 | 1.13.6 | 620 | Download |
| v9.0.17 release | 40.55 KB | Jan 3, 2021 | 9.0.2 | 11,509 | Download |
| v1.13.32 release | 38.34 KB | Jan 2, 2021 | 1.13.6 | 267 | Download |
| v9.0.16 release | 40.53 KB | Jan 2, 2021 | 9.0.2 | 3,849 | Download |
| v1.13.31 release | 38.16 KB | Dec 27, 2020 | 1.13.6 | 521 | Download |
| v9.0.15 release | 39.74 KB | Dec 27, 2020 | 9.0.2 | 11,583 | Download |
| v1.13.30 release | 38.15 KB | Dec 27, 2020 | 1.13.6 | 319 | Download |
| v9.0.14 release | 39.74 KB | Dec 27, 2020 | 9.0.2 | 1,414 | Download |
| v1.13.29 release | 38.14 KB | Dec 13, 2020 | 1.13.6 | 711 | Download |
| v9.0.13 release | 39.72 KB | Dec 13, 2020 | 9.0.2 | 13,136 | Download |
| v1.13.28 release | 38.15 KB | Dec 13, 2020 | 1.13.6 | 187 | Download |
| v9.0.12 release | 39.73 KB | Dec 13, 2020 | 9.0.2 | 1,991 | Download |
| v1.13.27 release | 38.15 KB | Dec 13, 2020 | 1.13.6 | 129 | Download |
| v9.0.11 release | 39.73 KB | Dec 13, 2020 | 9.0.2 | 889 | Download |
| v1.13.26 release | 37.66 KB | Dec 11, 2020 | 1.13.6 | 405 | Download |
| v9.0.10 release | 39.24 KB | Dec 11, 2020 | 9.0.2 | 6,235 | Download |
| v1.13.25 release | 36.73 KB | Dec 7, 2020 | 1.13.6 | 647 | Download |
| v9.0.9 release | 38.32 KB | Dec 7, 2020 | 9.0.2 | 8,269 | Download |
| v1.13.24 release | 36.69 KB | Nov 26, 2020 | 1.13.5 | 570 | Download |
| v9.0.8 release | 38.30 KB | Nov 23, 2020 | 9.0.2 | 7,735 | Download |
| v9.0.7 release | 38.30 KB | Nov 18, 2020 | 9.0.2 | 3,588 | Download |
| v1.13.23 release | 36.70 KB | Oct 29, 2020 | 1.13.5 | 599 | Download |
| v9.0.6 release | 38.08 KB | Oct 29, 2020 | 9.0.1 | 3,639 | Download |
| v1.13.22 release | 36.68 KB | Oct 29, 2020 | 1.13.5 | 221 | Download |
| v9.0.5 release | 38.06 KB | Oct 29, 2020 | 9.0.1 | 321 | Download |
| v9.0.4 release | 37.20 KB | Oct 18, 2020 | 9.0.1 | 2,375 | Download |
| v1.13.21 release | 35.80 KB | Oct 17, 2020 | 1.13.5 | 528 | Download |
| v9.0.3 release | 36.93 KB | Oct 17, 2020 | 9.0.1 | 1,200 | Download |
| v1.13.20 release | 35.49 KB | Oct 16, 2020 | 1.13.5 | 253 | Download |
| v9.0.2 release | 36.38 KB | Oct 16, 2020 | 9.0.1 | 926 | Download |
| v1.13.19 release | 35.41 KB | Oct 15, 2020 | 1.13.5 | 289 | Download |
| v9.0.1 release | 36.30 KB | Oct 15, 2020 | 9.0.1 | 1,284 | Download |
| v9.0.0 release | 36.07 KB | Oct 13, 2020 | 9.0.1 | 1,140 | Download |
| v1.13.18 release | 35.12 KB | Oct 7, 2020 | 1.13.5 | 472 | Download |
| v1.13.17 release | 35.10 KB | Oct 7, 2020 | 1.13.5 | 209 | Download |
| v8.3.17 release | 36.01 KB | Oct 7, 2020 | 8.3.0 | 799 | Download |
| v1.13.16 release | 34.97 KB | Sep 28, 2020 | 1.13.5 | 373 | Download |
| v8.3.16 release | 35.89 KB | Sep 28, 2020 | 8.3.0 | 772 | Download |
| v1.13.15 release | 34.08 KB | Aug 19, 2020 | 1.13.5 | 545 | Download |
| v8.3.15 release | 34.98 KB | Aug 19, 2020 | 8.3.0 | 855 | Download |
| v1.13.14 release | 32.76 KB | Aug 3, 2020 | 1.13.5 | 552 | Download |
| v8.3.14 release | 32.79 KB | Aug 3, 2020 | 8.3.0 | 531 | Download |
| v1.13.13 release | 32.80 KB | Jul 23, 2020 | 1.13.5 | 355 | Download |
| v8.3.13 release | 32.83 KB | Jul 23, 2020 | 8.3.0 | 471 | Download |
| v1.13.12 release | 32.49 KB | Jul 22, 2020 | 1.13.5 | 211 | Download |
| v8.3.12 release | 32.52 KB | Jul 22, 2020 | 8.3.0 | 277 | Download |
| v1.13.11 release | 31.83 KB | Jun 27, 2020 | 1.13.4 | 521 | Download |
| v8.3.11 release | 31.86 KB | Jun 27, 2020 | 8.3.0 | 417 | Download |
| v1.13.10 release | 31.63 KB | Jun 25, 2020 | 1.13.4 | 271 | Download |
| v8.3.10 release | 31.67 KB | Jun 25, 2020 | 8.3.0 | 221 | Download |
| v1.13.9 release | 31.62 KB | Jun 22, 2020 | 1.13.4 | 275 | Download |
| v8.3.9 release | 31.64 KB | Jun 22, 2020 | 8.3.0 | 273 | Download |
| v1.13.8 release | 31.65 KB | Jun 22, 2020 | 1.13.4 | 143 | Download |
| v8.3.8 release | 31.67 KB | Jun 22, 2020 | 8.3.0 | 134 | Download |
| v1.13.7 release | 31.33 KB | Jun 21, 2020 | 1.13.4 | 198 | Download |
| v8.3.7 release | 31.36 KB | Jun 21, 2020 | 8.3.0 | 245 | Download |
| v1.13.6 release | 31.31 KB | Jun 21, 2020 | 1.13.4 | 189 | Download |
| v8.3.6 release | 31.34 KB | Jun 21, 2020 | 8.3.0 | 203 | Download |
| v1.13.5 release | 31.33 KB | Jun 21, 2020 | 1.13.4 | 216 | Download |
| v1.13.4 release | 31.37 KB | Jun 20, 2020 | 1.13.4 | 237 | Download |
| v8.3.5 release | 31.37 KB | Jun 20, 2020 | 8.3.0 | 244 | Download |
| v1.13.3 release | 28.67 KB | Jun 15, 2020 | 1.13.4 | 336 | Download |
| v8.3.4 release | 28.67 KB | Jun 15, 2020 | 8.3.0 | 202 | Download |
| v1.13.2 release | 28.67 KB | Mar 30, 2020 | 1.13.4 | 386 | Download |
| v8.3.3 release | 28.68 KB | Mar 30, 2020 | 8.3.0 | 490 | Download |
| v1.13.1 release | 27.93 KB | Mar 24, 2020 | 1.13.4 | 216 | Download |
| v8.3.2 release | 27.93 KB | Mar 24, 2020 | 8.3.0 | 151 | Download |
| v8.3.1 release | 27.83 KB | Mar 24, 2020 | 8.3.0 | 229 | Download |
| v1.13.0 release | 27.83 KB | Mar 24, 2020 | 1.13.4 | 196 | Download |
| v8.3.0 release | 27.78 KB | Mar 23, 2020 | 8.3.0 | 217 | Download |
| v10.0.4-beta1 beta | 111.27 KB | Oct 30, 2022 | 10.0.0 | 306 | Download |
| v10.0.0-beta5 beta | 110.62 KB | Oct 26, 2022 | 10.0.0 | 158 | Download |
| v9.2.10-beta1 beta | 109.07 KB | Jun 16, 2022 | 9.2.5 | 163 | Download |
| v9.2.9-beta3 beta | 108.75 KB | Jun 6, 2022 | 9.2.5 | 154 | Download |
| v9.2.9-beta2 beta | 108.60 KB | Jun 3, 2022 | 9.2.5 | 112 | Download |
| v9.2.9-beta1 beta | 108.45 KB | Jun 2, 2022 | 9.2.5 | 141 | Download |
| v9.2.8-beta1 beta | 107.75 KB | May 31, 2022 | 9.2.0 | 131 | Download |
| v9.2.6-beta4 beta | 107.16 KB | May 21, 2022 | 9.2.0 | 103 | Download |
| v9.2.6-beta3 beta | 106.30 KB | May 20, 2022 | 9.2.0 | 71 | Download |
| v9.2.6-beta2 beta | 105.51 KB | May 19, 2022 | 9.2.0 | 102 | Download |
| v9.2.6-beta1 beta | 105.36 KB | May 18, 2022 | 9.2.0 | 59 | Download |
| v9.2.3-beta2 beta | 99.67 KB | Apr 12, 2022 | 9.2.0 | 110 | Download |
| v9.2.3-beta1 beta | 98.70 KB | Apr 11, 2022 | 9.2.0 | 98 | Download |
| v9.1.17-beta3 beta | 95.81 KB | Feb 6, 2022 | 9.1.5 | 117 | Download |
| v9.1.17-beta2 beta | 95.48 KB | Feb 4, 2022 | 9.1.5 | 126 | Download |
| v9.1.17-beta1 beta | 95.32 KB | Feb 3, 2022 | 9.1.5 | 176 | Download |
| v9.1.11-beta1 beta | 94.37 KB | Dec 14, 2021 | 9.1.5 | 137 | Download |
| 9.1.6-beta3 beta | 91.99 KB | Oct 16, 2021 | 9.1.0 | 156 | Download |
| v9.1.6-beta2 beta | 91.93 KB | Oct 14, 2021 | 9.1.0 | 151 | Download |
| v9.1.6-beta1 beta | 90.51 KB | Oct 13, 2021 | 9.1.0 | 187 | Download |
| v9.1.2-beta1 beta | 88.90 KB | Sep 3, 2021 | 9.1.0 | 209 | Download |
| v2.5.0-beta1 beta | 58.77 KB | May 19, 2021 | 2.5.1 | 1,283 | Download |
| v9.0.28-beta2 beta | 56.45 KB | Mar 16, 2021 | 9.0.5 | 279 | Download |
| v9.0.28-beta1 beta | 56.42 KB | Mar 16, 2021 | 9.0.5 | 145 | Download |
| v9.0.25-beta5 beta | 50.49 KB | Feb 26, 2021 | 9.0.2 | 185 | Download |
| v9.0.25-beta4 beta | 48.77 KB | Feb 25, 2021 | 9.0.2 | 231 | Download |
| v9.0.25-beta3 beta | 48.74 KB | Feb 25, 2021 | 9.0.2 | 204 | Download |
| v9.0.25-beta2 beta | 47.14 KB | Feb 25, 2021 | 9.0.2 | 229 | Download |
| v9.0.25-beta1 beta | 47.16 KB | Feb 23, 2021 | 9.0.2 | 318 | Download |
| v9.0.18-beta1 beta | 40.97 KB | Jan 7, 2021 | 9.0.2 | 240 | Download |
| v1.13.32-beta1 beta | 38.30 KB | Dec 28, 2020 | 1.13.6 | 148 | Download |
| v9.0.16-beta1 beta | 39.89 KB | Dec 28, 2020 | 9.0.2 | 241 | Download |
| v9.0.7-beta1 beta | 38.31 KB | Nov 18, 2020 | 9.0.1 | 253 | Download |
| v8.3.15-beta1 beta | 33.60 KB | Aug 4, 2020 | 8.3.0 | 232 | Download |
| v8.3.13-beta1 beta | 32.83 KB | Jul 22, 2020 | 8.3.0 | 211 | Download |
| v8.3.12-beta3 beta | 32.49 KB | Jul 22, 2020 | 8.3.0 | 261 | Download |
| v8.3.12-beta2 beta | 32.08 KB | Jul 20, 2020 | 8.3.0 | 283 | Download |
| v8.3.12-beta1 beta | 32.10 KB | Jul 20, 2020 | 8.3.0 | 189 | Download |
| v10.0.0-alpha2 alpha | 110.50 KB | Oct 14, 2022 | 10.0.0 | 149 | Download |
| v10.0.0-alpha1 alpha | 110.40 KB | Sep 18, 2022 | 10.0.0 | 1,693 | Download |
| v2.5.16-alpha1 alpha | 93.76 KB | Feb 1, 2022 | 2.5.3 | 154 | Download |
| v9.1.0-alpha2 alpha | 61.42 KB | Jun 5, 2021 | 9.1.0 | 287 | Download |
| v9.1.0-alpha1 alpha | 59.86 KB | May 19, 2021 | 9.1.0 | 256 | Download |
| v9.0.26-alpha1 alpha | 56.13 KB | Mar 2, 2021 | 9.0.2 | 200 | Download |
| v9.0.0-alpha3 alpha | 36.07 KB | Oct 7, 2020 | 9.0.1 | 311 | Download |
| v9.0.0-alpha2 alpha | 35.91 KB | Sep 28, 2020 | 9.0.1 | 140 | Download |
| v9.0.0-alpha1 alpha | 35.06 KB | Aug 20, 2020 | 9.0.1 | 349 | Download |
Description
HidingBar
Adds a custom panel for easy add-on management.
(The addon is made based on Norganna's Slidebar, with advanced functionality.)
Features:
Button support from

DataBroker.

Grab minimap addon buttons

.

Turn on / off buttons, change position.

Compatible with ELFUI / TUKUI.


Support skins from Masque.

Display mode in the form of a minimap button (Like MBB).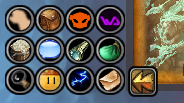 Command:
/hidingbar – open config
Localization
Please help with translations using this easy web interface: HidingBar Localization on AddonsWoW
(Please inform me about translations with a private message or comment.)