Earlier Versions
| | | | | | |
| --- | --- | --- | --- | --- | --- |
| 8.3.11 release | 1,001.75 KB | Jul 21, 2020 | 8.3.0 | 0 | Download |
| 8.3.10 release | 1,001.71 KB | Jul 1, 2020 | 8.3.0 | 479 | Download |
| 8.3.09 release | 1,001.71 KB | Jun 10, 2020 | 8.3.0 | 462 | Download |
| 8.3.08 release | 1,001.57 KB | Apr 29, 2020 | 8.3.0 | 692 | Download |
| 8.3.07 release | 1.02 MB | Apr 22, 2020 | 8.3.0 | 412 | Download |
| 8.3.06 release | 1.02 MB | Mar 25, 2020 | 8.3.0 | 596 | Download |
| 8.3.05 release | 1.02 MB | Mar 11, 2020 | 8.3.0 | 491 | Download |
| 8.3.04 release | 1.02 MB | Mar 4, 2020 | 8.3.0 | 373 | Download |
| 8.3.03 release | 1.02 MB | Feb 26, 2020 | 8.3.0 | 385 | Download |
| 8.3.02 release | 1.02 MB | Feb 19, 2020 | 8.3.0 | 379 | Download |
| 8.3.01 release | 1.02 MB | Feb 12, 2020 | 8.3.0 | 421 | Download |
| 8.3.00 release | 1.02 MB | Jan 14, 2020 | 8.3.0 | 536 | Download |
| 8.2.10 release | 1,013.25 KB | Jan 8, 2020 | 8.2.5 | 287 | Download |
| 8.2.09 release | 1,013.25 KB | Jan 1, 2020 | 8.2.5 | 275 | Download |
| 8.2.08 release | 1,013.25 KB | Dec 11, 2019 | 8.2.5 | 393 | Download |
| 8.2.07 release | 1,013.25 KB | Nov 6, 2019 | 8.2.5 | 485 | Download |
| 8.2.05 release | 1,013.25 KB | Oct 31, 2019 | 8.2.5 | 254 | Download |
| 8.2.04 release | 1,012.72 KB | Oct 23, 2019 | 8.2.5 | 259 | Download |
| 8.2.03 release | 1,012.48 KB | Sep 24, 2019 | 8.2.5 | 425 | Download |
| 8.2.02 release | 1,004.22 KB | Aug 28, 2019 | 8.2.0 | 416 | Download |
| 8.2.01 release | 1,004.23 KB | Jul 24, 2019 | 8.2.0 | 257 | Download |
| 8.2.00 release | 1,004.10 KB | Jun 25, 2019 | 8.2.0 | 140 | Download |
| 8.1.00 release | 974.29 KB | Jun 14, 2019 | 8.1.5 | 86 | Download |
| 8.3.11.alpha.1 alpha | 1,001.76 KB | Jul 18, 2020 | 8.3.0 | 35 | Download |
Description
Note: As of 8.3.11.alpha.1, Leatrix Tunes is compatible with Shadowlands Beta.
https://www.curseforge.com/wow/addons/leatrix-tunes/files/all
Leatrix Tunes is a sound file browser for World of Warcraft.  You can use this addon to search and play game sound files and lookup their associated file data IDs.  The file data IDs are compatible with sound mute addons and scripts.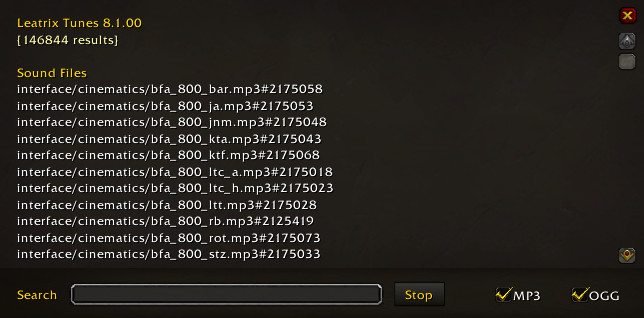 Enter /ltt to open Leatrix Tunes.
Always read the change log when installing updates.
To read the FAQ, click here.
To report a bug, ask for help or leave feedback, use the Issue Tracker.  Private messages for anything other than translations are ignored.  Use the Issue Tracker instead.
If you are looking for Leatrix Tunes for Wow Classic, it's here.
If you are looking for a sound kit browser, check out Leatrix Sounds.
Click here to browse all addons by Leatrix.