Earlier Versions
| | | | | | |
| --- | --- | --- | --- | --- | --- |
| MDGuildBest_v2.11.zip release | 3.84 KB | Aug 22, 2022 | 9.2.7 | 99 | Download |
| MDGuildBest_v2.10.zip release | 3.84 KB | Jun 4, 2022 | 9.2.5 | 653 | Download |
| MDGuildBest_v2.9.zip release | 3.84 KB | Mar 1, 2022 | 9.2.0 | 982 | Download |
| MDGuildBest_v2.8.zip release | 3.84 KB | Nov 6, 2021 | 9.1.5 | 4,480 | Download |
| MDGuildBest_v2.7.zip release | 3.85 KB | Oct 18, 2021 | 9.1.0 | 2,256 | Download |
| MDGuildBest_v2.6.zip release | 2.46 KB | Jul 31, 2021 | 9.1.0 | 22,562 | Download |
| MDGuildBest-2.5.zip release | 2.02 KB | Oct 18, 2020 | 9.0.1 | 46,230 | Download |
| MDGuildBest_2.4.zip release | 1.95 KB | Apr 11, 2020 | 8.3.0 | 851 | Download |
| MDGuildBest_2.3.zip release | 1.95 KB | Oct 19, 2019 | 8.2.5 | 1,760 | Download |
| MDGuildBest_2.2.zip release | 1.95 KB | Jun 24, 2019 | 8.2.0 | 3,576 | Download |
| MDGuildBest_2.1.zip release | 1.95 KB | Jun 15, 2019 | 8.1.5 | 464 | Download |
Description
Show the weekly info of mythic+ dungeons in your guild, which has been removed by blizz since BfA launched.
And add an icon on ChallengesFrame to show your account keystone info, include your alts.

When you have addon "AngryKeystones" enabled, the info window would follow the affixes scheduel window automaticly.

Full locales supported.
Without AngryKeystone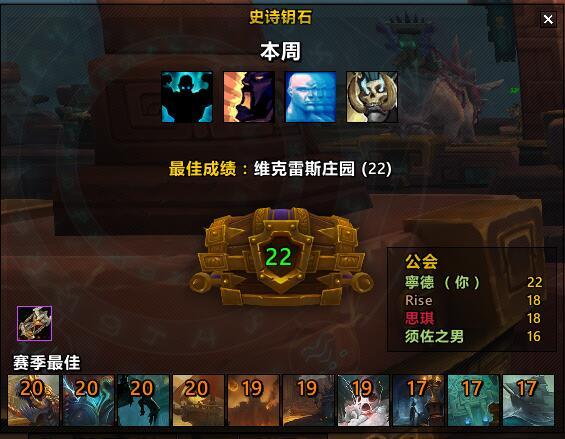 With AngryKeystone