Earlier Versions
| | | | | | |
| --- | --- | --- | --- | --- | --- |
| NovaRaidCompanion-v1.009-alpha.zip release | 475.52 KB | Oct 21, 2021 | 2.5.2 | 0 | Download |
| NovaRaidCompanion-v1.008-alpha.zip release | 472.60 KB | Oct 6, 2021 | 2.5.2 | 877 | Download |
| NovaRaidCompanion-v1.007-alpha.zip release | 472.41 KB | Oct 4, 2021 | 2.5.2 | 235 | Download |
| NovaRaidCompanion-v1.006-alpha.zip release | 472.35 KB | Oct 4, 2021 | 2.5.2 | 0 | Download |
| NovaRaidCompanion-v1.005-alpha.zip release | 434.59 KB | Sep 23, 2021 | 2.5.2 | 632 | Download |
| NovaRaidCompanion-v1.003-alpha.zip release | 432.59 KB | Sep 16, 2021 | 2.5.2 | 526 | Download |
| NovaRaidCompanion-v1.002-alpha.zip release | 432.49 KB | Sep 16, 2021 | 2.5.2 | 28 | Download |
| NovaRaidCompanion-V1.001-Alpha.zip release | 427.40 KB | Aug 23, 2021 | 2.5.1 | 651 | Download |
Description
Warning: This is an early alpha version, I've uploaded it here mainly to update my friends that help test. Many features are still a work in progress and/or missing!
Nova Raid Companion
Raid wide cooldown/battleres tracking, even when not in range to see them cast.
Raid leader helpers.
Boss specific helpers (things like warnings if you have no weapons equipped when starting the RP for Kael'thas).
Class specific helpers.
More raid and general PvE tools being added as I get time.
This is a very early alpha version with not many features added yet, I have many things planned for TBC but they will take time, and hopefully into WOTLK.
When you install this please hold shift to drag the frames where you want them and type /nrc config for options.
Merged Cooldown List (You can choose a merged list or unmerged list in /nrc config).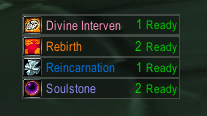 Hover mouse over any spell to see characters in raid with each spell.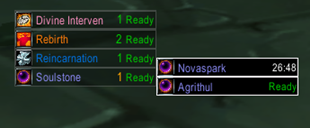 Then hover over any char in the tooltip to show an extra tooltip with spell info.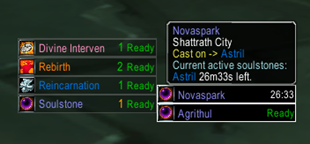 OR
Unmerged cooldown list to show all characters always.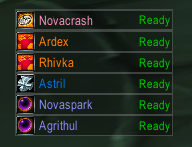 Shows who has a currently active soulstone buff below the cooldown frames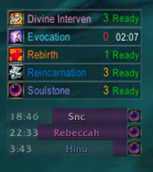 This addon can also show how long ago any NPC was spawned, mostly just a novelty but can be handy for knowing how long an instance has been open for or how long a layer has been up, how long since server restart, how long mobs in the world have been up.