Earlier Versions
| | | | | | |
| --- | --- | --- | --- | --- | --- |
| PlayableFeral1.1.zip release | 2.77 MB | Oct 6, 2017 | 7.3.0 | 207 | Download |
| PlayableFeral.zip release | 709.17 KB | Oct 6, 2017 | 7.3.0 | 38 | Download |
Description
No more SCCCRRTSH SCRRRRRRSTSH, no more ear bleeding.
Be like Trump Cat!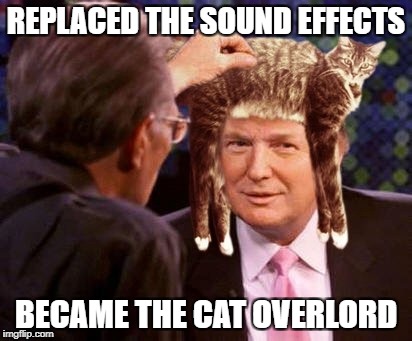 Here's how they sound in combat ! 
 Replaces the following to their old counterparts :
 - Annoying and loud cat form growls
– Rake & Shred SCRRRTSH SCRRRTSHH -papershredding noise 
– Impact hits
– Swing sounds muted
– Tiger's fury activates the old Savage Roar sound effect, because it sounds cool and actually makes it feel like you just used a very powerful cooldown.
 How to install ?
 1. Unzip the Sound folder in to your World of Warcraft folder. 
2. Log in
3. Congratulations. Your ears no longer bleed buckets of blood.