Earlier Versions
| | | | | | |
| --- | --- | --- | --- | --- | --- |
| 327.0 +1 More release | 172.99 KB | Sep 26, 2019 | 8.2.5 | 66 | Download |
| 325.0 +1 More release | 172.92 KB | Sep 26, 2019 | 8.2.5 | 4 | Download |
| 323.0 +1 More release | 172.70 KB | Sep 26, 2019 | 8.2.5 | 8 | Download |
| 321.0 +1 More release | 172.72 KB | Sep 26, 2019 | 8.2.5 | 12 | Download |
| 319.0 +1 More release | 172.74 KB | Sep 23, 2019 | 8.2.0 | 46 | Download |
| 316.0 +1 More release | 172.75 KB | Sep 23, 2019 | 8.2.0 | 3 | Download |
| 314.0 +1 More release | 172.77 KB | Sep 20, 2019 | 8.2.0 | 46 | Download |
| 312.0 +1 More release | 171.90 KB | Sep 20, 2019 | 8.2.0 | 4 | Download |
| 310.0 +1 More release | 171.95 KB | Sep 8, 2019 | 8.2.0 | 49 | Download |
| 307.0 +1 More release | 172.21 KB | Sep 8, 2019 | 8.2.0 | 6 | Download |
| 305.0 +1 More release | 172.25 KB | Sep 8, 2019 | 8.2.0 | 3 | Download |
| 302.0 +1 More release | 172.11 KB | Aug 20, 2019 | 8.2.0 | 68 | Download |
| 300.0 +1 More release | 172.27 KB | Aug 19, 2019 | 8.2.0 | 10 | Download |
| 295.0 +1 More release | 170.88 KB | Aug 3, 2019 | 8.2.0 | 84 | Download |
| 293.0 +1 More release | 170.84 KB | Aug 3, 2019 | 8.2.0 | 10 | Download |
| 291.0 +1 More release | 170.73 KB | Aug 3, 2019 | 8.2.0 | 10 | Download |
| 288.0 +1 More release | 170.62 KB | Aug 3, 2019 | 8.2.0 | 14 | Download |
| 286.0 +1 More release | 170.56 KB | Aug 2, 2019 | 8.2.0 | 30 | Download |
| 280.0 +1 More release | 168.87 KB | Aug 1, 2019 | 8.2.0 | 36 | Download |
| 278.0 +1 More release | 168.88 KB | Aug 1, 2019 | 8.2.0 | 7 | Download |
| 276.0 +1 More release | 168.99 KB | Aug 1, 2019 | 8.2.0 | 7 | Download |
| 271.0 +1 More release | 167.17 KB | Aug 1, 2019 | 8.2.0 | 16 | Download |
| 269.0 +1 More release | 167.13 KB | Aug 1, 2019 | 8.2.0 | 8 | Download |
| 267.0 +1 More release | 167.11 KB | Jul 29, 2019 | 8.2.0 | 52 | Download |
| 265.0 +1 More release | 167.10 KB | Jul 29, 2019 | 8.2.0 | 9 | Download |
| 263.0 +1 More release | 167.05 KB | Jul 29, 2019 | 8.2.0 | 15 | Download |
| 261.0 +1 More release | 167.03 KB | Jul 29, 2019 | 8.2.0 | 13 | Download |
| 259.0 +1 More release | 167.09 KB | Jul 29, 2019 | 8.2.0 | 15 | Download |
| 257.0 +1 More release | 167.10 KB | Jul 29, 2019 | 8.2.0 | 13 | Download |
| 255.0 +1 More release | 167.09 KB | Jul 29, 2019 | 8.2.0 | 5 | Download |
| 251.0 +1 More release | 166.47 KB | Jul 29, 2019 | 8.2.0 | 7 | Download |
| 249.0 +1 More release | 166.45 KB | Jul 29, 2019 | 8.2.0 | 6 | Download |
| 247.0 +1 More release | 166.45 KB | Jul 29, 2019 | 8.2.0 | 5 | Download |
| 245.0 +1 More release | 166.48 KB | Jul 29, 2019 | 8.2.0 | 5 | Download |
| 242.0 +1 More release | 165.85 KB | Jul 28, 2019 | 8.2.0 | 23 | Download |
| 240.0 +1 More release | 165.46 KB | Jul 28, 2019 | 8.2.0 | 15 | Download |
| 238.0 +1 More release | 165.58 KB | Jul 28, 2019 | 8.2.0 | 7 | Download |
| 236.0 +1 More release | 165.37 KB | Jul 28, 2019 | 8.2.0 | 6 | Download |
| 233.0 +1 More release | 164.78 KB | Jul 28, 2019 | 8.2.0 | 12 | Download |
| 230.0 +1 More release | 163.64 KB | Jul 28, 2019 | 8.2.0 | 8 | Download |
| 228.0 +1 More release | 163.54 KB | Jul 28, 2019 | 8.2.0 | 5 | Download |
| 226.0 +1 More release | 163.55 KB | Jul 28, 2019 | 8.2.0 | 5 | Download |
| 224.0 +1 More release | 163.50 KB | Jul 28, 2019 | 8.2.0 | 6 | Download |
| 215.0 +1 More release | 162.72 KB | Jul 28, 2019 | 8.2.0 | 5 | Download |
| 213.0 +1 More release | 162.10 KB | Jul 28, 2019 | 8.2.0 | 7 | Download |
| 210.0 +1 More release | 162.41 KB | Jul 28, 2019 | 8.2.0 | 5 | Download |
| 191.0 +1 More release | 152.65 KB | Jul 26, 2019 | 8.2.0 | 46 | Download |
| 189.0 +1 More release | 152.63 KB | Jul 26, 2019 | 8.2.0 | 4 | Download |
| 187.0 +1 More release | 152.67 KB | Jul 26, 2019 | 8.2.0 | 7 | Download |
| 184.0 +1 More release | 152.48 KB | Jul 26, 2019 | 8.2.0 | 6 | Download |
| 182.0 +1 More release | 152.22 KB | Jul 26, 2019 | 8.2.0 | 6 | Download |
| 178.0 +1 More release | 150.74 KB | Jul 26, 2019 | 8.2.0 | 16 | Download |
| 176.0 +1 More release | 150.63 KB | Jul 26, 2019 | 8.2.0 | 5 | Download |
| 174.0 +1 More release | 150.33 KB | Jul 25, 2019 | 8.2.0 | 21 | Download |
| 170.0 +1 More release | 149.88 KB | Jul 25, 2019 | 8.2.0 | 9 | Download |
| 167.0 +1 More release | 149.72 KB | Jul 25, 2019 | 8.2.0 | 6 | Download |
| 165.0 +1 More release | 149.71 KB | Jul 25, 2019 | 8.2.0 | 6 | Download |
| 163.0 +1 More release | 149.72 KB | Jul 25, 2019 | 8.2.0 | 5 | Download |
| 161.0 +1 More release | 149.65 KB | Jul 25, 2019 | 8.2.0 | 6 | Download |
| 159.0 +1 More release | 149.07 KB | Jul 23, 2019 | 8.2.0 | 30 | Download |
| 157.0 +1 More release | 148.97 KB | Jul 23, 2019 | 8.2.0 | 6 | Download |
| 155.0 +1 More release | 149.04 KB | Jul 23, 2019 | 8.2.0 | 6 | Download |
| 153.0 +1 More release | 148.63 KB | Jul 18, 2019 | 8.2.0 | 35 | Download |
| 151.0 +1 More release | 148.63 KB | Jul 18, 2019 | 8.2.0 | 6 | Download |
| 149.0 +1 More release | 148.19 KB | Jul 17, 2019 | 8.2.0 | 39 | Download |
| 147.0 +1 More release | 148.19 KB | Jul 17, 2019 | 8.2.0 | 6 | Download |
| 145.0 +1 More release | 148.12 KB | Jul 17, 2019 | 8.2.0 | 7 | Download |
| 143.0 +1 More release | 148.08 KB | Jul 17, 2019 | 8.2.0 | 6 | Download |
| 141.0 +1 More release | 148.07 KB | Jul 17, 2019 | 8.2.0 | 7 | Download |
| 139.0 +1 More release | 148.06 KB | Jul 17, 2019 | 8.2.0 | 8 | Download |
| 137.0 +1 More release | 148.08 KB | Jul 17, 2019 | 8.2.0 | 7 | Download |
| 135.0 +1 More release | 147.88 KB | Jul 17, 2019 | 8.2.0 | 6 | Download |
| 133.0 +1 More release | 147.87 KB | Jul 17, 2019 | 8.2.0 | 7 | Download |
| 131.0 +1 More release | 147.50 KB | Jul 17, 2019 | 8.2.0 | 6 | Download |
| 129.0 +1 More release | 147.45 KB | Jul 16, 2019 | 8.2.0 | 20 | Download |
| 127.0 +1 More release | 147.42 KB | Jul 16, 2019 | 8.2.0 | 6 | Download |
| 125.0 +1 More release | 147.42 KB | Jul 16, 2019 | 8.2.0 | 7 | Download |
| 123.0 +1 More release | 143.74 KB | Jul 16, 2019 | 8.2.0 | 6 | Download |
| 121.0 +1 More release | 143.71 KB | Jul 16, 2019 | 8.2.0 | 5 | Download |
| 119.0 +1 More release | 143.71 KB | Jul 16, 2019 | 8.2.0 | 5 | Download |
| 117.0 +1 More release | 143.42 KB | Jul 16, 2019 | 8.2.0 | 7 | Download |
| 115.0 +1 More release | 143.34 KB | Jul 16, 2019 | 8.2.0 | 8 | Download |
| 113.0 +1 More release | 142.75 KB | Jul 16, 2019 | 8.2.0 | 5 | Download |
| 111.0 +1 More release | 142.66 KB | Jul 14, 2019 | 8.2.0 | 31 | Download |
| 109.0 +1 More release | 142.66 KB | Jul 14, 2019 | 8.2.0 | 6 | Download |
| 107.0 +1 More release | 142.65 KB | Jul 14, 2019 | 8.2.0 | 8 | Download |
| 105.0 +1 More release | 142.66 KB | Jul 14, 2019 | 8.2.0 | 5 | Download |
| 103.0 +1 More release | 142.63 KB | Jul 14, 2019 | 8.2.0 | 5 | Download |
| 101.0 +1 More release | 142.30 KB | Jul 14, 2019 | 8.2.0 | 16 | Download |
| 99.0 +1 More release | 142.29 KB | Jul 14, 2019 | 8.2.0 | 5 | Download |
| 97.0 +1 More release | 142.30 KB | Jul 14, 2019 | 8.2.0 | 10 | Download |
| 95.0 +1 More release | 142.30 KB | Jul 14, 2019 | 8.2.0 | 16 | Download |
| 93.0 +1 More release | 142.28 KB | Jul 13, 2019 | 8.2.0 | 27 | Download |
| 91.0 +1 More release | 142.29 KB | Jul 13, 2019 | 8.2.0 | 7 | Download |
| 89.0 +1 More release | 142.25 KB | Jul 13, 2019 | 8.2.0 | 15 | Download |
| 87.0 +1 More release | 159.83 KB | Jul 11, 2019 | 8.2.0 | 22 | Download |
| 85.0 +1 More release | 159.84 KB | Jul 11, 2019 | 8.2.0 | 6 | Download |
| 83.0 +1 More release | 159.85 KB | Jul 11, 2019 | 8.2.0 | 8 | Download |
| 81.0 +1 More release | 159.85 KB | Jul 11, 2019 | 8.2.0 | 8 | Download |
| 79.0 +1 More release | 159.40 KB | Jul 11, 2019 | 8.2.0 | 15 | Download |
| 77.0 +1 More release | 154.60 KB | Jul 11, 2019 | 8.2.0 | 6 | Download |
| 48.0 +1 More release | 156.33 KB | Jul 9, 2019 | 8.2.0 | 18 | Download |
| 42.0 release | 13.08 KB | Jul 9, 2019 | 8.2.0 | 9 | Download |
| 30.0 +1 More release | 149.25 KB | Dec 11, 2018 | 8.0.1 | 68 | Download |
| 15.0 +1 More release | 147.48 KB | Dec 10, 2018 | 8.0.1 | 25 | Download |
| r319-alpha +1 More alpha | 172.73 KB | Sep 23, 2019 | 8.2.0 | 3 | Download |
| r309-alpha +1 More alpha | 171.95 KB | Sep 8, 2019 | 8.2.0 | 3 | Download |
| r305-alpha +1 More alpha | 172.28 KB | Sep 8, 2019 | 8.2.0 | 3 | Download |
| r298-alpha +1 More alpha | 172.07 KB | Aug 19, 2019 | 8.2.0 | 7 | Download |
| r297-alpha +1 More alpha | 172.08 KB | Aug 19, 2019 | 8.2.0 | 7 | Download |
| r296-alpha +1 More alpha | 171.70 KB | Aug 13, 2019 | 8.2.0 | 9 | Download |
| r291-alpha +1 More alpha | 170.68 KB | Aug 3, 2019 | 8.2.0 | 6 | Download |
| r284-alpha +1 More alpha | 169.94 KB | Aug 2, 2019 | 8.2.0 | 6 | Download |
| r282-alpha +1 More alpha | 169.87 KB | Aug 2, 2019 | 8.2.0 | 6 | Download |
| r281-alpha +1 More alpha | 169.52 KB | Aug 2, 2019 | 8.2.0 | 6 | Download |
| r274-alpha +1 More alpha | 168.10 KB | Aug 1, 2019 | 8.2.0 | 8 | Download |
| r272-alpha +1 More alpha | 167.91 KB | Aug 1, 2019 | 8.2.0 | 6 | Download |
| r253-alpha +1 More alpha | 166.90 KB | Jul 29, 2019 | 8.2.0 | 6 | Download |
| r243-alpha +1 More alpha | 166.24 KB | Jul 29, 2019 | 8.2.0 | 6 | Download |
| r231-alpha +1 More alpha | 164.55 KB | Jul 28, 2019 | 8.2.0 | 6 | Download |
| r222-alpha +1 More alpha | 163.45 KB | Jul 28, 2019 | 8.2.0 | 7 | Download |
| r220-alpha +1 More alpha | 163.43 KB | Jul 28, 2019 | 8.2.0 | 6 | Download |
| r219-alpha +1 More alpha | 162.92 KB | Jul 28, 2019 | 8.2.0 | 4 | Download |
| r218-alpha +1 More alpha | 162.78 KB | Jul 28, 2019 | 8.2.0 | 4 | Download |
| r217-alpha +1 More alpha | 162.79 KB | Jul 28, 2019 | 8.2.0 | 4 | Download |
| r216-alpha +1 More alpha | 162.77 KB | Jul 28, 2019 | 8.2.0 | 5 | Download |
| r211-alpha +1 More alpha | 162.02 KB | Jul 28, 2019 | 8.2.0 | 4 | Download |
| r208-alpha +1 More alpha | 162.69 KB | Jul 28, 2019 | 8.2.0 | 4 | Download |
| r207-alpha +1 More alpha | 162.31 KB | Jul 28, 2019 | 8.2.0 | 4 | Download |
| r206-alpha +1 More alpha | 161.86 KB | Jul 28, 2019 | 8.2.0 | 4 | Download |
| r204-alpha +1 More alpha | 162.16 KB | Jul 28, 2019 | 8.2.0 | 4 | Download |
| r203-alpha +1 More alpha | 162.03 KB | Jul 28, 2019 | 8.2.0 | 4 | Download |
| r202-alpha +1 More alpha | 162.10 KB | Jul 28, 2019 | 8.2.0 | 7 | Download |
| r201-alpha +1 More alpha | 162.06 KB | Jul 28, 2019 | 8.2.0 | 5 | Download |
| r200-alpha +1 More alpha | 161.35 KB | Jul 27, 2019 | 8.2.0 | 6 | Download |
| r199-alpha +1 More alpha | 160.89 KB | Jul 27, 2019 | 8.2.0 | 6 | Download |
| r198-alpha +1 More alpha | 160.26 KB | Jul 27, 2019 | 8.2.0 | 5 | Download |
| r197-alpha +1 More alpha | 159.77 KB | Jul 27, 2019 | 8.2.0 | 4 | Download |
| r196-alpha +1 More alpha | 159.53 KB | Jul 27, 2019 | 8.2.0 | 7 | Download |
| r0-alpha +1 More alpha | 141.11 KB | Aug 4, 2018 | 8.0.1 | 24 | Download |
Description
I both love and hate ElvUI. I love it because it looks nice, but I hate it as well since it costs too much memory and CPU cycles.
It also modifies too many blizzard's frames, so it taints often. I could not control these taints, and I doubt even authors of ElvUI themselves could not fix these issues as well since 8.2.
These programmers who claim memory does not affect performance are liars.
Here is a benchmark to prove that:
http://quick-bench.com/nQufBy1qkdRAMaH9eip6g3GM3MY
I decided to write my UI. Everything will be loaded as extensions or loaded on demand, just like my LFG AddOn. It should not cost more than 100 kb memory most of the time. Also, you can track memory usage/CPU usage of any feature quickly and disable any features you do not want.
This addon is still in beta phase. I publish this for my friends to test it and provide me feedback.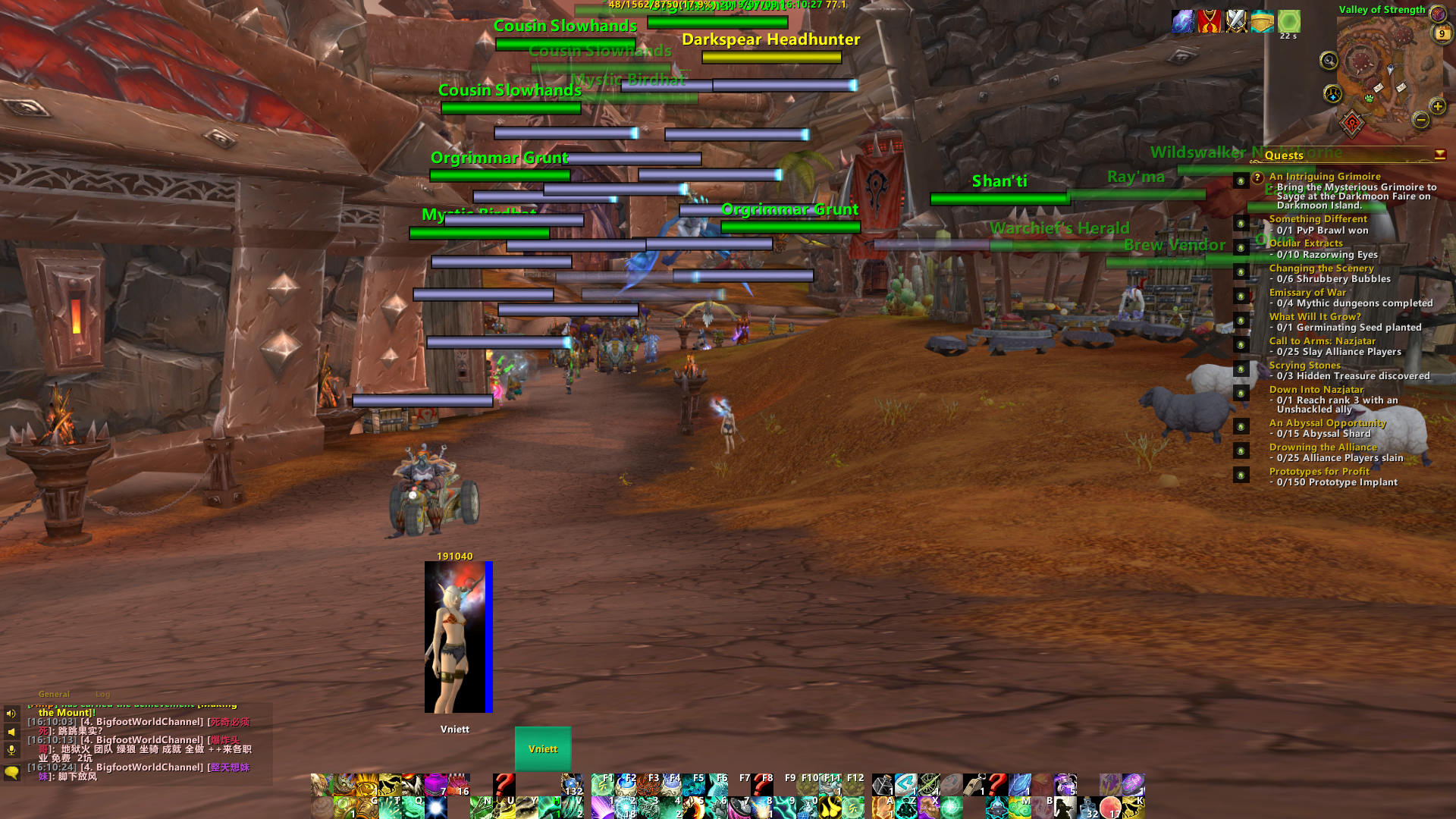 memory usage. Unit (kb)