Earlier Versions
| | | | | | |
| --- | --- | --- | --- | --- | --- |
| 9.0.2.16 release | 6.48 KB | Dec 17, 2020 | 9.0.2 | 3,446 | Download |
| 9.0.2.15 release | 6.40 KB | Dec 7, 2020 | 9.0.2 | 646 | Download |
| 9.0.1.15 release | 6.40 KB | Oct 16, 2020 | 9.0.1 | 806 | Download |
| 9.0.1.14 release | 6.33 KB | Oct 15, 2020 | 9.0.1 | 332 | Download |
| 8.3.0.13 release | 6.32 KB | Jan 28, 2020 | 8.3.0 | 934 | Download |
| 8.2.5.12 release | 6.32 KB | Nov 3, 2019 | 8.2.5 | 535 | Download |
| 8.2.0.11 release | 6.31 KB | Jul 22, 2019 | 8.2.0 | 556 | Download |
| 8.2.0.10 release | 6.30 KB | Jul 12, 2019 | 8.2.0 | 366 | Download |
| 8.1.0.9 release | 6.26 KB | Jun 21, 2019 | 8.1.5 | 432 | Download |
| 8.1.0.8 release | 6.23 KB | May 25, 2019 | 8.1.5 | 359 | Download |
| 8.1.0.7 release | 4.84 KB | May 23, 2019 | 8.1.5 | 212 | Download |
| 8.1.0.6 release | 2.10 KB | Apr 23, 2019 | 8.1.5 | 424 | Download |
| 8.1.0.5 release | 2.05 KB | Feb 17, 2019 | 8.1.0 | 415 | Download |
| 8.1.0.4 release | 1.95 KB | Feb 16, 2019 | 8.1.0 | 238 | Download |
| 8.1.0.3 release | 1.77 KB | Feb 12, 2019 | 8.1.0 | 199 | Download |
| 8.1.0.2 release | 1.76 KB | Feb 12, 2019 | 8.1.0 | 150 | Download |
Description
This addon will create a macro called "RHS", just find it, and bring it to actionbars.
Click the macro will randomly use Hearthstone toys.
You can add your own macro command into the macro. If any error was got, please delete the "RHS" macro and reload, or input /rhs to refresh the macro.
You can select which hearthstones to use in the options frame.
Click the blue button on the right side of each line will enable or disable the hearthstone toy.
The simple version macro only contain hearthstone toys. The powerful version macro contain Dalaran Hearthstone (mod:shift), Garrison Hearthstone (mod:alt) and Flight Master's Whistle (mod:ctrl).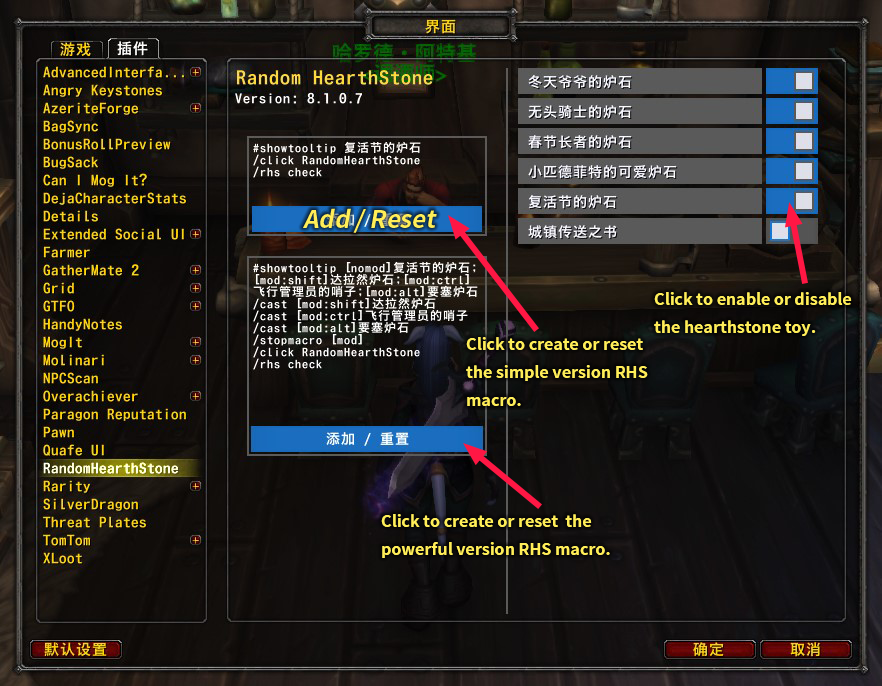 安装插件后,会新建一个叫 "RHS" 的宏,拖出来就可以使用了。
点击宏可以随机使用已有的炉石玩具。
可以自己在宏内添加命令,修改宏。如果有错误,可以删掉"RHS"重载界面,或者输入"/rhs"来刷新宏。