Earlier Versions
| | | | | | |
| --- | --- | --- | --- | --- | --- |
| v1.1 release | 2.12 KB | Dec 7, 2019 | 1.13.2 | 99 | Download |
| v1.0 release | 1.84 KB | Dec 5, 2019 | 1.13.2 | 11 | Download |
Description
Why ?
I wanted a simple way to show what I got, and share my builds.
Also, as a twink, I buy a lot of BiS items for various brackets that I don't need to reserve them for twinks.
I want to be able to share items available with no hassle.
How to use
Open your bank and you can copy the link, you can now share this link.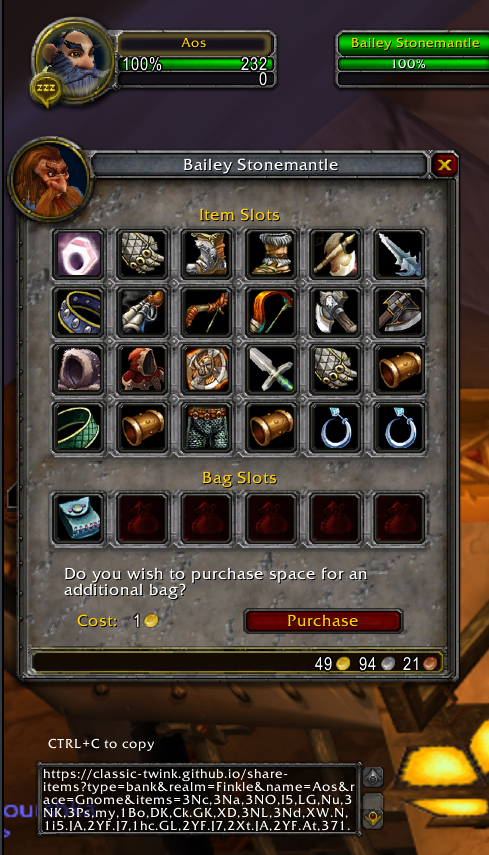 Example
link: https://classic-twink.github.io/share-items?type=bank&realm=Finkle&name=Aos&race=Gnome&items=1o4,f6,CP,CP,kY,fl,fl,Bn,KB,2Z,J3,Dq,CU,wx,371.Me,371.Me,371.NN,371.NN,371.Lu,371.LA,38Q,1i5.JA,2YF.J7,2YF.At,2Xt.JA,2YF.J7,1hc.GL,my,1Bo,DK,Ck.GK,3Nd,3NL,XD,3Nc,3Na,3NO,I5,3NK,3Ps,Nu,LG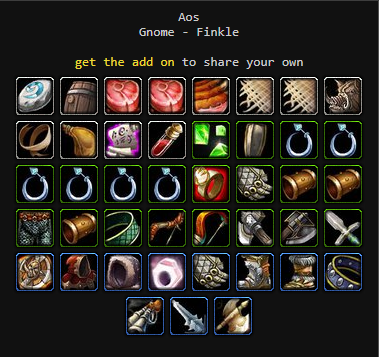 Links are fairly long, because all the data is in the link, the server store no data and this is what allows the link to be generated from World of Warcraft directly.