Earlier Versions
| | | | | | |
| --- | --- | --- | --- | --- | --- |
| SoulbindConduitManager-v0.6.zip release | 5.71 KB | Dec 27, 2020 | 9.0.2 | 815 | Download |
| SoulbindConduitManager-v0.5.zip release | 5.35 KB | Dec 14, 2020 | 9.0.2 | 1,297 | Download |
| SoulbindConduitManager-v0.4.zip release | 5.03 KB | Dec 1, 2020 | 9.0.2 | 932 | Download |
| SoulbindConduitManager-v0.3.zip release | 5.03 KB | Nov 25, 2020 | 9.0.2 | 410 | Download |
| SoulbindConduitManager-v0.2.zip release | 4.96 KB | Nov 22, 2020 | 9.0.2 | 72 | Download |
| SoulbindConduitManager-v0.1.zip release | 4.45 KB | Nov 21, 2020 | 9.0.2 | 22 | Download |
Description
Soulbind Conduit Manager
This addon allows you to quickly save/apply different Soulbind Conduit selections and paths.
I wrote this addon because I noticed I was struggling to remember which Conduits I wanted for each spec I play, e.g. healer may want a different Conduit in a path selection compared to a damage dealer.  I'm not sure how actually useful (or practical) this addon will be, but if you think it'll help you too then give it a go 🙂
I'm still new to writing addons so it is a little simplistic but it should get the job done.
I'd also really recommend the SoulbindsTalents addon by jokair9 as it adds a really easy shortcut on the talents frame.
Usage
To use it, when you have the Soulbind window open you should see an extra section on the right (see screenshot below) that will display all your saved paths.
To create a new path, put a descriptive name in the text box and click the + button, which will make a new empty selection.
To save the currently chosen (or modified) conduits/path, CONTROL+CLICK the named profile you want to save to.
To select (apply) a saved path, just CLICK the named profile.
To delete a saved path, SHIFT+CLICK the named profile.
Notes
You can only make changes in a rested zone (as with the normal way of changing paths).
You can freely make path changes without a cost if the path doesn't change any Conduit sockets.
If your saved path would make a Conduit change, it will prompt (as with the normal way) that it will cost X amount of Conduit Energy.
You can only make Conduit changes at the Forge of Bonds.
Your listed profiles will highlight a Conduit icon if you currently have that Conduit active, so you can quickly see which profiles may also contain the ones currently active.
I haven't tested it with high Renown/Campaign levels so I was limited to a small number of rows – I'll need to unlock more to see any issues with more Conduit combinations.
Misc Commands
/scm select name-of-saved-path
Select a saved path, e.g. /scm select aoe-dps
/scm attempt
(toggle, default on) the addon will attempt to set the changes if you have Conduits that need applying. It will still prompt you if it will consume Conduit Energy, it just saves you clicking "Apply Conduits"
Screenshot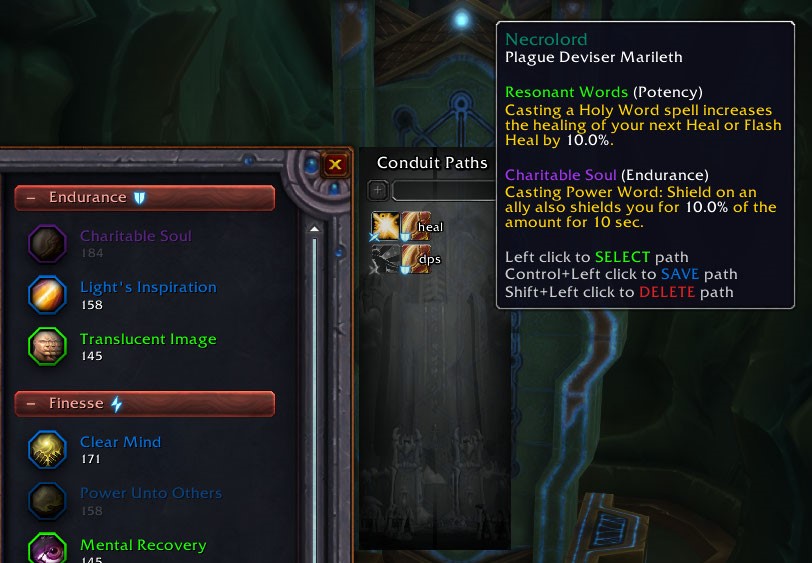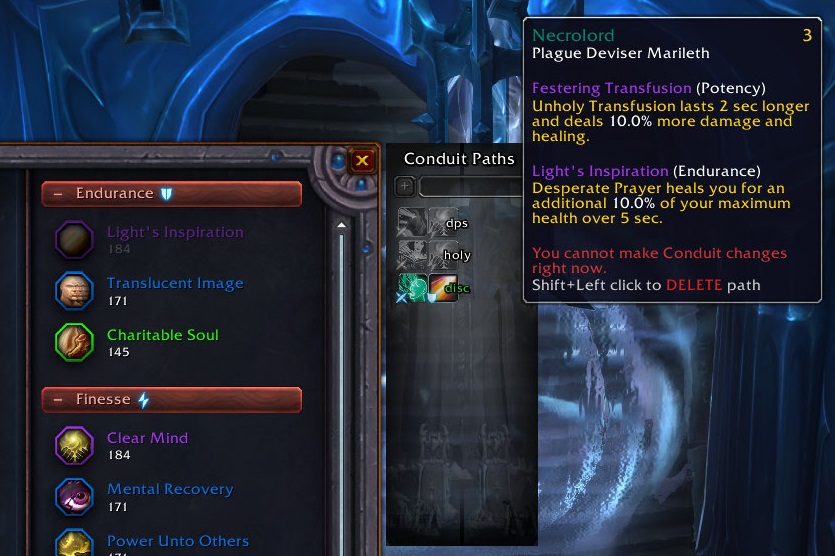 Bugs
It's a new addon, it's bound to have bugs, but I've been using it on beta for a few days and haven't noticed anything wildly wrong, but here a few things I need to sort out:
* Tooltips for the Conduits show the base level description and are not adjusted for higher item levels – need to work out how I can pull the descriptions with different ranks/ilvl
* I noticed a blocked action/taint error when taking a Screenshot when Conduit changes "apply"  pop-up dialog is showing – no idea why it only does it for that specific scenario.