Earlier Versions
| | | | | | |
| --- | --- | --- | --- | --- | --- |
| 2.0.27 release | 635.44 KB | Nov 23, 2020 | 9.0.2 | 1,225 | Download |
| 2.0.26 release | 662.05 KB | Nov 23, 2020 | 9.0.2 | 154,455 | Download |
| 2.0.25 release | 479.80 KB | Nov 21, 2020 | 9.0.2 | 117,821 | Download |
| 2.0.24 release | 479.79 KB | Nov 20, 2020 | 9.0.2 | 143,071 | Download |
| 2.0.23 release | 479.77 KB | Nov 19, 2020 | 9.0.2 | 82,749 | Download |
| 2.0.22 release | 479.95 KB | Nov 18, 2020 | 9.0.1 | 134,139 | Download |
| 2.0.21 release | 479.78 KB | Nov 18, 2020 | 9.0.1 | 49,832 | Download |
| 2.0.19 release | 479.78 KB | Nov 17, 2020 | 9.0.1 | 112,626 | Download |
| 2.0.18 release | 479.87 KB | Nov 17, 2020 | 9.0.1 | 1,173 | Download |
| 2.0.17 release | 479.62 KB | Nov 17, 2020 | 9.0.1 | 22,154 | Download |
| 2.0.16 release | 479.14 KB | Nov 17, 2020 | 9.0.1 | 28,972 | Download |
| 2.0.15 release | 479.10 KB | Nov 16, 2020 | 9.0.1 | 70,253 | Download |
| 2.0.14 release | 479.06 KB | Nov 16, 2020 | 9.0.1 | 4,166 | Download |
| 2.0.13 release | 478.22 KB | Nov 15, 2020 | 9.0.1 | 81,873 | Download |
| 2.0.12 release | 478.22 KB | Nov 15, 2020 | 9.0.1 | 2,088 | Download |
| 2.0.11 release | 478.21 KB | Nov 14, 2020 | 9.0.1 | 60,735 | Download |
| 2.0.10 release | 476.83 KB | Nov 14, 2020 | 9.0.1 | 52,954 | Download |
| 2.0.9 release | 476.80 KB | Nov 13, 2020 | 9.0.1 | 58,045 | Download |
| 2.0.8 release | 476.57 KB | Nov 13, 2020 | 9.0.1 | 15,249 | Download |
| 2.0.7 release | 476.40 KB | Nov 13, 2020 | 9.0.1 | 31,747 | Download |
| 2.0.6 release | 482.14 KB | Nov 12, 2020 | 9.0.1 | 22,783 | Download |
| 2.0.5 release | 482.14 KB | Nov 12, 2020 | 9.0.1 | 67,582 | Download |
| 2.0.4 release | 482.12 KB | Nov 12, 2020 | 9.0.1 | 8,246 | Download |
| 2.0.3 release | 482.59 KB | Nov 12, 2020 | 9.0.1 | 12,681 | Download |
| 2.0.2 release | 482.80 KB | Nov 10, 2020 | 9.0.1 | 147,941 | Download |
| 2.0.1 release | 482.62 KB | Nov 10, 2020 | 9.0.1 | 5,569 | Download |
| 2.0.0 release | 482.47 KB | Nov 10, 2020 | 9.0.1 | 27,249 | Download |
| 01.06.04 release | 450.99 KB | Nov 4, 2020 | 9.0.1 | 171,740 | Download |
| 01.06.03 release | 451.88 KB | Nov 4, 2020 | 9.0.1 | 2,371 | Download |
| 01.06.02 release | 451.88 KB | Nov 4, 2020 | 9.0.1 | 2,516 | Download |
| 01.06.01 release | 450.99 KB | Oct 19, 2020 | 9.0.1 | 275,379 | Download |
| 01.06.00 release | 450.98 KB | Oct 13, 2020 | 9.0.1 | 279,254 | Download |
| 01.05.00 release | 451.08 KB | Mar 10, 2020 | 8.3.0 | 735,533 | Download |
| v1.4.12-retail release | 447.06 KB | Jan 25, 2020 | 8.3.0 | 445,223 | Download |
| v1.4.9-retail release | 447.48 KB | Jan 24, 2020 | 8.3.0 | 166,164 | Download |
| v1.4.8-retail release | 447.44 KB | Jan 23, 2020 | 8.3.0 | 59,410 | Download |
| v1.4.7-retail release | 447.44 KB | Jan 23, 2020 | 8.3.0 | 2,202 | Download |
| v1.4.6-retail release | 447.44 KB | Jan 23, 2020 | 8.3.0 | 5,174 | Download |
| v1.4.5-retail release | 469.29 KB | Jan 21, 2020 | 8.3.0 | 217,552 | Download |
| v1.4.4-retail release | 469.29 KB | Jan 18, 2020 | 8.3.0 | 196,713 | Download |
| v1.4.3-retail release | 469.29 KB | Jan 18, 2020 | 8.3.0 | 3,829 | Download |
| v1.4.2-retail release | 468.96 KB | Jan 16, 2020 | 8.3.0 | 198,587 | Download |
| v1.4.1-retail release | 468.76 KB | Jan 16, 2020 | 8.3.0 | 35,503 | Download |
| v1.4.0-retail release | 468.72 KB | Jan 14, 2020 | 8.3.0 | 195,330 | Download |
| v1.3.6 release | 73.95 KB | Aug 19, 2019 | 8.2.0 | 557,247 | Download |
| v1.3.5 release | 73.94 KB | Aug 18, 2019 | 8.2.0 | 71,098 | Download |
| v0.0.2-classic release | 186.36 KB | Aug 16, 2019 | 1.13.2 | 240,268 | Download |
| v0.0.1-classic release | 186.37 KB | Aug 16, 2019 | 1.13.2 | 781 | Download |
| v1.3.4 release | 53.97 KB | Aug 7, 2019 | 8.2.0 | 264,140 | Download |
| v1.3.3 release | 53.93 KB | Aug 4, 2019 | 8.2.0 | 168,406 | Download |
| v1.3.2 release | 44.02 KB | Aug 2, 2019 | 8.2.0 | 105,483 | Download |
| v1.3.1 release | 43.98 KB | Aug 1, 2019 | 8.2.0 | 77,153 | Download |
| v1.3.0 release | 43.96 KB | Aug 1, 2019 | 8.2.0 | 14,479 | Download |
| v1.0.13 release | 30.51 KB | Jul 26, 2019 | 8.2.0 | 217,949 | Download |
| v1.0.12 release | 25.92 KB | Jul 7, 2019 | 8.2.0 | 306,017 | Download |
| v1.0.11 release | 17.21 KB | May 17, 2019 | 8.1.5 | 302,122 | Download |
| v1.0.10 release | 17.21 KB | May 3, 2019 | 8.1.5 | 55,844 | Download |
| v1.0.9 release | 17.19 KB | Apr 26, 2019 | 8.1.5 | 47,036 | Download |
| v1.0.8 release | 17.19 KB | Apr 26, 2019 | 8.1.5 | 898 | Download |
| v1.0.7 release | 17.17 KB | Apr 9, 2019 | 8.1.5 | 61,973 | Download |
| v1.0.6 release | 17.17 KB | Feb 26, 2019 | 8.1.5 +1 | 88,209 | Download |
| v1.0.5 release | 123.77 KB | Feb 25, 2019 | 8.1.0 | 20,339 | Download |
| v1.0.4 release | 123.77 KB | Feb 23, 2019 | 8.1.0 | 36,305 | Download |
| v1.0.2 release | 8.80 KB | Jan 28, 2019 | 8.1.0 | 78,866 | Download |
| v1.0.1 release | 21.82 KB | Dec 23, 2018 | 8.1.0 | 95,858 | Download |
| v1.0.0 release | 21.19 KB | Dec 20, 2018 | 8.1.0 | 8,775 | Download |
Description
README: TomCat's Tours is now combined into one addon!
 In order to prepare for new Shadowlands features coming very soon, and to simplify the maintenance and updating of these addons, all TomCat's Tours modules are now combined and packaged into the original (core) addon.  For more details, click here
* Just added: Rares of Death's Rising (Icecrown)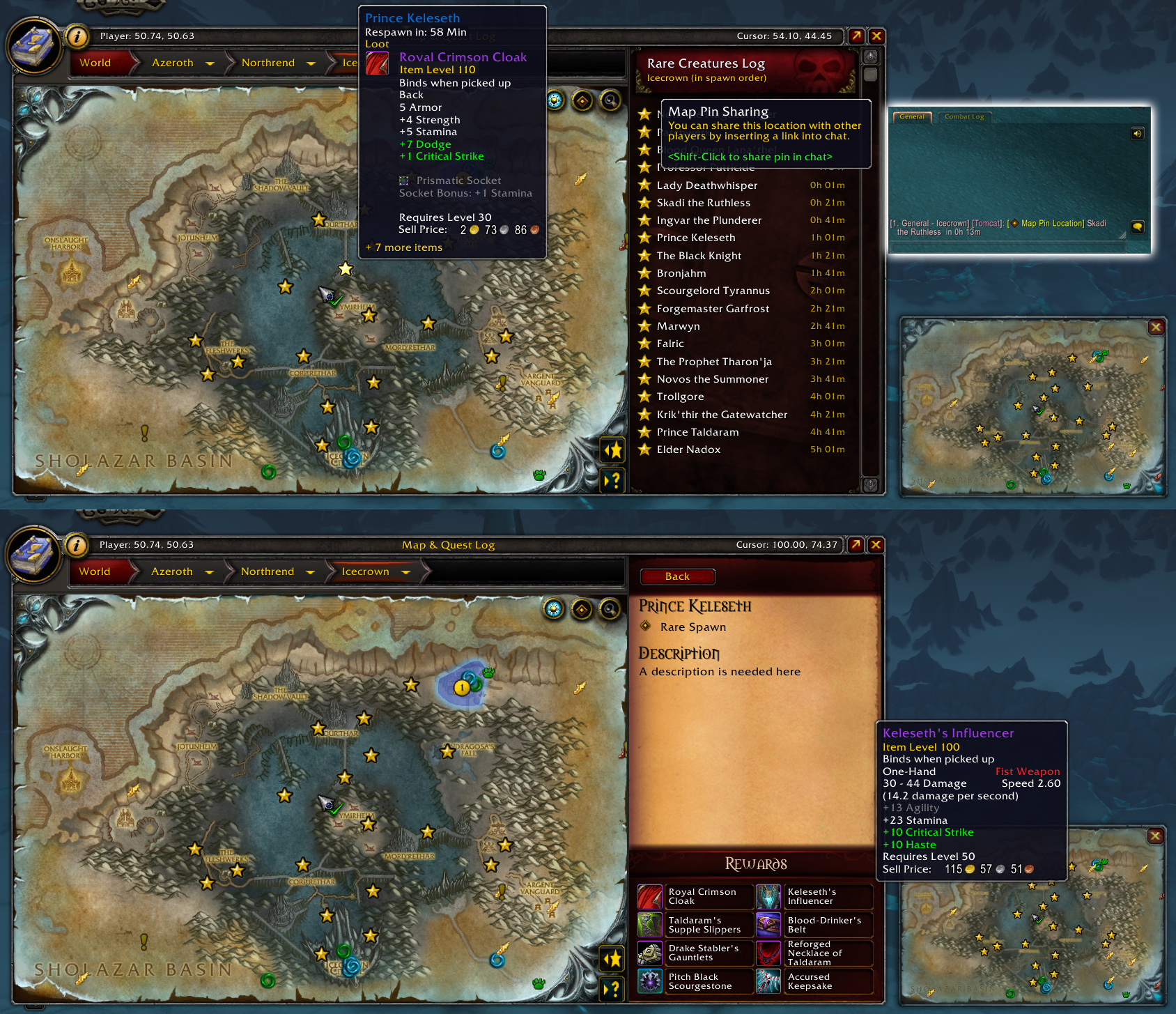 This is the core addon and control panel hub for all other TomCat's Tours addons.  This addon will install automatically when you install any other TomCat's Tours addons using a compatible installer such as Twitch or Overwolf.  It is recommended that you install TomCat's Tours Complete to get all of the available features.
Rares of Death's Rising (Icecrown) **included in this core
For all of the available features, Please check each addon's link below:
Rares of Mechagon
Rares of N'Zoth (Uldum and Vale)
Rares of Nazjatar
Rares of Darkshore
Rares of Arathi Highlands
Coordinates
Warfronts Command Center
Hivemind
Hallow's End
Lunar Festival
Children's Week
Love is in the Air
Noblegarden
Notes, known issues and caveats:
You must disable or uninstall Auctioneer with Norganna's Slidebar to fully use TomCat's Tours.  Auctioneer hasn't been updated to work with Shadowlands and is throwing many errors.
If you want to send map pins anywhere other than /1, hold control and shift together when clicking the map star until we can find a more intuitive way to support all users and the many ways they want to use map pins.
Issues can be reported here: https://www.curseforge.com/wow/addons/tomcats/issues/create
Other comments, questions, and suggestions can be sent here: https://www.curseforge.com/private-messages/send?recipient=tomcat