Earlier Versions
| | | | | | |
| --- | --- | --- | --- | --- | --- |
| 1.0.3 release | 2.68 KB | Sep 19, 2019 | 1.13.2 | 4,647 | Download |
| 1.0.2 release | 2.46 KB | Sep 18, 2019 | 1.13.2 | 673 | Download |
| 1.0.1 release | 2.48 KB | Sep 18, 2019 | 1.13.2 | 296 | Download |
| Version 1.0.0 release | 2.45 KB | Sep 18, 2019 | 1.13.2 | 161 | Download |
| 1.1.0 beta | 2.95 KB | Sep 21, 2019 | 1.13.2 | 270 | Download |
Description
Got too many items in your bags and already throw out those greys? Do you have use for bear meat or boar meat for cooking? Maybe an alt can use it in a recipe? Then this addon is the solution!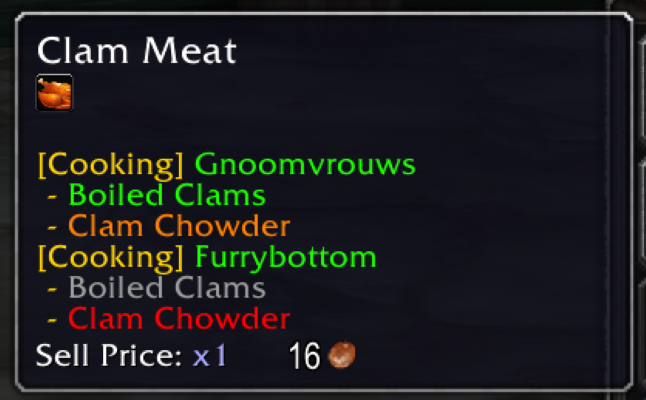 When hovering over an item the tooltip should show you if this item is part of a recipe.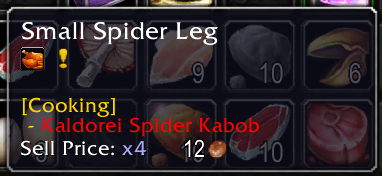 Current features as of 1.0.0
– Shows you the tradeskill and recipes that uses the hovered item
– Colored based on skill ("trivial", "easy", "medium", "optimal", "unknown")
– Pressing shift will also show your alts available recipes
– Registers only recipes that your toons know and will record them when opening your tradeskill window
– There is no database with recipes in this addon and is currently not planned as maintaining those databases is a pain
– Any comments are more than welcome!
Version 1.1.0 – Beta!
Major change in looks and showing of the tooltip addition.
– Beta features! Options still needs to be integrated!
– Use ALT, CTRL and SHIFT for the following tooltip options – Please see images for examples!
  – ALT will show you the tooltip, without this keypress UsedInRecipe won't show you the tooltip
  – CTRL will drill down deeper and shows you recipes that uses the created items
  – SHIFT will show you the availability of alts on the current server
– Display has been reworked with icons
– Above will all be available in options screen when released
ALT: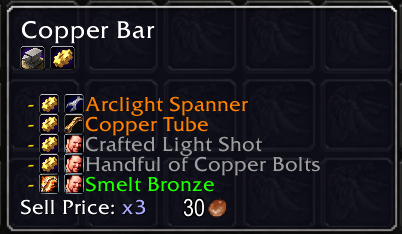 ALT+Shift: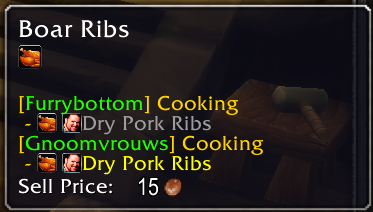 ALT+CTRL: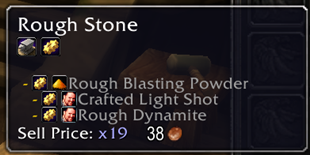 Bugs
– note that the tooltip when hovering over items in the Enchanting window does not show you the tooltip info. It only works when hovering over items in your bags
Currently not tested
– Localization, the skill based coloring is done through text comparison which are possibly localized (if you can send me the correct ones from the uirReciDB I can implement this in the next version)
Recommended additional addon
– Recipe Radar Classic - https://www.curseforge.com/wow/addons/recipe-radar-classic