Earlier Versions
| | | | | | |
| --- | --- | --- | --- | --- | --- |
| VashPlanner_v0.11.zip release | 677.33 KB | Sep 26, 2021 | 2.5.2 | 92 | Download |
| VashPlanner_v0.12a.zip alpha | 643.48 KB | Sep 27, 2021 | 2.5.2 | 0 | Download |
Description
Initial release of my untested Vashj planning tool.
The Raidleader or an Assist can, after choosing the main roles (Tanks and Kiter) freely position any raidmember in the room. Default positions according to a standard tactic are provided.
After sharing, all other raid members with the addon will see the layout as designed by the raid leader, and will see their own position marked with a RED color for easy highlighting.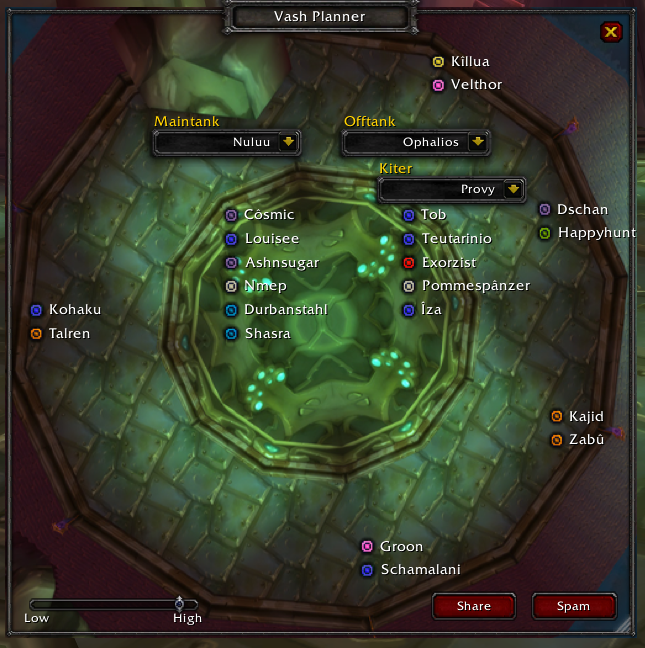 As a RAIDMEMBER:
your own "dot" is larger and RED so you can easily see where/when you are placed
the addon is opened when the readlead shares the setup
open the addon manually with /vash
When you throw a tainted core, the Player you throw it to is warned via Whisper, and you announce your throw and target in raid chat automatically.
As a RAIDLEAD:
You need Assist atleast
Reload your interface after you got raidlead or assist
Open the addon with /vash
Select a Maintank, Offtank and your Kiter, grid is filled automatically
"Share" the grid to everyone who has the addon
use /vash reset to reset positions to the default ones
"Spam" does nothing at the moment, it is a leftover from Magtheridonplanner

This addon is very fresh, additional functions are planned

Known issues:

When the raid setup changes, players are moved around and switch positions. I am working on a fix for that. Current W/A is to set up your raid including MT marks, Assists and Group setups before making the setup.
The Warning message when throwing the core cannot be deactivated or modified. Will implement configuration options for that.