Earlier Versions
| | | | | | |
| --- | --- | --- | --- | --- | --- |
| 205r.210725 release | 212.71 KB | Jul 28, 2021 | 2.5.1 | 2,268 | Download |
| 205r.210719 release | 212.66 KB | Jul 21, 2021 | 2.5.1 | 29,488 | Download |
| 205r.210711 release | 211.66 KB | Jul 11, 2021 | 2.5.1 | 33,342 | Download |
| 205r.210629 release | 211.22 KB | Jun 29, 2021 | 2.5.1 | 41,215 | Download |
| 205r.210621 release | 211.24 KB | Jun 22, 2021 | 2.5.1 | 11,680 | Download |
| 113r.210620 release | 211.24 KB | Jun 22, 2021 | 1.13.7 | 175 | Download |
| 205r.210620 release | 199.21 KB | Jun 21, 2021 | 2.5.1 | 691 | Download |
| 205r.210617 release | 199.01 KB | Jun 18, 2021 | 2.5.1 | 983 | Download |
| 205r.210613 release | 198.96 KB | Jun 14, 2021 | 2.5.1 | 1,017 | Download |
| 205r.210608 release | 260.32 KB | Jun 8, 2021 | 2.5.1 | 1,168 | Download |
| 205r.210606 release | 260.52 KB | Jun 7, 2021 | 2.5.1 | 694 | Download |
| 205r.210530 release | 214.61 KB | May 31, 2021 | 2.5.1 | 1,194 | Download |
| 205r.210521 release | 214.31 KB | May 21, 2021 | 2.5.1 | 1,563 | Download |
| 113r.201202 release | 213.85 KB | Dec 15, 2020 | 1.13.6 | 1,792 | Download |
| 113r.200909 release | 223.15 KB | Sep 18, 2020 | 1.13.5 | 1,115 | Download |
| 113r.200902 release | 223.08 KB | Sep 7, 2020 | 1.13.5 | 528 | Download |
| 113r.200812 release | 214.04 KB | Aug 12, 2020 | 1.13.5 | 671 | Download |
| 113r.200729 release | 210.36 KB | Jul 31, 2020 | 1.13.5 | 555 | Download |
| 113r.200716 release | 197.44 KB | Jul 17, 2020 | 1.13.5 | 486 | Download |
| 113r.200715 release | 197.43 KB | Jul 16, 2020 | 1.13.5 | 179 | Download |
| 113r.200708 release | 197.89 KB | Jul 9, 2020 | 1.13.5 | 467 | Download |
| 113r.200610 release | 195.31 KB | Jun 11, 2020 | 1.13.4 | 499 | Download |
| 113r.200527 release | 195.65 KB | May 28, 2020 | 1.13.4 | 365 | Download |
| 113r.200514 release | 165.31 KB | May 14, 2020 | 1.13.4 | 293 | Download |
| 113r.200507 release | 180.19 KB | May 7, 2020 | 1.13.4 | 160 | Download |
| 113r.200506 release | 926.92 KB | May 6, 2020 | 1.13.4 | 115 | Download |
| 113r.200505 release | 158.12 KB | May 5, 2020 | 1.13.4 | 56 | Download |
| 113r.200503 release | 157.12 KB | May 4, 2020 | 1.13.4 | 87 | Download |
Description
By now, most data is gathered in game, except specs of leatherworking and weapon smithing.
for the 60era: For the eariest version, data is fetched from old version of AtlasLootClassic by Lag123 or AtlasLoot Enhanced by Lag123.
for the 70bcc: Data is generated in game or crawler 70.wowfan.net
An enhanced tradeskill frame. Support alaTrade, Auctionator, AuctionFaster or AuctionMaster, AUX.
Command: [ Config window includes settings of all commands ]
/atf set expand on/off toggle between wide and normal window
/atf set blz style on/off toggle between blz style and flat style
/atf set price info on/off toggle price above materials
/atf set rank on/off toggle rank above materials
/atf set tip item on/off toggle price on tooltip of crafted item
/atf set tip spell on/off toggle price on tooltip of tradeskill spell
/atf set tip recipe on/off toggle price on tooltip of recipe or formula
/atf set tip learned on/off toggle show characters learned or not learned on tooltip of reipce or formula

/atf set tip default on/off toggle tooltip of wow's default skill list
/atf set style on/off another appearance
/atf set regular expression on/off toggle whether to use regular expression for searching
/atf set show call on/off toggle the button on the top right ('Close' or 'Show')
/atf set show tab on/off toggle the tradeskill bar to the top of the tradeskill frame
/atf set portrait on/off toggle the dropdown menu when clicking the portrait in tradeskill frame
/atf set hide mtsl on/off toggle hide ui of mtsl
/atf set show board on/off toggle cd board
/atf set lock board on/off lock/unlock cd board

Including features: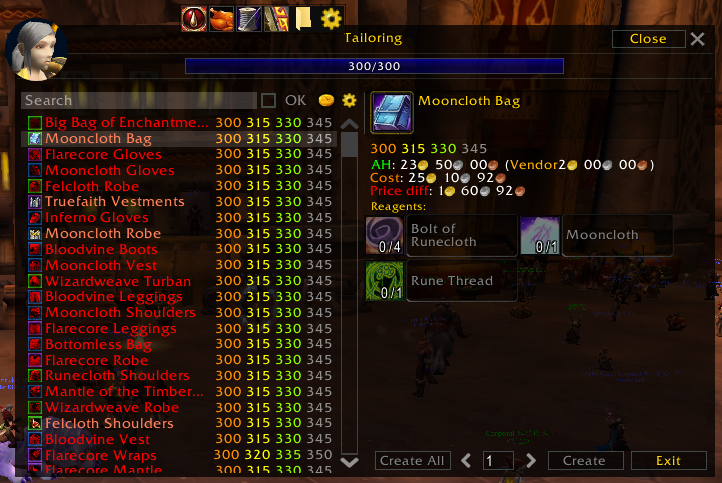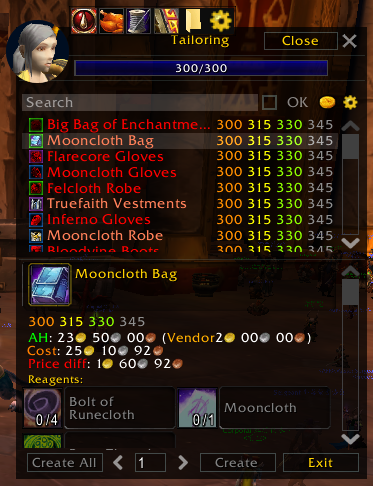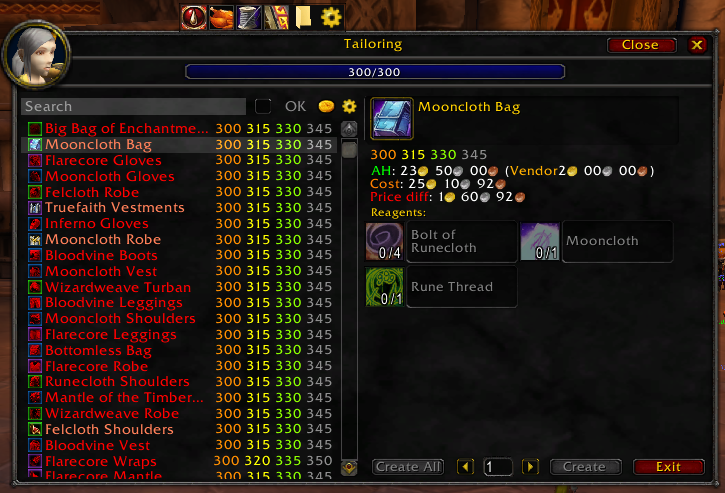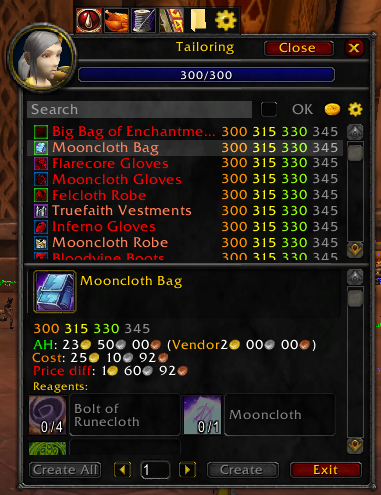 1. List learned and unlearned skills in the TradeSkillFrame and CraftFrame.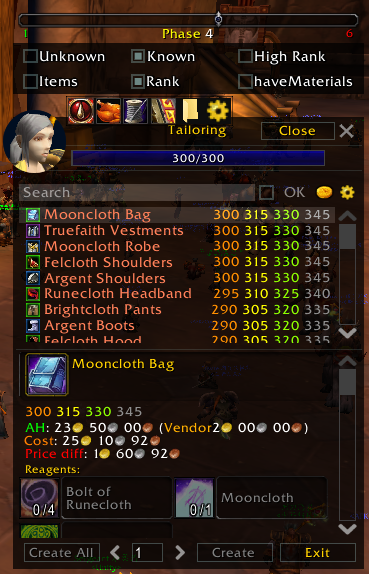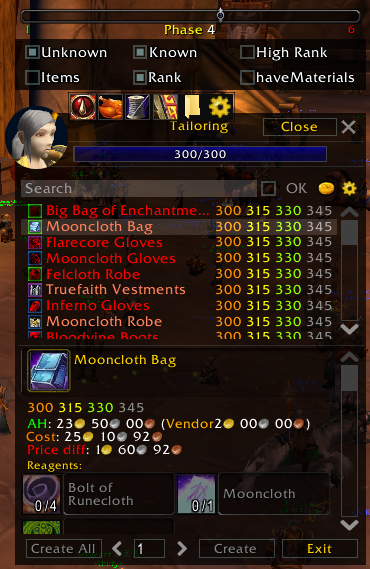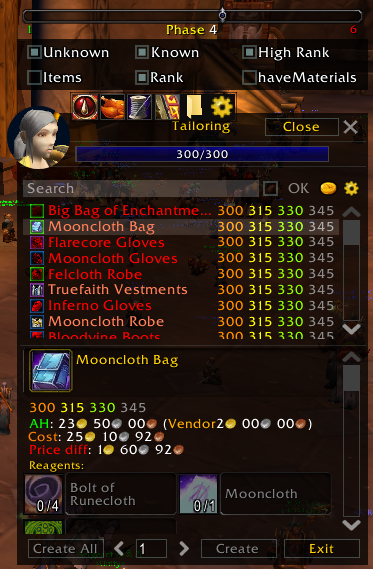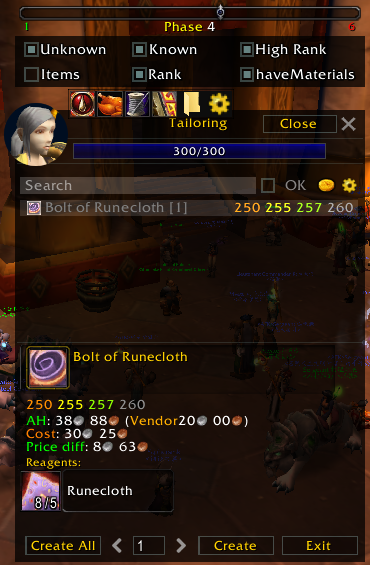 2. Show the ranks of learning, turning yellow, turning green, turning grey.
3. Show source of the recipe: trainer, vendor or dropped by mob, eg.
If you also use MissingTradeSkillLists, it will display more information.

4. Calculate cost and price if you use any one of alaTrade, Auctionator, AUX, AuctionFaster or AuctionMaster.
This feature supports skill in the TradeskillFrame and CraftFrame, items and recipes in the bag, bank, auction, mailbox, chatframe, lootframe, tradeframe.
5. Auto filter enchant skills when equipable item put in the tradeframe or shift click equipable item with CraftFrame shown.
6. A profit frame aside TradeFrame and CraftFrame.
It can list items that you can earn money by crafting it. And sort by earned money.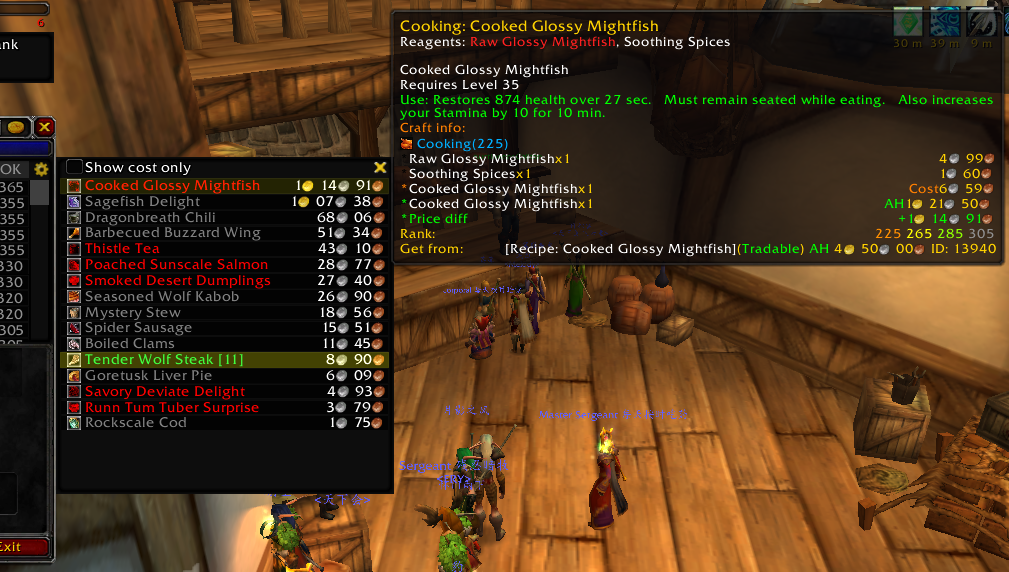 It can also display cost price only. You will known how to rank up your skill.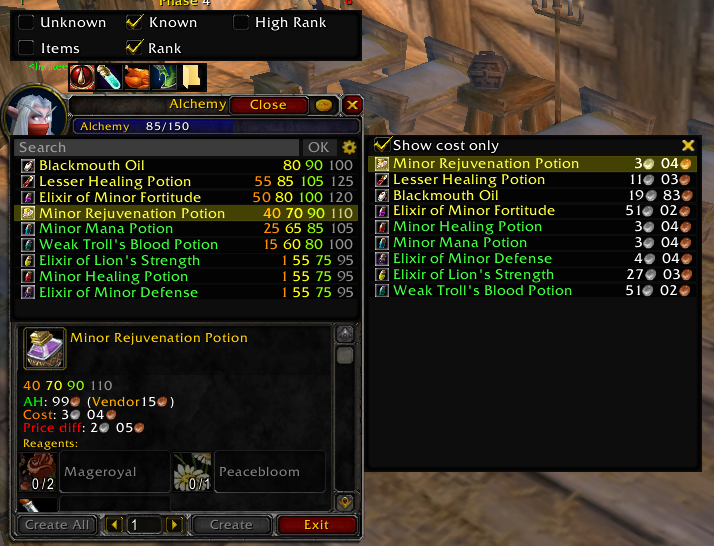 7. Save skills learned by all your characters. You can explore and filter it in a standalone window. The window can also display earned money.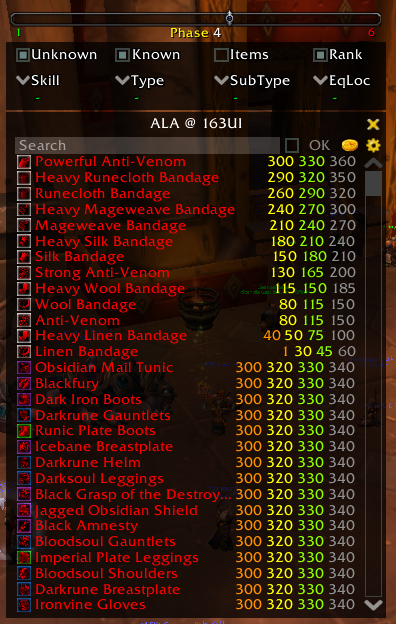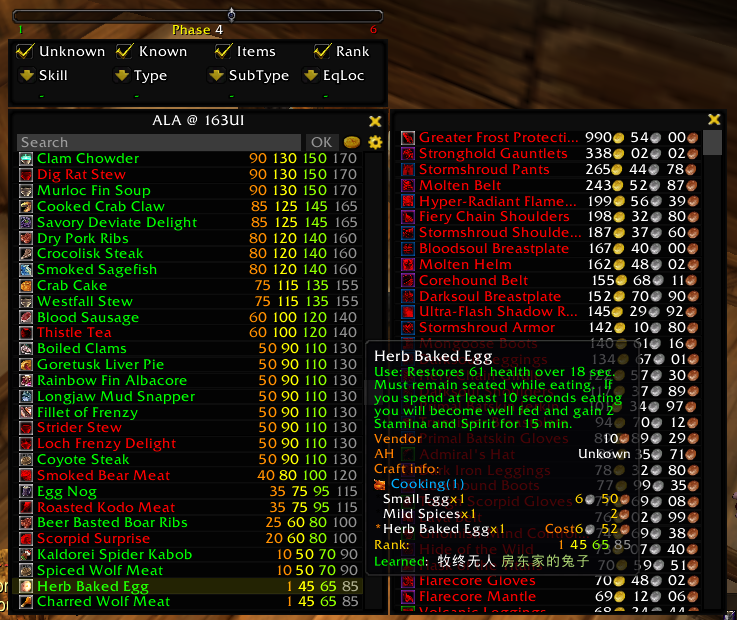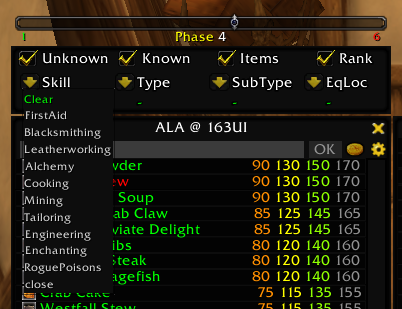 8. Add skills to favorite. Skills in favorite list will be listed in the top.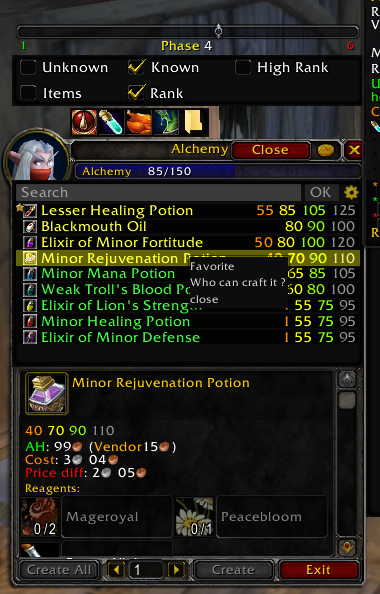 9. Display cooldown of tradeskill, including Mooncloth, Arcanite, Essence Transferring, Cured Rugged Hide.

It can also be intergrated with alaCalendar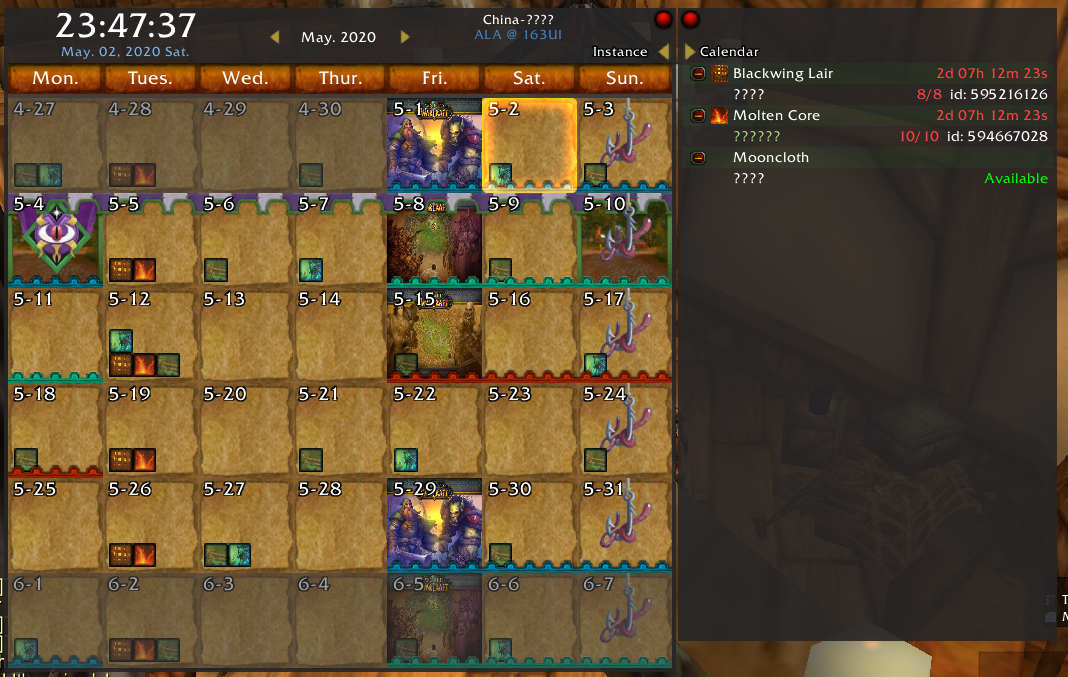 config: