Earlier Versions
| | | | | | |
| --- | --- | --- | --- | --- | --- |
| Arena Point Calculator Lite v1.06 release | 4.82 KB | Aug 21, 2021 | 2.5.1 | 1,149 | Download |
| Arena Point Calculator Lite v1.05 release | 4.84 KB | Jul 2, 2021 | 2.5.1 | 3,962 | Download |
| Arena Point Calculator Lite v1.04 release | 4.42 KB | Jun 30, 2021 | 2.5.1 | 686 | Download |
| Arena Point Calculator Lite v.1.03 release | 4.42 KB | Jun 28, 2021 | 2.5.1 | 795 | Download |
| Arena Point Calculator Lite v1.02 release | 4.35 KB | Jun 25, 2021 | 2.5.1 | 656 | Download |
| Arena Point Calculator Lite release | 4.33 KB | Jun 24, 2021 | 2.5.1 | 159 | Download |
Description
THANKS EVERYONE THAT SHARED THEIR RATING AND POINTS. IT HELPED ALOT!
Easily check how many arena points you will get from your arena ratings in TBC Classic.
This addon includes:
See the arena points you will get next week based on your current arena ratings.
A simple arena calculator to check different ratings.
Simple and Fast Preview in your PVP Character Frame
KEEP IN MIND POINTS ARE AN ESTIMATE (+- 5 points) SINCE BLIZZARD HASN'T SHARED THE EXACT FORMULA
Open your PVP character frame to see this information and the calculator button or use the /apc command to show the calculator.
"Next Week: 703 – 5v5" represents the amount of points that will be awarded by the arena team which gives the most points. In this example the palyer will receive 703 points from the 5v5 team.
Next to this, you can see 3 different numbers. Each one represents the points that would be awarded by each bracket "2v2 / 3v3 / 5v5″ at the current arena rating.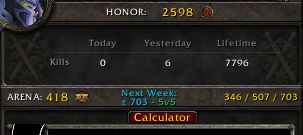 Installation
Unzip and extract APCalculator.zip into your Addons folder. Putting the APCalculator.zip folder into your Addons folder will not work. Make sure the APCalculator folder is named APCalculator in your Addons folder.
ANY FEEDBACK APPRECIATED!