Earlier Versions
| | | | | | |
| --- | --- | --- | --- | --- | --- |
| 8.0.1-12.b11 beta | 53.53 KB | Sep 12, 2018 | 8.0.1 | 1,236 | Download |
| 8.0.1-12.b10 beta | 53.32 KB | Sep 5, 2018 | 8.0.1 | 485 | Download |
| 8.0.1-12.b9 beta | 53.21 KB | Sep 4, 2018 | 8.0.1 | 315 | Download |
| 8.0.1-12.b8 beta | 53.16 KB | Aug 17, 2018 | 8.0.1 | 507 | Download |
| 8.0.1-12.b7 beta | 53.00 KB | Aug 1, 2018 | 8.0.1 | 496 | Download |
| 8.0.1-12.b6 beta | 52.92 KB | Aug 1, 2018 | 8.0.1 | 56 | Download |
| 8.0.1-12.b5 beta | 51.74 KB | Jul 27, 2018 | 8.0.1 | 375 | Download |
| 8.0.1-12.b4 beta | 51.04 KB | Jul 25, 2018 | 8.0.1 | 309 | Download |
| 8.0.1-12.b3 beta | 65.68 KB | Jul 19, 2018 | 8.0.1 | 411 | Download |
| 8.0.1-12.b2 beta | 65.06 KB | Jul 18, 2018 | 8.0.1 +1 | 321 | Download |
| 8.0.1-12.b1 beta | 65.04 KB | Jul 16, 2018 | 8.0.1 +1 | 364 | Download |
| 7.3-11.1 beta | 32.59 KB | Jun 5, 2018 | 7.3.5 | 345 | Download |
| 7.3-11 beta | 32.44 KB | Sep 20, 2017 | 7.3.0 +1 | 638 | Download |
| 7.3-10 beta | 32.23 KB | Sep 9, 2017 | 7.3.0 +1 | 268 | Download |
| 7.2.5-9.1 beta | 18.42 KB | Jun 12, 2017 | 7.2.5 +1 | 447 | Download |
| 7.2.0-9 beta | 18.36 KB | May 20, 2017 | 7.2.0 | 269 | Download |
| 7.2.0-8.2 beta | 17.52 KB | May 8, 2017 | 7.2.0 | 214 | Download |
| 7.2.0-8.1 beta | 17.56 KB | May 7, 2017 | 7.2.0 | 87 | Download |
| 7.2.0-8 beta | 17.35 KB | May 7, 2017 | 7.2.0 | 58 | Download |
| 7.2.0-7 beta | 14.74 KB | May 1, 2017 | 7.2.0 | 146 | Download |
| 7.2.0-6 beta | 14.07 KB | Apr 19, 2017 | 7.2.0 | 194 | Download |
| 7.2.0-5 beta | 13.49 KB | Apr 4, 2017 | 7.2.0 | 133 | Download |
| 7.2.0-1 beta | 9.12 KB | Mar 29, 2017 | 7.2.0 | 143 | Download |
| 1.0-beta3 beta | 8.90 KB | Mar 25, 2017 | 7.1.5 | 65 | Download |
| 1.0-beta2 beta | 9.09 KB | Mar 25, 2017 | 7.1.5 | 49 | Download |
| 1.0-beta1 beta | 9.09 KB | Mar 25, 2017 | 7.1.5 | 35 | Download |
| 8.0.1-12.a4 alpha | 64.49 KB | Jul 4, 2018 | 8.0.1 +1 | 42 | Download |
| 8.0.1-12.a3 alpha | 64.41 KB | Jul 3, 2018 | 8.0.1 +1 | 19 | Download |
| 8.0.1-12.a2 alpha | 60.17 KB | Jun 5, 2018 | 8.0.1 +1 | 34 | Download |
| 8.0.1-12.a1 alpha | 59.53 KB | May 5, 2018 | 8.0.1 +1 | 38 | Download |
| 7.2.0-10.a2 alpha | 35.90 KB | May 28, 2017 | 7.2.5 +1 | 23 | Download |
| 7.2.0-10.a1 alpha | 35.90 KB | May 28, 2017 | 7.2.0 | 16 | Download |
| 7.2.0-9.a4 alpha | 18.26 KB | May 15, 2017 | 7.2.0 | 28 | Download |
| 7.2.0-9.a3 alpha | 18.18 KB | May 14, 2017 | 7.2.0 | 17 | Download |
| 7.2.0-9.a2 alpha | 18.00 KB | May 10, 2017 | 7.2.0 | 26 | Download |
| 7.2.0-9.a1 alpha | 17.67 KB | May 9, 2017 | 7.2.0 | 19 | Download |
| 7.2.0-8.a4 alpha | 17.28 KB | May 6, 2017 | 7.2.0 | 19 | Download |
| 7.2.0-8.a3 alpha | 15.84 KB | May 6, 2017 | 7.2.0 | 11 | Download |
| 7.2.0-8.a2 alpha | 15.68 KB | May 4, 2017 | 7.2.0 | 25 | Download |
| 7.2.0-8.a1 alpha | 15.01 KB | May 3, 2017 | 7.2.0 | 20 | Download |
| 7.2.0-7.a2 alpha | 14.37 KB | Apr 26, 2017 | 7.2.0 | 19 | Download |
| 7.2.0-7.a1 alpha | 15.01 KB | Apr 21, 2017 | 7.2.0 | 22 | Download |
| 7.2.0-4 alpha | 30.36 KB | Apr 2, 2017 | 7.2.0 | 23 | Download |
Description
Note I have taken an extended break from WoW. While I try to keep the code up-to-date as best as I can, I apologise in advance if there are any breaking changes that are added to the game which cause downtime with the addon.
---
Introduction
Broker_Keystones is a data broker addon which collects information about your characters' keystones and weekly dungeons and displays them in a tooltip.
It comes with its own minimap button, but you may wish to install an addon that can display brokers. Here are several broker display addons – choose whichever you like. If you're using a full UI replacement (e.g. ElvUI), then it may support brokers too. Look out for "data texts", or something similar, in your UI's settings.
Features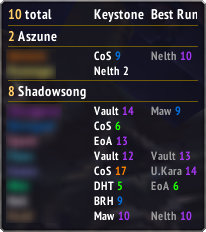 The broker text reflects the keystone that your current character owns (otherwise, it displays "No Keystone".) It can also be configured to display your current best run for the week, if available. If you have a Mythic+ reward available from last week's dungeons, it will also let you know.
Shift-click the broker to insert a link to your keystone into your chat window.
Left-click the broker to bring up a menu which allows you to report your keystones/runs into the chat window. By default, this will only report characters that are on the same realm and faction.
Right-click the broker to bring up a configuration menu. Available options include:

Use shorthand dungeon names ("Maw of Souls" -> "Maw", "Court of Stars" -> "Court", etc.) where available,
Automatically slot your keystone into the dungeon font interface,
Automatically purge keystone/best run data when a weekly reset is detected,
Change how keystones and weekly best runs are displayed, and
De-anonymise your characters in any reports that you send.
Installation
The addon can be installed through WoW Interface, the Twitch desktop client or Curse. You can also browse the file history (though I suggest always using the latest version.)
There are currently two release channels: alpha, which contains the very latest (and potentially unstable) code, and beta, which contains code that is more-tested and are less likely to break. In the future, a release channel will be added when appropriate.
Known Issues
The issues tracker has a list of known issues, as well as upcoming enhancements.
Battle for Azeroth
The addon has been updated to support the Battle for Azeroth game client.