Earlier Versions
| | | | | | |
| --- | --- | --- | --- | --- | --- |
| CharacterStatsClassic_3.3.1.zip release | 16.84 KB | Feb 23, 2020 | 1.13.3 | 147,257 | Download |
| CharacterStatsClassic_3.3.zip release | 16.81 KB | Feb 22, 2020 | 1.13.3 | 34,430 | Download |
| CharacterStatsClassic_3.2.zip release | 16.56 KB | Jan 26, 2020 | 1.13.3 | 181,912 | Download |
| CharacterStatsClassic_3.1.zip release | 16.56 KB | Jan 12, 2020 | 1.13.3 | 144,087 | Download |
| CharacterStatsClassic_3.0.zip release | 16.56 KB | Jan 11, 2020 | 1.13.3 | 47,155 | Download |
| CharacterStatsClassic_2.9.zip release | 16.43 KB | Jan 4, 2020 | 1.13.3 | 116,056 | Download |
| CharacterStatsClassic_2.8.1.zip release | 16.39 KB | Dec 17, 2019 | 1.13.3 | 153,505 | Download |
| CharacterStatsClassic_2.8.zip release | 16.37 KB | Dec 11, 2019 | 1.13.3 | 118,924 | Download |
| CharacterStatsClassic_2.7.1.zip release | 16.37 KB | Dec 10, 2019 | 1.13.2 | 82,891 | Download |
| CharacterStatsClassic_2.7.zip release | 16.26 KB | Dec 1, 2019 | 1.13.2 | 106,676 | Download |
| CharacterStatsClassic_2.6.1.zip release | 14.17 KB | Nov 24, 2019 | 1.13.2 | 87,939 | Download |
| CharacterStatsClassic_2.6.zip release | 14.14 KB | Nov 12, 2019 | 1.13.2 | 113,258 | Download |
| CharacterStatsClassic_2.5.zip release | 14.00 KB | Nov 3, 2019 | 1.13.2 | 91,900 | Download |
| CharacterStatsClassic_2.4.2.zip release | 13.85 KB | Oct 27, 2019 | 1.13.2 | 78,947 | Download |
| CharacterStatsClassic_2.4.1.zip release | 13.84 KB | Oct 21, 2019 | 1.13.2 | 76,269 | Download |
| CharacterStatsClassic_2.4.zip release | 13.61 KB | Oct 19, 2019 | 1.13.2 | 48,836 | Download |
| CharacterStatsClassic_2.3.zip release | 10.05 KB | Oct 15, 2019 | 1.13.2 | 57,700 | Download |
| CharacterStatsClassic_2.2.1.zip release | 10.15 KB | Oct 13, 2019 | 1.13.2 | 38,912 | Download |
| CharacterStatsClassic_2.2.zip release | 10.14 KB | Oct 13, 2019 | 1.13.2 | 5,147 | Download |
| CharacterStatsClassic_2.1.zip release | 9.85 KB | Oct 5, 2019 | 1.13.2 | 70,219 | Download |
| CharacterStatsClassic_2.0.zip release | 9.25 KB | Sep 28, 2019 | 1.13.2 | 58,305 | Download |
| CharacterStatsClassic_1.9.1.zip release | 8.60 KB | Sep 20, 2019 | 1.13.2 | 58,808 | Download |
| CharacterStatsClassic_1.9.zip release | 8.59 KB | Sep 15, 2019 | 1.13.2 | 27,150 | Download |
| CharacterStatsClassic_1.8.zip release | 8.59 KB | Sep 10, 2019 | 1.13.2 | 19,698 | Download |
| CharacterStatsClassic_1.7.zip release | 8.70 KB | Sep 8, 2019 | 1.13.2 | 11,934 | Download |
| CharacterStatsClassic_1.6.zip release | 8.68 KB | Sep 8, 2019 | 1.13.2 | 2,553 | Download |
| CharacterStatsClassic_1.5.zip release | 8.50 KB | Sep 6, 2019 | 1.13.2 | 9,962 | Download |
| CharacterStatsClassic_1.4.1.zip release | 8.45 KB | Sep 1, 2019 | 1.13.2 | 11,833 | Download |
| CharacterStatsClassic_1_4.zip release | 8.48 KB | Sep 1, 2019 | 1.13.2 | 1,148 | Download |
| CharacterStatsClassic_1_3.zip release | 7.68 KB | Aug 29, 2019 | 1.13.2 | 7,718 | Download |
| CharacterStatsClassic_1_2.zip release | 7.75 KB | Aug 28, 2019 | 1.13.2 | 2,952 | Download |
| CharacterStatsClassic_1_1.zip release | 7.51 KB | Aug 28, 2019 | 1.13.2 | 2,660 | Download |
| CharacterStatsClassic_1_0.zip release | 7.30 KB | Aug 27, 2019 | 1.13.2 | 678 | Download |
Description
CharacterStatsClassic is an addon for WoW Classic which displays more character stats than the default WoW's interface, inspired by the TBC UI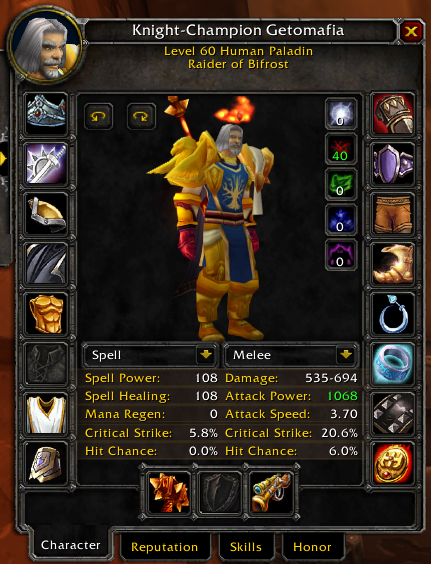 The addon has two columns with drop downs for different categories of stats:
 - Base Stats
 - Melee
 - Ranged
 - Spell
 - Defenses
I've added support for custom localization.
You can manually set the desired string under the Localization -> open the file for the desired locale and set the string. If you want the changes to come with the official release, please PM me here or send me a pull request on github.
Contributors:
 https://github.com/Masgalor - localization, string formatting and various features fixes and polishes.