Earlier Versions
| | | | | | |
| --- | --- | --- | --- | --- | --- |
| 30401r1 release | 121.13 KB | Jan 18, 2023 | 3.4.1 | 51,465 | Download |
| 30400r10 release | 122.59 KB | Oct 23, 2022 | 3.4.0 | 77,159 | Download |
| 30400r9 release | 122.26 KB | Sep 27, 2022 | 3.4.0 | 81,808 | Download |
| 30400r8 release | 122.10 KB | Sep 16, 2022 | 3.4.0 | 52,704 | Download |
| 30400r6 release | 122.14 KB | Sep 16, 2022 | 3.4.0 | 7,840 | Download |
| 30400r5 release | 122.10 KB | Sep 14, 2022 | 3.4.0 | 22,801 | Download |
| 30400r4 release | 122.13 KB | Sep 14, 2022 | 3.4.0 | 12,392 | Download |
| 30400r3 release | 122.15 KB | Sep 4, 2022 | 3.4.0 | 50,361 | Download |
| 30400r2 release | 114.46 KB | Jul 16, 2022 | 3.4.0 +1 | 49,515 | Download |
| 20504r01 release | 114.41 KB | Mar 24, 2022 | 2.5.4 | 74,195 | Download |
| 205r020 release | 114.41 KB | Jan 19, 2022 | 2.5.2 | 49,094 | Download |
| 205r019 release | 114.41 KB | Oct 11, 2021 | 2.5.2 | 59,635 | Download |
| 1401r001 release | 103.37 KB | Oct 6, 2021 | 1.14.1 | 18,855 | Download |
| 205r018 release | 114.41 KB | Jul 21, 2021 | 2.5.1 | 73,340 | Download |
| 205r017 release | 113.82 KB | Jul 21, 2021 | 2.5.1 | 14,384 | Download |
| 205r016 release | 113.80 KB | Jun 21, 2021 | 2.5.1 | 74,744 | Download |
| 205r015 release | 121.35 KB | Jun 20, 2021 | 2.5.1 | 24,358 | Download |
| 205r014 release | 121.35 KB | Jun 19, 2021 | 2.5.1 | 294 | Download |
| 205r013 release | 121.29 KB | Jun 11, 2021 | 2.5.1 | 60,998 | Download |
| 205r012 release | 121.30 KB | Jun 10, 2021 | 2.5.1 | 2,608 | Download |
| 205r011 release | 120.93 KB | Jun 4, 2021 | 2.5.1 | 58,364 | Download |
| 1307r005 release | 103.26 KB | Jun 4, 2021 | 1.13.7 | 5,500 | Download |
| 205r010 release | 120.93 KB | Jun 4, 2021 | 2.5.1 | 1,090 | Download |
| 1307r004 release | 103.25 KB | Jun 4, 2021 | 1.13.7 | 130 | Download |
| 205r009 release | 120.89 KB | Jun 4, 2021 | 2.5.1 | 19,805 | Download |
| 205r008 release | 120.88 KB | May 30, 2021 | 2.5.1 | 55,733 | Download |
| 205r007 release | 120.87 KB | May 30, 2021 | 2.5.1 | 1,506 | Download |
| 205r006 release | 120.87 KB | May 30, 2021 | 2.5.1 | 2,020 | Download |
| 205r005 release | 105.10 KB | May 22, 2021 | 2.5.1 | 58,687 | Download |
| 205r004 release | 105.10 KB | May 22, 2021 | 2.5.1 | 6,314 | Download |
| 205r003 release | 104.73 KB | Apr 21, 2021 | 2.5.1 | 50,185 | Download |
| 1307r003 release | 103.21 KB | Apr 21, 2021 | 1.13.7 | 61,443 | Download |
| 1307r001 release | 89.35 KB | Apr 21, 2021 | 1.13.7 | 1,722 | Download |
| T210415r3 release | 90.87 KB | Apr 15, 2021 | 2.5.1 | 404 | Download |
| 1305r004 release | 89.35 KB | Jul 7, 2020 | 1.13.6 | 98,048 | Download |
| 1304r002 release | 89.40 KB | Mar 11, 2020 | 1.13.4 | 101,909 | Download |
| 1303r001 release | 89.16 KB | Dec 23, 2019 | 1.13.3 | 90,483 | Download |
| 1302r039 release | 89.36 KB | Nov 18, 2019 | 1.13.2 | 76,889 | Download |
| 1302r038 release | 89.38 KB | Nov 15, 2019 | 1.13.2 | 31,991 | Download |
| 1302r037 release | 84.47 KB | Oct 31, 2019 | 1.13.2 | 63,202 | Download |
| 1302r036 release | 84.44 KB | Oct 27, 2019 | 1.13.2 | 36,790 | Download |
| 1302r035 release | 84.53 KB | Oct 27, 2019 | 1.13.2 | 3,065 | Download |
| 1302r034 release | 84.41 KB | Oct 27, 2019 | 1.13.2 | 3,824 | Download |
| 1302r033 release | 83.87 KB | Oct 27, 2019 | 1.13.2 | 1,399 | Download |
| 1302r032 release | 83.45 KB | Oct 26, 2019 | 1.13.2 | 12,677 | Download |
| 1302r031 release | 74.01 KB | Oct 18, 2019 | 1.13.2 | 54,019 | Download |
| 1302r030 release | 70.33 KB | Oct 18, 2019 | 1.13.2 | 12,528 | Download |
| 1302r029 release | 69.85 KB | Oct 11, 2019 | 1.13.2 | 51,796 | Download |
| 1302r028 release | 69.72 KB | Oct 11, 2019 | 1.13.2 | 257 | Download |
| 1302r027 release | 68.94 KB | Oct 11, 2019 | 1.13.2 | 18,808 | Download |
| 1302r026 release | 68.94 KB | Sep 18, 2019 | 1.13.2 | 80,790 | Download |
| 1302r024 release | 68.96 KB | Sep 16, 2019 | 1.13.2 | 34,116 | Download |
| 1302r023 release | 66.55 KB | Sep 15, 2019 | 1.13.2 | 18,316 | Download |
| 1302r022 release | 65.06 KB | Sep 11, 2019 | 1.13.2 | 41,274 | Download |
| 1302r021 release | 62.20 KB | Sep 10, 2019 | 1.13.2 | 16,717 | Download |
| 1302r020 release | 61.75 KB | Sep 10, 2019 | 1.13.2 | 4,609 | Download |
| 1302r019 release | 57.48 KB | Sep 4, 2019 | 1.13.2 | 42,956 | Download |
| 1302r018 release | 57.47 KB | Sep 4, 2019 | 1.13.2 | 581 | Download |
| 1302r017 release | 57.41 KB | Sep 4, 2019 | 1.13.2 | 4,141 | Download |
| 1302r016 release | 47.11 KB | Sep 1, 2019 | 1.13.2 | 21,824 | Download |
| 1302r015 release | 47.46 KB | Sep 1, 2019 | 1.13.2 | 1,698 | Download |
| 1302r014 release | 47.38 KB | Sep 1, 2019 | 1.13.2 | 8,935 | Download |
| 1302r013 release | 47.38 KB | Sep 1, 2019 | 1.13.2 | 536 | Download |
| 1302r012 release | 46.98 KB | Aug 31, 2019 | 1.13.2 | 10,720 | Download |
| 1302r011 release | 45.45 KB | Aug 28, 2019 | 1.13.2 | 19,007 | Download |
| 1302r010 release | 44.36 KB | Aug 27, 2019 | 1.13.2 | 9,494 | Download |
| 1302r009 release | 44.36 KB | Aug 26, 2019 | 1.13.2 | 6,651 | Download |
| 1302r002 release | 41.25 KB | Aug 19, 2019 | 1.13.2 | 2,467 | Download |
| 1302r001 release | 40.95 KB | Aug 12, 2019 | 1.13.2 | 918 | Download |
| 30401b2 beta | 121.13 KB | Dec 13, 2022 | 3.4.1 | 687 | Download |
| 30401b1 beta | 121.07 KB | Dec 10, 2022 | 3.4.1 | 323 | Download |
| 30400r01 beta | 114.43 KB | Jul 14, 2022 | 3.4.0 | 427 | Download |
| 205b001 beta | 102.28 KB | Apr 3, 2021 | 2.5.1 | 345 | Download |
| 1304b003 beta | 89.35 KB | Apr 7, 2020 | 1.13.3 | 963 | Download |
| 1303b002 beta | 89.40 KB | Feb 27, 2020 | 1.13.3 | 527 | Download |
| 1302b025 beta | 69.32 KB | Sep 17, 2019 | 1.13.2 | 532 | Download |
| 1302a4 alpha | 71.10 KB | Aug 12, 2019 | 1.13.2 | 158 | Download |
| 1302a3 alpha | 71.11 KB | Aug 12, 2019 | 1.13.2 | 239 | Download |
| 1302a2 alpha | 71.10 KB | Aug 12, 2019 | 1.13.2 | 242 | Download |
| 1302a1 alpha | 68.68 KB | Aug 12, 2019 | 1.13.2 | 257 | Download |
Description
Ready for

Wrath of the Lich King

,
Burning Crusade

and

Classic Season of Mastery

!
DejaDonate – Increase your Fiduciary Stats by donating to DCS!
Simply use this QR code to donate to Deja via PayPal:
100% of all donations go to Deja's coding "necessities": Coffee and pizza (or burritos)!
DejaClassicStats provides an updated and logical display of the character stats.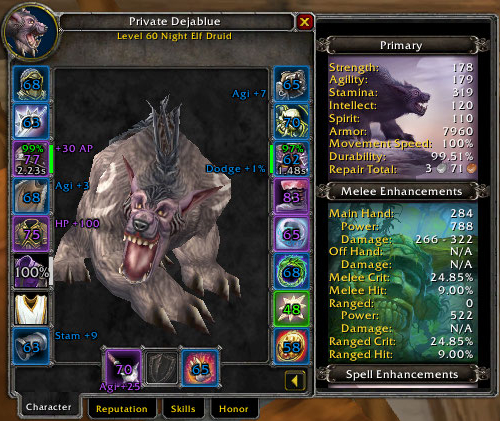 Features
Options Overview:
Display each equipped item's level, durability, and repair cost.
Display a quick graphical "Durability Bar" next to each equipped item.
Display total average durability of equipped gear on your character's shirt slot.
Display "General", "Primary", "Offense", "Defense", "Melee Enhancements", and "Spell Enhancements" stats.
---
Default Display
Primary:
Strength
Agility
Stamina
Intellect
Spirit
General:
Movement Speed
Durability
Item Slot Durability Display
Repair Cost
Item Slot Repair Cost Display
Health*
Power(Mana, Energy, Rage)*
Offense:
Damage
Attack Power
Attack Speed
Weapon DPS
Defense:
Resistances(Arcane, Fire, Nature, Frost,Shadow)
Armor
Dodge
Parry
Block
Defense
Crushing*
Melee Enhancements:
Melee Hit
Melee +Damage
Melee Critical Strike
Ranged Critical Strike
Spell Enhancements:
Spell Hit
Spell+Damage
Spell Critical Strike
+Healing
MP5 (Soon™)
Mana Regen Not Casting
Mana Regen Casting
Item Level:
Item Slot Item Level Display
Installation and Use of DejaClassicStats
Installation:
Install to your "AddOns" folder (World of Warcraft\Interface\AddOns) and login to WoW.
Interface Options Settings
Item Slots:
Item Level: Displays the item level of each equipped item.
Durability Bars: Displays a durability bar next to each item with less than 100% durability for a quick visual reference.
Average Durability: Displays on the character shirt slot the total average durability of all equipped gear.
Item Durability: Displays a durability overlay on each equipped item's slot.
Item Repair Cost: Displays an overlay of the Repair Total on each equipped item's slot.
---

Slash Commands:
/dcstats: Displays the DejaClassicStats version and slash commands.
/dcstats config: Opens the DejaClassicStats addon config menu.
/dcstats reset: Resets DejaClassicStats options to default.
---
Known Issues:
Repair costs doesn't show on login but shows otherwise on UI reload.
TODO:
Too much to list. This is a WIP. This will be updated as we remember and come across more stats we want to track.
Future Possibilities:
Tons! Send us suggestions here.
Found an error or bug? Reporting them in the comments below or making a ticket here after following these steps makes fixing errors faster.
We would like to thank everyone that helped make DCS possible.
Contributors: Dejoblue, Kakjens, loudsoul
Localization Translators:
French: Medaleux, sv002, Darkcraft92, Ymvej, Druidzor, napnapnapnapnap
German: pas06, flow0284, Markurion, Branduril, NekoNyaaaa
Portuguese: Othra, Rhyrol
Spanish: Tholagar, Mikel391, MrUrkaz, Krounted, Valhallanem
Italian: infinitybofh, INoobInside
Korean: PositiveMind, yuk6196, netaras, meloppy, next96
Russian: Nappsel, Wishko, berufegoru, Hubbotu, n1mrorox
Simplified Chinese: C_Reus, alvisjiang, y123ao6
Traditional Chinese: BNSSNB, killsophia, konraddo, y123ao6
Communities: Blizzard, Curse, ElvUI, WoWInterface, and Reddit's /r/wow
Individuals: Baudzila, 10leej, wizardanim, Phanx, Ro, Choonster, Zork, Lombra, myrroddin, Darth_Predator, sirann, and YOU
THANK YOU!