Earlier Versions
| | | | | | |
| --- | --- | --- | --- | --- | --- |
| M0.87e release | 37.59 KB | Aug 9, 2022 | 3.4.0 +3 | 11,374 | Download |
| M0.87d release | 37.18 KB | May 4, 2022 | 1.14.3 +2 | 33,238 | Download |
| M0.87c release | 37.18 KB | Mar 29, 2022 | 2.5.4 +2 | 19,513 | Download |
| M0.87b release | 37.09 KB | Feb 25, 2022 | 9.2.0 +2 | 16,064 | Download |
| M0.87a release | 37.09 KB | Feb 2, 2022 | 2.5.3 +2 | 11,832 | Download |
| M0.86f release | 33.96 KB | Jan 11, 2022 | 9.1.5 +2 | 10,924 | Download |
| C0.86d release | 34.13 KB | Nov 10, 2021 | 1.13.7 | 1,556 | Download |
| B0.86d release | 34.13 KB | Nov 10, 2021 | 2.5.1 | 3,124 | Download |
| R0.86d release | 34.13 KB | Nov 10, 2021 | 9.1.5 | 15,059 | Download |
| B0.86c release | 33.95 KB | Nov 10, 2021 | 2.5.1 | 322 | Download |
| B0.86b release | 33.83 KB | Nov 6, 2021 | 2.5.1 | 954 | Download |
| C0.86b release | 33.83 KB | Nov 6, 2021 | 1.13.7 | 241 | Download |
| R0.86b release | 33.83 KB | Nov 6, 2021 | 9.1.5 | 3,340 | Download |
| R0.85e release | 30.39 KB | Jun 26, 2021 | 9.1.0 | 24,989 | Download |
| C0.85e release | 30.39 KB | Jun 26, 2021 | 2.5.1 | 3,542 | Download |
| C0.85d release | 30.36 KB | Feb 24, 2021 | 1.13.6 | 4,185 | Download |
| R0.85b release | 30.21 KB | Dec 11, 2020 | 9.0.2 | 52,498 | Download |
| R0.85a release | 30.20 KB | Dec 4, 2020 | 9.0.2 | 14,361 | Download |
| R0.84c release | 30.12 KB | Nov 14, 2020 | 9.0.1 | 11,384 | Download |
| R0.84b release | 30.10 KB | Nov 8, 2020 | 9.0.1 | 2,041 | Download |
| R0.84a release | 29.75 KB | Nov 7, 2020 | 9.0.1 | 745 | Download |
| R0.83d release | 29.32 KB | Nov 1, 2020 | 9.0.1 | 1,844 | Download |
| R0.83c release | 29.26 KB | Oct 28, 2020 | 9.0.1 | 1,285 | Download |
| R0.83b release | 29.31 KB | Oct 28, 2020 | 9.0.1 | 252 | Download |
| R0.82b release | 26.63 KB | Oct 19, 2020 | 9.0.1 | 2,131 | Download |
| R0.82a release | 26.57 KB | Oct 11, 2020 | 9.0.1 | 1,622 | Download |
| R0.81d release | 26.20 KB | Oct 5, 2020 | 9.0.1 | 346 | Download |
| R0.81c release | 26.21 KB | Oct 4, 2020 | 9.0.1 | 262 | Download |
| M0.87f-beta beta | 37.62 KB | Aug 19, 2022 | 3.4.0 +3 | 0 | Download |
| M0.86e-beta beta | 33.95 KB | Jan 11, 2022 | 9.1.5 +2 | 243 | Download |
| R0.85e-beta beta | 30.39 KB | Jun 26, 2021 | 9.1.0 | 393 | Download |
| C0.85e-beta beta | 30.39 KB | Jun 26, 2021 | 2.5.1 | 249 | Download |
| R0.85c-beta beta | 30.22 KB | Dec 31, 2020 | 9.0.2 | 468 | Download |
| R0.83b-beta beta | 29.27 KB | Oct 28, 2020 | 9.0.1 | 192 | Download |
| R0.83a-beta beta | 29.08 KB | Oct 23, 2020 | 9.0.1 | 263 | Download |
| R0.81b-beta beta | 23.26 KB | Oct 4, 2020 | 9.0.1 | 395 | Download |
| R0.81a-beta beta | 18.29 KB | Oct 2, 2020 | 9.0.1 | 426 | Download |
Description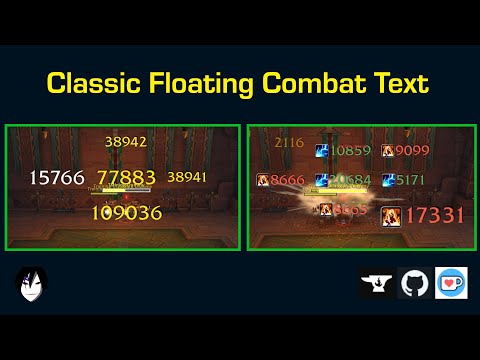 ClassicFCT
Highly customisable "Floating Combat Text" addon with text anti-overlap behavior similiar to that of WoW Classic.
Use "/cfct" command to open the options interface.
Currently there are 2 configuration presets built-in: "Classic" and "Mists of Pandaria".
Users can create their own presets.
Text display area can be positioned in 3 ways:
to screen center (with x, y offsets)
to the target nameplate
to every individual nameplate (anti-overlap doesnt work in this mode courtesy of Blizzard)
If no nameplate is available (in case the target dies or moves off-screen), text display area can fall back to screen center.
Text can be displayed behind or in front of nameplates and their children.
Animations:
Fade In, Fade Out
Directional Scroll
Pow (a 2 stage scale animation for crits)
Configurable variables include:
animation timing, scale and duration.
text font, style, size, custom color or by damage type.
spell icons for each damage/heal event.
event filtering, sorting and merging
Explanation of some limitations related to combat text addons: Reddit Link
Special thanks go to people who supported this project with donations:
neotms