Earlier Versions
| | | | | | |
| --- | --- | --- | --- | --- | --- |
| v2.5.3 release | 69.43 KB | Oct 10, 2022 | 9.2.5 | 0 | Download |
| v2.5.3-wrath release | 69.47 KB | Oct 10, 2022 | 3.4.0 | 0 | Download |
| v2.5.3-bcc release | 69.47 KB | Oct 10, 2022 | 2.5.4 | 0 | Download |
| v2.5.3-classic release | 69.47 KB | Oct 10, 2022 | 1.14.3 | 1 | Download |
| v2.5.2 release | 69.40 KB | Aug 15, 2022 | 9.2.5 | 46,137 | Download |
| v2.5.2-wrath release | 69.44 KB | Aug 15, 2022 | 3.4.0 | 45,538 | Download |
| v2.5.2-bcc release | 69.44 KB | Aug 15, 2022 | 2.5.4 | 24,171 | Download |
| v2.5.2-classic release | 69.44 KB | Aug 15, 2022 | 1.14.3 | 1,510 | Download |
| v2.5.1 release | 69.29 KB | Aug 5, 2022 | 9.2.5 | 22,486 | Download |
| v2.5.1-bcc release | 69.33 KB | Aug 5, 2022 | 2.5.4 | 11,707 | Download |
| v2.5.1-classic release | 69.33 KB | Aug 5, 2022 | 1.14.2 | 491 | Download |
| v2.5.0 release | 69.28 KB | Aug 4, 2022 | 9.2.5 | 5,834 | Download |
| v2.5.0-bcc release | 69.32 KB | Aug 4, 2022 | 2.5.4 | 2,564 | Download |
| v2.5.0-classic release | 69.32 KB | Aug 4, 2022 | 1.14.2 | 140 | Download |
| v2.4.22 release | 67.12 KB | Jul 8, 2022 | 9.2.5 | 29,997 | Download |
| v2.4.22-bcc release | 67.16 KB | Jul 8, 2022 | 2.5.4 | 16,480 | Download |
| v2.4.22-classic release | 67.15 KB | Jul 8, 2022 | 1.14.2 | 742 | Download |
| v2.4.21 release | 66.94 KB | Jun 9, 2022 | 9.2.5 | 29,238 | Download |
| v2.4.21-bcc release | 66.98 KB | Jun 9, 2022 | 2.5.4 | 15,963 | Download |
| v2.4.21-classic release | 66.97 KB | Jun 9, 2022 | 1.14.2 | 688 | Download |
| v2.4.20 release | 66.90 KB | Jun 8, 2022 | 9.2.5 | 5,889 | Download |
| v2.4.20-bcc release | 66.94 KB | Jun 8, 2022 | 2.5.4 | 3,267 | Download |
| v2.4.20-classic release | 66.94 KB | Jun 8, 2022 | 1.14.2 | 127 | Download |
| v2.4.19 release | 66.71 KB | May 2, 2022 | 9.2.0 | 37,272 | Download |
| v2.4.19-bcc release | 66.75 KB | May 2, 2022 | 2.5.4 | 21,733 | Download |
| v2.4.19-classic release | 66.75 KB | May 2, 2022 | 1.14.2 | 1,214 | Download |
| v2.4.18-bcc release | 66.74 KB | Mar 9, 2022 | 2.5.3 | 24,841 | Download |
| v2.4.18 release | 66.71 KB | Mar 9, 2022 | 9.2.0 | 46,491 | Download |
| v2.4.18-classic release | 66.74 KB | Mar 9, 2022 | 1.14.1 | 1,983 | Download |
| v2.4.17-bcc release | 66.74 KB | Mar 8, 2022 | 2.5.3 | 808 | Download |
| v2.4.17 release | 66.70 KB | Mar 8, 2022 | 9.1.5 | 1,534 | Download |
| v2.4.17-classic release | 66.73 KB | Mar 8, 2022 | 1.14.1 | 123 | Download |
| v2.4.16-bcc release | 66.69 KB | Jan 29, 2022 | 2.5.3 | 21,528 | Download |
| v2.4.16 release | 66.65 KB | Jan 29, 2022 | 9.1.5 | 38,826 | Download |
| v2.4.16-classic release | 66.69 KB | Jan 29, 2022 | 1.14.1 | 2,433 | Download |
| v2.4.15-bcc release | 66.37 KB | Jan 26, 2022 | 2.5.3 | 9,226 | Download |
| v2.4.15 release | 66.34 KB | Jan 26, 2022 | 9.1.5 | 9,608 | Download |
| v2.4.15-classic release | 66.37 KB | Jan 26, 2022 | 1.14.1 | 876 | Download |
| v2.4.14-bcc release | 66.37 KB | Dec 3, 2021 | 2.5.2 | 23,728 | Download |
| v2.4.14 release | 66.33 KB | Dec 3, 2021 | 9.1.5 | 40,496 | Download |
| v2.4.14-classic release | 66.37 KB | Dec 3, 2021 | 1.14.1 | 5,382 | Download |
| v2.4.13-bcc release | 71.15 KB | Sep 7, 2021 | 2.5.2 | 34,939 | Download |
| v2.4.13 release | 71.11 KB | Sep 7, 2021 | 9.0.5 | 46,784 | Download |
| v2.4.13-classic release | 71.15 KB | Sep 7, 2021 | 1.13.7 | 5,416 | Download |
| v2.4.12-bcc release | 71.11 KB | Sep 2, 2021 | 2.5.2 | 16,928 | Download |
| v2.4.12 release | 71.08 KB | Sep 2, 2021 | 9.0.5 | 16,432 | Download |
| v2.4.12-classic release | 71.11 KB | Sep 2, 2021 | 1.13.7 | 249 | Download |
| v2.4.11-bcc release | 70.94 KB | Aug 18, 2021 | 2.5.1 | 24,560 | Download |
| v2.4.11 release | 70.91 KB | Aug 18, 2021 | 9.0.5 | 26,335 | Download |
| v2.4.11-classic release | 70.94 KB | Aug 18, 2021 | 1.13.7 | 433 | Download |
| v2.4.10-bcc release | 70.78 KB | Jul 2, 2021 | 2.5.1 | 45,217 | Download |
| v2.4.10 release | 70.75 KB | Jul 2, 2021 | 9.0.5 | 52,186 | Download |
| v2.4.10-classic release | 70.78 KB | Jul 2, 2021 | 1.13.7 | 610 | Download |
| v2.4.9-bcc release | 70.75 KB | Jun 26, 2021 | 2.5.1 | 22,259 | Download |
| v2.4.9 release | 70.71 KB | Jun 26, 2021 | 9.0.5 | 29,311 | Download |
| v2.4.9-classic release | 70.75 KB | Jun 26, 2021 | 1.13.7 | 361 | Download |
| v2.4.8-bcc release | 70.70 KB | Jun 13, 2021 | 2.5.1 | 24,928 | Download |
| v2.4.8 release | 70.66 KB | Jun 13, 2021 | 9.0.5 | 22,105 | Download |
| v2.4.8-classic release | 70.70 KB | Jun 13, 2021 | 1.13.7 | 523 | Download |
| v2.4.7-bcc release | 70.69 KB | Jun 13, 2021 | 2.5.1 | 4,765 | Download |
| v2.4.7 release | 70.66 KB | Jun 13, 2021 | 9.0.5 | 3,788 | Download |
| v2.4.7-classic release | 70.70 KB | Jun 13, 2021 | 1.13.7 | 197 | Download |
| v2.4.6-bc release | 70.63 KB | Apr 30, 2021 | 2.5.1 | 29,936 | Download |
| v2.4.6 release | 70.60 KB | Apr 30, 2021 | 9.0.5 | 46,941 | Download |
| v2.4.6-classic release | 70.63 KB | Apr 30, 2021 | 1.13.7 | 14,227 | Download |
| v2.4.4-bc release | 70.40 KB | Apr 13, 2021 | 2.5.1 | 454 | Download |
| v2.4.4 release | 70.36 KB | Apr 13, 2021 | 9.0.5 | 33,186 | Download |
| v2.4.4-classic release | 70.40 KB | Apr 13, 2021 | 1.13.6 | 8,473 | Download |
| v2.4.3 release | 68.77 KB | Mar 25, 2021 | 9.0.5 | 39,803 | Download |
| v2.4.3-classic release | 68.83 KB | Mar 25, 2021 | 1.13.6 | 7,676 | Download |
| v2.4.2 release | 68.54 KB | Feb 19, 2021 | 9.0.2 | 57,068 | Download |
| v2.4.2-classic release | 68.61 KB | Feb 19, 2021 | 1.13.6 | 8,805 | Download |
| v2.4.1 release | 67.46 KB | Feb 11, 2021 | 9.0.2 | 31,951 | Download |
| v2.4.1-classic release | 67.52 KB | Feb 11, 2021 | 1.13.6 | 3,918 | Download |
| v2.4.0 release | 67.23 KB | Feb 8, 2021 | 9.0.2 | 18,823 | Download |
| v2.4.0-classic release | 67.29 KB | Feb 8, 2021 | 1.13.6 | 2,240 | Download |
| v2.3.6 release | 66.88 KB | Jan 24, 2021 | 9.0.2 | 44,007 | Download |
| v2.3.6-classic release | 66.94 KB | Jan 24, 2021 | 1.13.6 | 5,307 | Download |
| v2.3.5 release | 66.88 KB | Jan 8, 2021 | 9.0.2 | 45,094 | Download |
| v2.3.5-classic release | 66.94 KB | Jan 8, 2021 | 1.13.6 | 5,250 | Download |
| v2.3.4 release | 66.77 KB | Jan 2, 2021 | 9.0.2 | 30,870 | Download |
| v2.3.4-classic release | 66.83 KB | Jan 2, 2021 | 1.13.6 | 3,870 | Download |
| 2.3.3 release | 66.66 KB | Dec 21, 2020 | 9.0.2 | 39,990 | Download |
| 2.3.3-classic release | 66.72 KB | Dec 21, 2020 | 1.13.6 | 4,803 | Download |
| v2.3.2 release | 66.61 KB | Nov 18, 2020 | 9.0.2 | 41,262 | Download |
| v2.3.2-classic release | 66.67 KB | Nov 18, 2020 | 1.13.5 | 7,005 | Download |
| v2.3.1 release | 66.51 KB | Oct 16, 2020 | 9.0.1 | 24,598 | Download |
| v2.3.1-classic release | 66.57 KB | Oct 16, 2020 | 1.13.5 | 6,280 | Download |
| v2.3.0 release | 65.86 KB | Oct 13, 2020 | 9.0.1 | 14,239 | Download |
| v2.3.0-classic release | 65.92 KB | Oct 13, 2020 | 1.13.5 | 3,092 | Download |
| v2.2.11 release | 65.87 KB | Jul 18, 2020 | 8.3.0 | 24,147 | Download |
| v2.2.11-classic release | 65.93 KB | Jul 18, 2020 | 1.13.5 | 9,104 | Download |
| v2.2.10 release | 65.77 KB | Apr 4, 2020 | 8.3.0 | 31,115 | Download |
| v2.2.10-classic release | 65.83 KB | Apr 4, 2020 | 1.13.4 | 10,430 | Download |
| v2.2.9 release | 65.65 KB | Mar 18, 2020 | 8.3.0 | 13,928 | Download |
| v2.2.9-classic release | 65.71 KB | Mar 18, 2020 | 1.13.4 | 5,139 | Download |
| v2.2.8 release | 65.62 KB | Mar 17, 2020 | 8.3.0 | 4,487 | Download |
| v2.2.8-classic release | 65.67 KB | Mar 17, 2020 | 1.13.4 | 2,058 | Download |
| v2.2.7 release | 65.82 KB | Jan 21, 2020 | 8.3.0 | 19,710 | Download |
| v2.2.7-classic release | 65.88 KB | Jan 21, 2020 | 1.13.3 | 6,483 | Download |
| v2.2.6 release | 65.77 KB | Jan 18, 2020 | 8.3.0 | 6,758 | Download |
| v2.2.6-classic release | 65.83 KB | Jan 18, 2020 | 1.13.3 | 2,299 | Download |
| v2.2.5 release | 70.22 KB | Dec 11, 2019 | 8.2.5 | 16,652 | Download |
| v2.2.5-classic release | 70.28 KB | Dec 11, 2019 | 1.13.3 | 6,420 | Download |
| v2.2.4 release | 70.22 KB | Nov 23, 2019 | 8.2.5 | 11,038 | Download |
| v2.2.4-classic release | 70.27 KB | Nov 23, 2019 | 1.13.2 | 5,306 | Download |
| v2.2.3 release | 70.00 KB | Oct 23, 2019 | 8.2.5 | 13,734 | Download |
| v2.2.3-classic release | 70.05 KB | Oct 23, 2019 | 1.13.2 | 4,406 | Download |
| v2.2.2 release | 69.96 KB | Oct 23, 2019 | 8.2.5 | 349 | Download |
| v2.2.2-classic release | 70.01 KB | Oct 23, 2019 | 1.13.2 | 411 | Download |
| v2.2.1 release | 69.99 KB | Oct 9, 2019 | 8.2.5 | 9,259 | Download |
| v2.2.1-classic release | 70.04 KB | Oct 9, 2019 | 1.13.2 | 1,668 | Download |
| v2.2.0 release | 69.07 KB | Sep 25, 2019 | 8.2.5 | 11,914 | Download |
| v2.1.8 release | 49.05 KB | Jul 11, 2019 | 8.2.0 | 21,341 | Download |
| v2.1.7 release | 48.12 KB | Jul 5, 2019 | 8.2.0 | 8,471 | Download |
| v2.1.6 release | 47.85 KB | Mar 12, 2019 | 8.1.0 | 23,625 | Download |
| 2.1.5 release | 46.39 KB | Feb 10, 2019 | 8.1.0 | 13,323 | Download |
| 2.1.4 release | 46.47 KB | Feb 1, 2019 | 8.1.0 | 9,879 | Download |
| 2.1.3 release | 47.09 KB | Jan 11, 2019 | 8.1.0 | 12,674 | Download |
| 2.1.2 release | 46.92 KB | Dec 14, 2018 | 8.1.0 | 16,281 | Download |
| 2.1.1 release | 46.83 KB | Nov 12, 2018 | 8.0.1 | 16,313 | Download |
| 2.1.0 release | 46.61 KB | Nov 4, 2018 | 8.0.1 | 9,797 | Download |
| 2.0.9 release | 46.89 KB | Oct 19, 2018 | 8.0.1 | 10,178 | Download |
| 2.0.8 release | 46.25 KB | Sep 25, 2018 | 8.0.1 | 16,317 | Download |
| 2.0.7 release | 46.13 KB | Sep 8, 2018 | 8.0.1 | 12,501 | Download |
| 2.0.6 release | 45.86 KB | Sep 3, 2018 | 8.0.1 | 7,249 | Download |
| 2.0.5 release | 44.02 KB | Aug 10, 2018 | 8.0.1 | 10,780 | Download |
| 2.0.4 release | 40.42 KB | Jul 22, 2018 | 8.0.1 | 7,555 | Download |
| 2.0.3 release | 39.41 KB | Jul 18, 2018 | 8.0.1 | 6,951 | Download |
| Diminish v2.0.2 release | 40.21 KB | Jul 6, 2018 | 7.3.5 | 3,897 | Download |
| Diminish v2.0.1 release | 38.23 KB | Jun 25, 2018 | 7.3.5 | 2,335 | Download |
| Diminish_v2.0.0.zip release | 37.58 KB | Jun 19, 2018 | 8.0.1 +1 | 1,847 | Download |
| Diminish v2.0.0b-0.4 release | 36.43 KB | Jun 16, 2018 | 8.0.1 +1 | 1,122 | Download |
| Diminish v1.2.6 release | 6.51 KB | Dec 21, 2017 | 7.3.0 | 7,850 | Download |
| Diminish v1.2.5 release | 6.51 KB | Aug 30, 2017 | 7.3.0 | 5,898 | Download |
| Diminish_v1.2.4.zip release | 6.31 KB | Mar 30, 2017 | 7.2.0 | 6,647 | Download |
| v1.2.3 release | 5.81 KB | Oct 26, 2016 | 7.1.0 | 7,408 | Download |
| 1.2.2 release | 5.74 KB | Sep 1, 2016 | 7.0.3 | 4,610 | Download |
| Diminish_v1.2.1 release | 5.72 KB | Jul 26, 2016 | 7.0.3 | 2,763 | Download |
| Diminish_v1.2 release | 5.35 KB | Dec 1, 2015 | 6.2.3 | 7,267 | Download |
| Diminish_1.1 release | 4.72 KB | Jul 7, 2015 | 6.2.2 | 4,082 | Download |
| Diminish_1.0.5 release | 4.69 KB | Jun 27, 2015 | 6.2.0 | 738 | Download |
| Diminish_1.0.4 release | 4.56 KB | Jun 26, 2015 | 6.2.0 | 583 | Download |
| Diminish_1.0.3 release | 4.09 KB | Jun 25, 2015 | 6.2.0 | 719 | Download |
| Diminish_v2.1.1b.zip beta | 47.37 KB | Nov 5, 2018 | 8.0.1 | 513 | Download |
| 2.0.9b beta | 46.79 KB | Oct 14, 2018 | 8.0.1 | 685 | Download |
| Diminish_v2.0.6b.zip alpha | 46.03 KB | Aug 27, 2018 | 8.0.1 | 510 | Download |
Description
---
About
Diminish attaches icons to unit frames or nameplates, displaying time left until a crowd control diminishing returns category expires for that unit. As well as how far the category is diminished. (Green border = 50% duration, yellow = 25%, red = 0%)
Diminish can track DRs on both mobs and players if you enable PvE mode in the options.
Note: This addon is no longer updated for Retail / Dragonflight. Wrath & Classic should still work for now unless Blizzard does some drastic changes.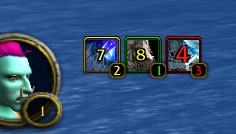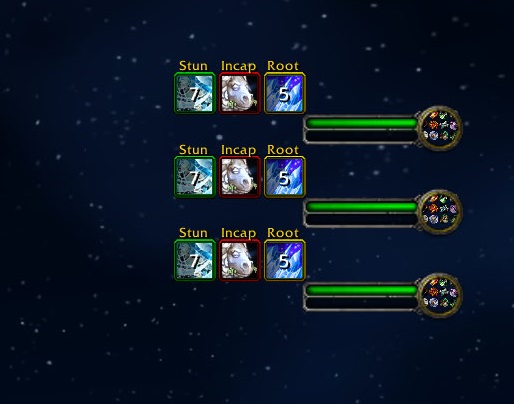 Configuration
Type /diminish to open the options panel. You may also skin the icons using Masque.

DR icons for each unit frame is separately configurable. Certain unit frames are default disabled for tracking or only enabled for certain zones.
You can manually set icons used for a DR category by right clicking one of the checkboxes under "Enabled Categories" section.