Earlier Versions
| | | | | | |
| --- | --- | --- | --- | --- | --- |
| v3.0.1 release | 52.90 KB | Dec 5, 2020 | 9.0.2 | 97 | Download |
| v3.0 release | 50.79 KB | Dec 5, 2020 | 9.0.2 | 16 | Download |
| v2.0.12 release | 49.21 KB | Nov 20, 2020 | 9.0.2 | 437 | Download |
| v2.0.11a release | 49.22 KB | Nov 7, 2020 | 9.0.1 | 349 | Download |
| v2.0.11 release | 49.21 KB | Nov 7, 2020 | 9.0.1 | 5 | Download |
| v2.0.10 release | 49.32 KB | Oct 14, 2020 | 9.0.1 | 3,178 | Download |
| v2.0.9 release | 47.04 KB | Oct 14, 2020 | 9.0.1 | 166 | Download |
| v2.0.8 release | 47.10 KB | Jul 1, 2020 | 8.3.0 | 678 | Download |
| v2.0.7 release | 47.09 KB | Jun 20, 2020 | 8.3.0 | 421 | Download |
| v2.0.6 release | 47.02 KB | Feb 23, 2020 | 8.3.0 | 857 | Download |
| v2.0.5 release | 46.97 KB | Jan 24, 2020 | 8.3.0 | 462 | Download |
| v2.0.4 release | 46.78 KB | Jan 15, 2020 | 8.3.0 | 382 | Download |
| v2.0.3 release | 46.82 KB | Sep 25, 2019 | 8.2.5 | 564 | Download |
| LazyCurve V2.0.3 release | 48.51 KB | Jul 10, 2019 | 8.2.0 | 618 | Download |
| LazyCurve V2.0.2 release | 48.51 KB | Jun 27, 2019 | 8.2.0 | 471 | Download |
| LazyCurve v2.0.1 release | 51.64 KB | Jun 1, 2019 | 8.1.5 | 494 | Download |
| LazyCurve V2.0 release | 51.63 KB | May 22, 2019 | 8.1.5 | 371 | Download |
| LazyCurve V1.7 release | 23.96 KB | Apr 24, 2019 | 8.1.5 +1 | 487 | Download |
| LazyCurve V1.6 release | 25.38 KB | Jan 31, 2019 | 8.1.0 | 667 | Download |
| LazyCurve V1.5 release | 25.44 KB | Dec 16, 2018 | 8.1.0 | 482 | Download |
| LazyCurve V1.4 release | 25.12 KB | Sep 7, 2018 | 8.0.1 | 615 | Download |
| LazyCurve V1.3.3 release | 24.82 KB | Jul 21, 2018 | 8.0.1 | 550 | Download |
| LazyCurve V1.3.2 release | 23.42 KB | Mar 20, 2018 | 7.3.5 | 792 | Download |
| LazyCurve V1.3.1 release | 23.42 KB | Mar 19, 2018 | 7.3.5 | 44 | Download |
| LazyCurve V1.3 release | 23.37 KB | Mar 19, 2018 | 7.3.5 | 68 | Download |
| LazyCurve V1.2 release | 23.33 KB | Mar 18, 2018 | 7.3.5 | 175 | Download |
| Lazycurve V1.1a release | 21.49 KB | Mar 14, 2018 | 7.3.5 | 205 | Download |
| LazyCurve V1.1 release | 21.49 KB | Mar 13, 2018 | 7.3.5 | 117 | Download |
| LazyCurve V1 release | 20.73 KB | Mar 13, 2018 | 7.3.5 | 56 | Download |
| v2.0.9-alpha alpha | 49.44 KB | Oct 14, 2020 | 9.0.1 | 14 | Download |
Description
New feature!
Whisper your best raid achievement when applying to a group!
You no longer have to select an achievement to whisper manually, you can just signup and LazyCurve will take care of the rest 🙂
This can be disabled in the options.
If you've completed curve and a couple mythic achievements, it'll send both your curve and your best mythic achievement. This can be disabled for specific bosses (or disabled for all bosses) in the options
Every pug knows the pain of having to spend ages browsing through your achievements, just to link your curve, edge or keystone master to the group leader when signing up.
This addon solves this problem once and for all!
LazyCurve has 2 main features (example images below):
   1. simply rightclick on the group in the LFG window, and click "Link Achievement to Leader", and this addon will do it all for you 🙂
   2. when chatting or whispering people, typing any of the special achievement keywords will replace the keyword with a link to the achievement (check bottom of the page for a list)
Share and comment if you like LazyCurve 🙂 (requests are also welcome)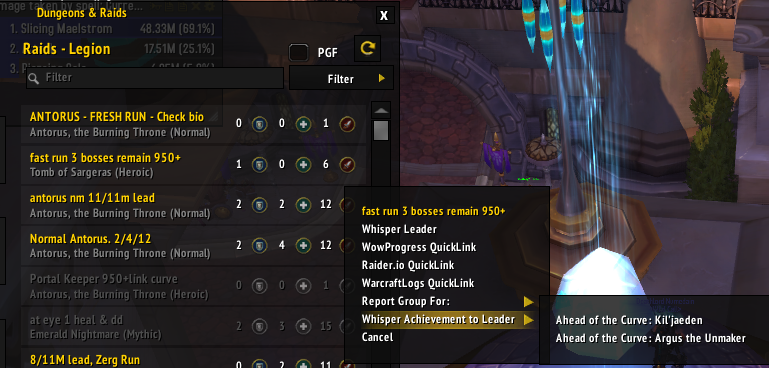 Here you can see me right-clicking on a group for Tomb of Sargeras; by default this addon will show both curve and edge achievements for the selected raid, AND for the latest raid (Argus curve in this case).
In addition to this, the addon will also show your best mythic achievement for the selected raid; and also the normal mode achievement, but only if you don't have curve
The 'QuickLink' options are caused by another addon. This addon should be fully compatible with every other addon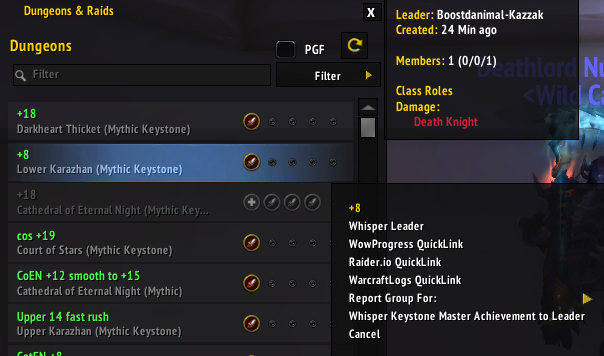 here you can see me right-clicking a dungeon group instead; so this addon will show the highest Keystone achievement you have (keystone master in this case), instead of showing a list of achievements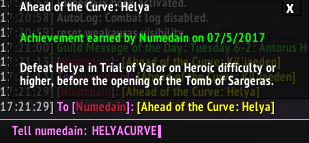 and finally you can also whisper a keyword to anyone, or type it in /say /raid /anywhere (BNet whispers are supported as well)
To turn self-promotion on/off, type "/lazycurve togglepromote"; but please leave this on if you like this addon 🙂
raid keywords work by combining a start and an end (in all-caps, NO spaces)
    CURVE and EDGE default to most recent raid curve/edge
full list of raid start keywords:
    NYA/NZOTH
    TEP/AZSHARA
    COS/UUNAT
    BOD/JAINA
    ULDIR/GHUUN
    ABT/ARGUS
    TOS/KILJAEDEN
    NH/GULDAN
    TOV/HELYA
    EN/XAVIUS
full list of raid end keywords
    NORMAL
    CURVE
    MYTHIC (automatically selects your highest earned mythic achievement for the specific raid)
    EDGE
example: TOSEDGE will become [Cutting Edge: Kil'jaeden] 
full list dungeon keywords:
     KEY (highest earned achievement, from your latest active season)
     KEYS4 (highest earned bfa season 4 achievement)
     KEYS3 (highest earned bfa season 3 achievement)
     KEYS2 (highest earned bfa season 2 achievement)
     KEYS1 (highest earned bfa season 1 achievement)
     KEYS0 (highest earned basic achievement, could've been from legion)
     KEY15 (keystone master)   
     KEY10 (keystone conqueror)   
     KEY5 (keystone challenger) 
     KEY2 (keystone initiate)
full list of PvP keywords: (if you have an achievement you think is missing, please leave a comment with a wowhead link to the achievement!)
    ARENA2V2: highest 2V2 rating achievement
    ARENA3V3: highest 3V3 rating achievement
    ARENATOP: top x% arena rating achievement (arena titles)
    ARENAWINS: amount of arena wins achievement
    ARENAMASTER: arena master achievement
    RBGRATING: highest RBG rating achievement
    RBGTOP: top x% RBG rating achievement (HOTA/HOTH etc)
    RBGWINS: amount of RBG wins