Earlier Versions
| | | | | | |
| --- | --- | --- | --- | --- | --- |
| 250.0 release | 10.23 KB | Sep 26, 2019 | 8.2.5 | 17,280 | Download |
| 248.0 release | 10.16 KB | Sep 26, 2019 | 8.2.5 | 1,273 | Download |
| 244.0 release | 10.14 KB | Sep 20, 2019 | 8.2.0 | 10,553 | Download |
| 239.0 release | 10.08 KB | Jul 25, 2019 | 8.2.0 | 22,519 | Download |
| 237.0 release | 10.12 KB | Jul 23, 2019 | 8.2.0 | 8,493 | Download |
| 229.0 +1 More release | 9.16 KB | Jul 11, 2019 | 8.2.0 | 15,077 | Download |
| 227.0 +1 More release | 9.17 KB | Jun 24, 2019 | 8.1.5 | 16,556 | Download |
| 225.0 +1 More release | 9.18 KB | Jun 17, 2019 | 8.1.5 | 9,881 | Download |
| 223.0 +1 More release | 9.18 KB | Jun 17, 2019 | 8.1.5 | 71 | Download |
| 221.0 +1 More release | 9.14 KB | Jun 16, 2019 | 8.1.5 | 2,105 | Download |
| 219.0 +1 More release | 9.13 KB | Jun 16, 2019 | 8.1.5 | 145 | Download |
| 216.0 +1 More release | 9.09 KB | Jun 16, 2019 | 8.1.5 | 106 | Download |
| 211.0 release | 11.08 KB | Jun 9, 2019 | 8.1.5 | 9,189 | Download |
| 209.0 release | 11.11 KB | Jun 6, 2019 | 8.1.5 | 5,943 | Download |
| 206.0 release | 11.08 KB | Jun 4, 2019 | 8.1.5 | 4,557 | Download |
| 204.0 release | 11.09 KB | Jun 2, 2019 | 8.1.5 | 6,290 | Download |
| 202.0 release | 11.05 KB | Jun 2, 2019 | 8.1.5 | 465 | Download |
| 199.0 release | 11.03 KB | May 23, 2019 | 8.1.5 | 10,669 | Download |
| 197.0 release | 11.06 KB | May 22, 2019 | 8.1.5 | 1,166 | Download |
| 194.0 release | 11.05 KB | May 21, 2019 | 8.1.5 | 5,354 | Download |
| 192.0 release | 11.07 KB | May 16, 2019 | 8.1.5 | 8,275 | Download |
| 190.0 release | 11.05 KB | Apr 27, 2019 | 8.1.5 | 13,970 | Download |
| 188.0 release | 11.05 KB | Apr 19, 2019 | 8.1.5 | 11,502 | Download |
| 186.0 release | 11.03 KB | Mar 3, 2019 | 8.1.0 | 20,362 | Download |
| 184.0 release | 11.02 KB | Mar 1, 2019 | 8.1.0 | 7,862 | Download |
| 182.0 release | 11.08 KB | Mar 1, 2019 | 8.1.0 | 18 | Download |
| 180.0 release | 11.06 KB | Feb 17, 2019 | 8.1.0 | 13,979 | Download |
| 178.0 release | 11.06 KB | Feb 17, 2019 | 8.1.0 | 17 | Download |
| 176.0 release | 11.05 KB | Feb 5, 2019 | 8.1.0 | 14,464 | Download |
| 174.0 release | 10.99 KB | Jan 29, 2019 | 8.1.0 | 13,175 | Download |
| 172.0 release | 10.99 KB | Dec 15, 2018 | 8.1.0 | 20,704 | Download |
| 170.0 release | 11.04 KB | Dec 15, 2018 | 8.1.0 | 22 | Download |
| 168.0 release | 11.00 KB | Dec 15, 2018 | 8.1.0 | 1,025 | Download |
| 166.0 release | 11.00 KB | Dec 15, 2018 | 8.0.1 | 244 | Download |
| 161.0 release | 11.03 KB | Dec 13, 2018 | 8.0.1 | 8,976 | Download |
| 159.0 release | 11.08 KB | Dec 12, 2018 | 8.0.1 | 8,781 | Download |
| 157.0 release | 11.09 KB | Dec 12, 2018 | 8.0.1 | 17 | Download |
| 155.0 release | 11.09 KB | Dec 12, 2018 | 8.0.1 | 747 | Download |
| 153.0 release | 11.10 KB | Dec 12, 2018 | 8.0.1 | 1,636 | Download |
| 151.0 release | 11.08 KB | Dec 12, 2018 | 8.0.1 | 17 | Download |
| 149.0 release | 9.75 KB | Dec 12, 2018 | 8.0.1 | 1,582 | Download |
| 147.0 release | 9.34 KB | Dec 12, 2018 | 8.0.1 | 1,130 | Download |
| 145.0 release | 9.34 KB | Dec 12, 2018 | 8.0.1 | 410 | Download |
| 143.0 release | 9.32 KB | Dec 12, 2018 | 8.0.1 | 407 | Download |
| 141.0 release | 9.32 KB | Dec 12, 2018 | 8.0.1 | 19 | Download |
| 139.0 release | 9.37 KB | Dec 11, 2018 | 8.0.1 | 6,486 | Download |
| 136.0 release | 9.33 KB | Nov 23, 2018 | 8.0.1 | 15,244 | Download |
| 134.0 release | 9.33 KB | Nov 22, 2018 | 8.0.1 | 3,993 | Download |
| 132.0 release | 9.33 KB | Nov 22, 2018 | 8.0.1 | 12 | Download |
| 123.0 release | 8.65 KB | Sep 18, 2018 | 8.0.1 | 26,910 | Download |
| 121.0 release | 8.66 KB | Sep 18, 2018 | 8.0.1 | 10 | Download |
| 119.0 release | 8.66 KB | Sep 18, 2018 | 8.0.1 | 8 | Download |
| 117.0 release | 8.66 KB | Sep 16, 2018 | 8.0.1 | 7,951 | Download |
| 115.0 release | 8.61 KB | Aug 29, 2018 | 8.0.1 | 12,890 | Download |
| 113.0 release | 8.51 KB | Aug 29, 2018 | 8.0.1 | 197 | Download |
| 111.0 release | 8.49 KB | Aug 27, 2018 | 8.0.1 | 3,817 | Download |
| 109.0 release | 8.60 KB | Jul 28, 2018 | 8.0.1 | 9,688 | Download |
| 107.0 release | 8.59 KB | Jul 18, 2018 | 8.0.1 | 11,903 | Download |
| 105.0 release | 8.59 KB | Jul 18, 2018 | 8.0.1 | 838 | Download |
| 103.0 release | 8.59 KB | Jul 16, 2018 | 8.0.1 | 4,351 | Download |
| 99.0 release | 8.47 KB | Jul 8, 2018 | 7.3.5 | 4,543 | Download |
| 97.0 release | 8.46 KB | Jul 8, 2018 | 7.3.5 | 8 | Download |
| 95.0 release | 8.36 KB | Jul 8, 2018 | 7.3.5 | 1,140 | Download |
| 93.0 release | 8.34 KB | Jul 8, 2018 | 7.3.5 | 175 | Download |
| 91.0 release | 8.47 KB | Jul 4, 2018 | 7.3.5 | 3,205 | Download |
| 85.0 release | 8.46 KB | Jun 29, 2018 | 7.3.5 | 3,340 | Download |
| 83.0 release | 8.32 KB | Jun 26, 2018 | 7.3.5 | 2,910 | Download |
| 81.0 release | 8.31 KB | Jun 26, 2018 | 7.3.5 | 119 | Download |
| 79.0 release | 8.32 KB | Jun 26, 2018 | 7.3.5 | 10 | Download |
| 77.0 release | 8.31 KB | Jun 26, 2018 | 7.3.5 | 8 | Download |
| 75.0 release | 8.31 KB | Jun 26, 2018 | 7.3.5 | 12 | Download |
| 73.0 release | 8.30 KB | Jun 26, 2018 | 7.3.5 | 9 | Download |
| 71.0 release | 8.27 KB | Jun 26, 2018 | 7.3.5 | 13 | Download |
| 69.0 release | 8.24 KB | Jun 26, 2018 | 7.3.5 | 21 | Download |
| 67.0 release | 8.26 KB | Jun 26, 2018 | 7.3.5 | 58 | Download |
| 65.0 release | 7.92 KB | Jun 18, 2018 | 7.3.5 | 4,777 | Download |
| 63.0 release | 7.93 KB | Jun 5, 2018 | 7.3.5 | 5,531 | Download |
| 61.0 release | 7.78 KB | Jun 2, 2018 | 7.3.5 | 2,820 | Download |
| 59.0 release | 7.77 KB | Jun 2, 2018 | 7.3.5 | 48 | Download |
| 57.0 release | 7.71 KB | May 22, 2018 | 7.3.5 | 5,307 | Download |
| 55.0 release | 7.73 KB | May 22, 2018 | 7.3.5 | 376 | Download |
| 53.0 release | 7.58 KB | Apr 25, 2018 | 7.3.5 | 7,235 | Download |
| 49.0 release | 7.48 KB | Apr 25, 2018 | 7.3.5 | 914 | Download |
| 47.0 release | 7.48 KB | Apr 25, 2018 | 7.3.5 | 21 | Download |
| 45.0 release | 7.52 KB | Apr 4, 2018 | 7.3.5 | 6,245 | Download |
| 43.0 release | 7.43 KB | Mar 23, 2018 | 7.3.5 | 4,696 | Download |
| 41.0 release | 7.45 KB | Mar 21, 2018 | 7.3.5 | 2,134 | Download |
| 38.0 release | 7.46 KB | Mar 17, 2018 | 7.3.5 | 2,463 | Download |
| 35.0 release | 7.39 KB | Mar 11, 2018 | 7.3.5 | 2,803 | Download |
| 33.0 release | 7.43 KB | Mar 11, 2018 | 7.3.5 | 14 | Download |
| 31.0 release | 7.47 KB | Mar 11, 2018 | 7.3.5 | 10 | Download |
| 29.0 +1 More release | 9.99 KB | Mar 11, 2018 | 7.3.5 | 20 | Download |
| 27.0 +1 More release | 10.01 KB | Mar 11, 2018 | 7.3.5 | 16 | Download |
| 25.0 +1 More release | 10.03 KB | Mar 11, 2018 | 7.3.5 | 14 | Download |
| 21.0 release | 2.37 KB | Mar 9, 2018 | 7.3.5 | 1,378 | Download |
| 14.0 release | 2.02 KB | Feb 15, 2018 | 7.3.5 | 3,234 | Download |
| 12.0 release | 1.46 KB | Jan 25, 2018 | 7.3.5 | 1,187 | Download |
| 164.0 r163-beta beta | 11.03 KB | Dec 14, 2018 | 8.0.1 | 42 | Download |
| 130.0 r129-beta beta | 9.30 KB | Nov 22, 2018 | 8.0.1 | 5 | Download |
| r127-beta beta | 9.34 KB | Nov 22, 2018 | 8.0.1 | 13 | Download |
| r101-bfa-beta beta | 8.60 KB | Jul 16, 2018 | 7.3.5 | 28 | Download |
| r89-bfa-beta beta | 8.57 KB | Jul 3, 2018 | 8.0.1 | 13 | Download |
| r87-bfa-beta beta | 8.57 KB | Jul 3, 2018 | 8.0.1 | 8 | Download |
| r246-alpha alpha | 10.10 KB | Sep 20, 2019 | 8.2.0 | 52 | Download |
| r244-alpha alpha | 10.14 KB | Sep 20, 2019 | 8.2.0 | 4 | Download |
| r243-alpha +1 More alpha | 10.14 KB | Sep 20, 2019 | 8.2.0 | 5 | Download |
| r242-alpha +1 More alpha | 10.20 KB | Sep 20, 2019 | 8.2.0 | 3 | Download |
| r241-alpha +1 More alpha | 10.24 KB | Sep 20, 2019 | 8.2.0 | 6 | Download |
| r219-alpha +1 More alpha | 9.09 KB | Jun 16, 2019 | 8.1.5 | 8 | Download |
| r208-alpha alpha | 11.11 KB | Jun 6, 2019 | 8.1.5 | 9 | Download |
| r207-alpha alpha | 11.08 KB | Jun 6, 2019 | 8.1.5 | 8 | Download |
| r197-alpha alpha | 11.03 KB | May 22, 2019 | 8.1.5 | 7 | Download |
| r160-alpha alpha | 11.02 KB | Dec 13, 2018 | 8.0.1 | 24 | Download |
| r137-alpha alpha | 9.32 KB | Nov 23, 2018 | 8.0.1 | 121 | Download |
| r128-alpha alpha | 9.29 KB | Nov 22, 2018 | 8.0.1 | 11 | Download |
| r125-alpha alpha | 9.30 KB | Nov 22, 2018 | 8.0.1 | 7 | Download |
| r124-alpha alpha | 9.18 KB | Nov 22, 2018 | 8.0.1 | 8 | Download |
| r64-alpha alpha | 7.91 KB | Jun 5, 2018 | 7.3.5 | 51 | Download |
| r56-alpha alpha | 7.71 KB | May 22, 2018 | 7.3.5 | 8 | Download |
| r54-alpha alpha | 7.73 KB | May 14, 2018 | 7.3.5 | 37 | Download |
| r52-alpha alpha | 7.58 KB | Apr 25, 2018 | 7.3.5 | 10 | Download |
| r51-alpha alpha | 7.56 KB | Apr 25, 2018 | 7.3.5 | 10 | Download |
| r50-alpha alpha | 7.52 KB | Apr 25, 2018 | 7.3.5 | 8 | Download |
| r46-alpha alpha | 7.48 KB | Apr 25, 2018 | 7.3.5 | 8 | Download |
| r41-alpha alpha | 7.41 KB | Mar 21, 2018 | 7.3.5 | 7 | Download |
| r37-alpha alpha | 7.46 KB | Mar 17, 2018 | 7.3.5 | 13 | Download |
| r36-alpha alpha | 7.43 KB | Mar 17, 2018 | 7.3.5 | 12 | Download |
| r23-alpha +1 More alpha | 9.15 KB | Mar 11, 2018 | 7.3.5 | 12 | Download |
| r22-alpha +1 More alpha | 9.11 KB | Mar 11, 2018 | 7.3.5 | 9 | Download |
| r20-alpha alpha | 2.37 KB | Mar 9, 2018 | 7.3.5 | 9 | Download |
| r19-alpha alpha | 2.35 KB | Mar 9, 2018 | 7.3.5 | 7 | Download |
| r18-alpha alpha | 2.01 KB | Mar 9, 2018 | 7.3.5 | 10 | Download |
| r17-alpha alpha | 1.99 KB | Mar 9, 2018 | 7.3.5 | 11 | Download |
| r16-alpha alpha | 1.97 KB | Mar 9, 2018 | 7.3.5 | 11 | Download |
| r13-alpha alpha | 2.02 KB | Feb 15, 2018 | 7.3.5 | 14 | Download |
| r11-alpha alpha | 1.46 KB | Jan 25, 2018 | 7.3.5 | 10 | Download |
| r10-alpha alpha | 1.07 KB | Jan 25, 2018 | 7.3.5 | 20 | Download |
| r5-alpha alpha | 786 Bytes | Jan 25, 2018 | 7.3.5 | 21 | Download |
Description
LFG Raider.IO NO LONGER NEEDS Raider.IO AddOn. It now uses the Raider.IO LOD database addon. You only need to install your region/faction LOD database.
https://www.curseforge.com/wow/addons/search?search=Raider.IO+LOD
This extension addon is to support displaying the raider.io score in LookingForGroup addon tooltips. 
AND FILTER PEOPLE BASED ON THEIR RAIDER.IO SCORE OR DUNGEON EXPERIENCE.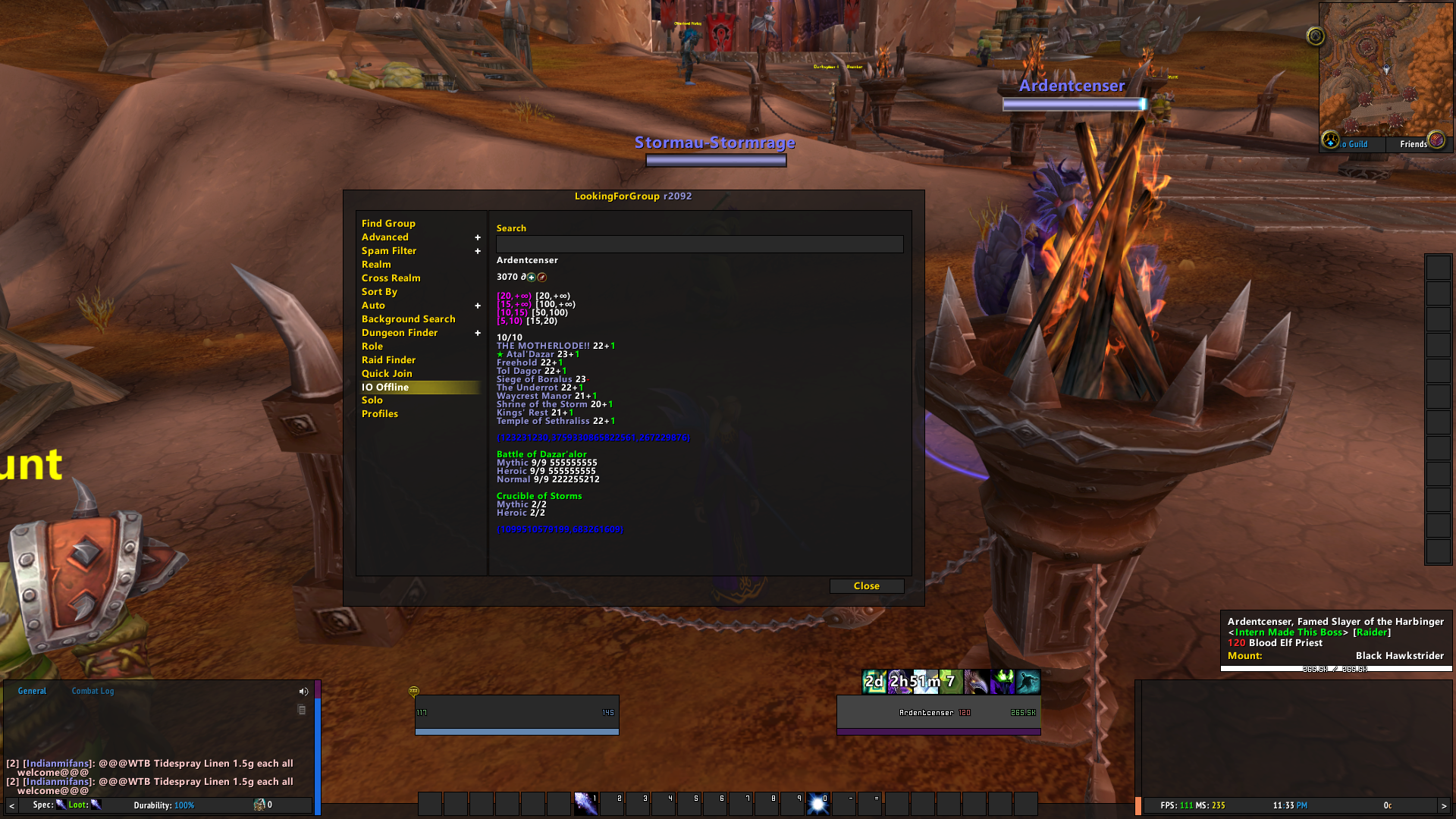 You must install LookingForGroup addon
https://www.wowace.com/projects/lookingforgroup
first
You can block groups with low raider.io score leaders or block applicants with a low raider.io score in LFG dungeon groups.