Earlier Versions
| | | | | | |
| --- | --- | --- | --- | --- | --- |
| Chalcedony 1 release | 30.39 KB | Jul 2, 2021 | 9.1.0 | 0 | Download |
| Bismuth 15 release | 24.11 KB | Jul 1, 2021 | 9.1.0 | 293 | Download |
| Bismuth 14 release | 24.10 KB | Jun 29, 2021 | 9.1.0 | 332 | Download |
| Bismuth 13 release | 23.35 KB | May 15, 2021 | 9.0.5 | 518 | Download |
| Bismuth 12 release | 23.15 KB | May 9, 2021 | 9.0.5 | 341 | Download |
| Bismuth 11 release | 22.78 KB | Dec 26, 2020 | 9.0.2 | 712 | Download |
| Bismuth 10 release | 22.85 KB | Nov 26, 2020 | 9.0.2 | 400 | Download |
| Bismuth 8 release | 22.08 KB | Mar 26, 2020 | 8.3.0 | 1,065 | Download |
| BIsmuth 7 release | 22.00 KB | Feb 23, 2020 | 8.3.0 | 581 | Download |
| Bismuth 6 release | 21.90 KB | Jan 15, 2020 | 8.3.0 | 593 | Download |
| Bismuth 5 release | 21.86 KB | Jan 15, 2020 | 8.3.0 | 159 | Download |
| Bismuth 4 release | 21.47 KB | Oct 27, 2019 | 8.2.5 | 638 | Download |
| Bismuth 3 release | 21.41 KB | Oct 27, 2019 | 8.2.5 | 35 | Download |
| Bismuth 1 release | 20.01 KB | Mar 4, 2018 | 7.3.5 | 1,185 | Download |
| Alexandrite 2 release | 18.53 KB | Mar 1, 2018 | 7.3.5 | 129 | Download |
| Paragon Alexandrite 1 release | 17.16 KB | Feb 18, 2018 | 7.3.5 +2 | 180 | Download |
Description
Paragon
Paragon is an addon that adds reputation information to reputation related items in the game. It also lets you keep track of reputations for all your characters, primarily via tooltips.
Item Tooltips
Paragon can display your current standing with a reputation on reputation related items. It can also show your other character's standings directly in the tooltip! It has never been easier to figure out which alt to send that Dreamweavers Insignia to.
Reputation Listing
Paragon can also list your character's reputation standings with any reputation via the slash command /par faction
For example, type /par armies of legionfall in chat to list each of your character's reputation status with Armies of Legionfall.
Options
You can customize what is (and isn't) displayed in your tooltips via the in-game AddOns options panel.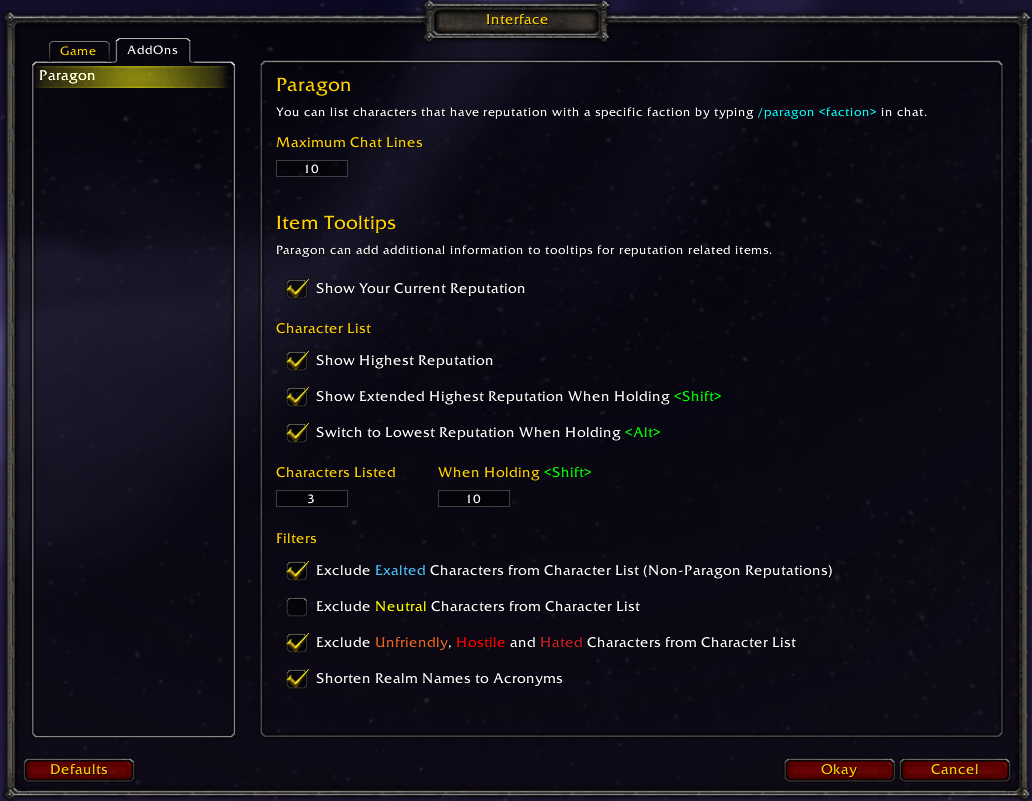 Known Issues
You currently can't scroll the reputation listing window with your scroll wheel when displaying more than 21 characters. In the mean time you can drag the scroll bar.