Earlier Versions
| | | | | | |
| --- | --- | --- | --- | --- | --- |
| WoWeuCN_Quests_1308.zip release | 9.96 MB | Aug 13, 2020 | 8.3.0 | 0 | Download |
| WoWeuCN_Quests_1208.zip release | 9.96 MB | Aug 12, 2020 | 8.3.0 | 9 | Download |
| WoWeuCN_Quests_0908_2.zip release | 9.95 MB | Aug 9, 2020 | 8.3.0 | 25 | Download |
| WoWeuCN_Quests_0908.zip release | 9.95 MB | Aug 9, 2020 | 8.3.0 | 6 | Download |
| WoWeuCN_Quests_Retail release | 9.58 MB | Aug 8, 2020 | 8.3.0 | 14 | Download |
| WoWeuCN_Quests_v1.0.2 release | 7.73 MB | Sep 28, 2019 | 1.13.2 | 1,626 | Download |
| WoWeuCN_Quests_v1.0.1 release | 8.94 MB | Aug 30, 2019 | 1.13.2 | 1,664 | Download |
| WoWeuCN_Quests release | 8.94 MB | Aug 26, 2019 | 1.13.2 | 695 | Download |
| Quest Chinese Translator Shadowlands Ver. beta | 10.11 MB | Aug 9, 2020 | 9.0.1 | 4 | Download |
| WoWeuCN_Quests alpha | 8.94 MB | Aug 26, 2019 | 1.13.2 | 14 | Download |
Description
This addon was inspired and created from WoWpoPolsku-Quests (author: Platine, https://wowpopolsku.pl).
This addon is intended for Chinese players on EU server (where region language lock is applied). If you are on a non-EU server, you may change your client language without using this addon.
Chinese player wanna play on classic EU server but cannot fully enjoy the quests because of difficulty in understanding the region language? This addon may help.
欧服语言锁强制玩家在各自区域服务器只能使用对应语言的客户端,想在欧洲玩低延迟的WoW,却担心旧版本没有任务提示/阅读非中文的任务介绍会影响自己的练级速度?想认真享受任务线却发现自己语言能力还不过关?这款插件可能适合你。 
WoWeuCN-quests可将欧服任意语言服务器的任务框文本一键翻译为中文。翻译文本可动态对应玩家的职业、种族、性别。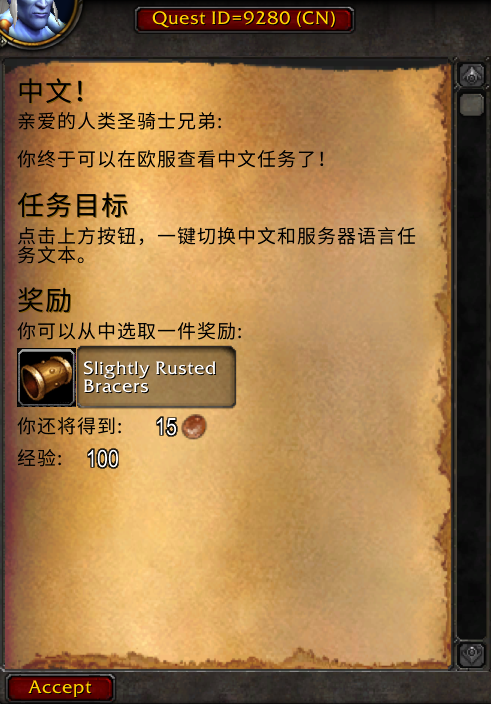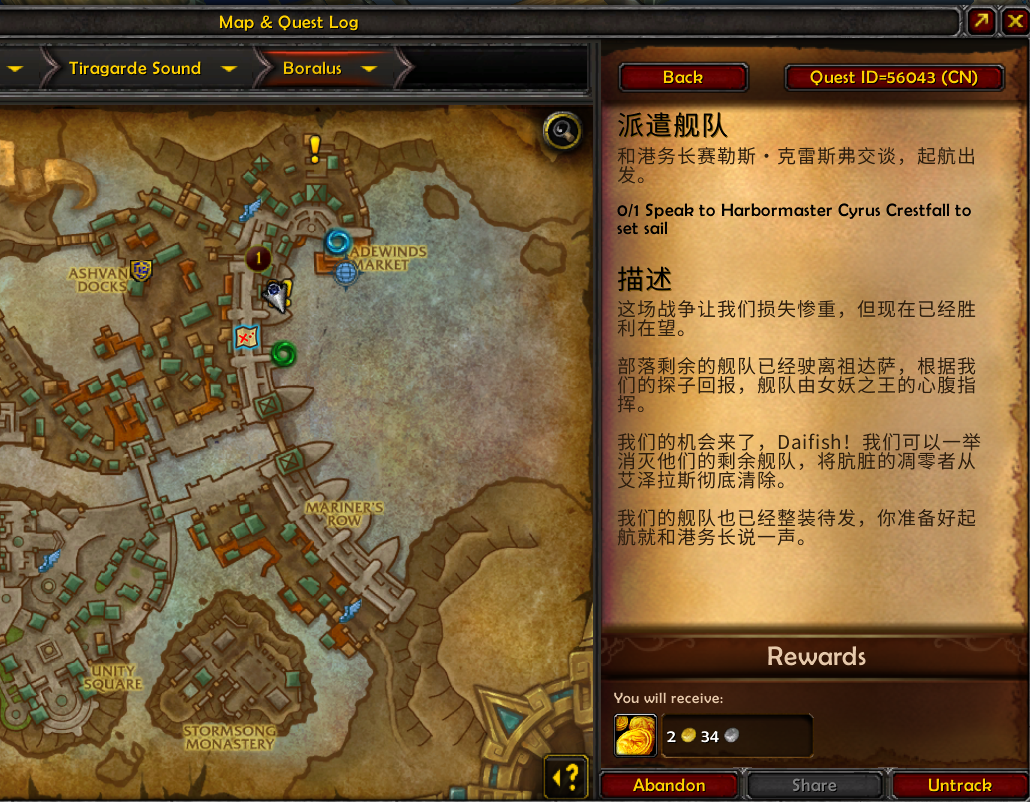 使用说明:
启用插件WoWeuCN-Quests后可在Interface – Addons里进行配置。
或使用指令:
/WoWeuCN on – 启用翻译模块
/WoWeuCN off – 禁用翻译模块
/WoWeuCN title on – 启用标题翻译
/WoWeuCN title off – 禁用标题翻译
/WoWeuCN objectives on – 启用任务目标翻译
/WoWeuCN objectives off – 禁用任务目标翻译
注意事项:
如要更换字体,可替换 WoWeuCN_Quests\Fonts 文件夹中的 woweucn.ttf 文件,将你自己的 TTF 字体改名为 woweucn.ttf 
怀旧服任务文本来源于互联网,可能有数据不准确/缺失的情形,如遇到类似情形,请在回复中附带任务ID以供修复。
正式服任务文本来源于暴雪官方API,目前支持任务描述和任务目标的中文翻译。