Earlier Versions
| | | | | | |
| --- | --- | --- | --- | --- | --- |
| 1.99.99 release | 34.74 KB | Nov 23, 2020 | 9.0.2 | 0 | Download |
| 01.04.08 release | 33.44 KB | Feb 7, 2020 | 8.3.0 | 243,658 | Download |
| v1.4.7-retail release | 33.44 KB | Jan 29, 2020 | 8.3.0 | 67,635 | Download |
| v1.4.6-retail release | 33.44 KB | Jan 26, 2020 | 8.3.0 | 52,696 | Download |
| v1.4.5-retail release | 33.43 KB | Jan 24, 2020 | 8.3.0 | 41,877 | Download |
| v1.4.4-retail release | 33.43 KB | Jan 24, 2020 | 8.3.0 | 493 | Download |
| v1.4.3-retail release | 33.44 KB | Jan 21, 2020 | 8.3.0 | 53,930 | Download |
| v1.4.2-retail release | 33.43 KB | Jan 20, 2020 | 8.3.0 | 30,404 | Download |
| v1.4.1-retail release | 33.42 KB | Jan 19, 2020 | 8.3.0 | 23,091 | Download |
| v1.4.0-retail release | 33.42 KB | Jan 14, 2020 | 8.3.0 | 66,653 | Download |
| v1.3.10 release | 33.42 KB | Aug 31, 2019 | 8.2.0 | 118,824 | Download |
| v1.3.9 release | 33.36 KB | Aug 31, 2019 | 8.2.0 | 6,175 | Download |
| v1.3.8 release | 33.35 KB | Aug 29, 2019 | 8.2.0 | 27,026 | Download |
| v1.3.7 release | 33.34 KB | Aug 27, 2019 | 8.2.0 | 27,586 | Download |
| v1.3.6 release | 33.28 KB | Aug 19, 2019 | 8.2.0 | 54,341 | Download |
| v1.3.5 release | 33.28 KB | Aug 18, 2019 | 8.2.0 | 18,292 | Download |
| v1.3.4 release | 28.65 KB | Aug 12, 2019 | 8.2.0 | 49,862 | Download |
| v1.3.3 release | 28.67 KB | Aug 11, 2019 | 8.2.0 | 10,811 | Download |
| v1.3.2 release | 28.60 KB | Aug 9, 2019 | 8.2.0 | 35,303 | Download |
| v1.3.0 release | 28.60 KB | Aug 1, 2019 | 8.2.0 | 52,439 | Download |
| v1.2.12 release | 97.04 KB | Jul 29, 2019 | 8.2.0 | 40,111 | Download |
| v1.2.11 release | 96.55 KB | Jul 8, 2019 | 8.2.0 | 76,162 | Download |
| v1.2.10 release | 96.53 KB | Jul 4, 2019 | 8.2.0 | 40,206 | Download |
| v1.2.9 release | 96.52 KB | Jun 28, 2019 | 8.2.0 | 53,983 | Download |
| v1.2.8 release | 96.53 KB | Jun 28, 2019 | 8.2.0 | 7,614 | Download |
| v1.2.7 release | 96.54 KB | Mar 13, 2019 | 8.1.5 | 80,384 | Download |
| v1.2.5 release | 97.09 KB | Jan 1, 2019 | 8.1.0 | 58,399 | Download |
| v1.2.4 release | 97.11 KB | Jan 1, 2019 | 8.1.0 | 7,309 | Download |
| v1.2.3 release | 97.10 KB | Dec 25, 2018 | 8.1.0 | 23,555 | Download |
| v1.2.2 release | 97.07 KB | Dec 25, 2018 | 8.1.0 | 7,573 | Download |
| v1.2.1 release | 95.27 KB | Dec 24, 2018 | 8.1.0 | 8,661 | Download |
| v1.2.0 release | 95.29 KB | Dec 23, 2018 | 8.1.0 | 10,608 | Download |
| v1.1.8 release | 94.15 KB | Dec 18, 2018 | 8.1.0 | 21,605 | Download |
| v1.1.7 release | 95.88 KB | Dec 14, 2018 | 8.1.0 | 23,029 | Download |
| v1.1.6 release | 95.88 KB | Dec 13, 2018 | 8.0.1 | 4,088 | Download |
| v1.1.5 release | 95.88 KB | Dec 13, 2018 | 8.0.1 | 8,800 | Download |
| v1.1.4 release | 95.88 KB | Dec 13, 2018 | 8.0.1 | 2,284 | Download |
| v1.1.3 release | 95.27 KB | Dec 12, 2018 | 8.0.1 | 2,611 | Download |
| v1.1.2 release | 95.19 KB | Dec 12, 2018 | 8.0.1 | 8,844 | Download |
| v1.1.1 release | 93.46 KB | Dec 10, 2018 | 8.0.1 | 3,093 | Download |
| v1.1.0 release | 93.40 KB | Dec 10, 2018 | 8.0.1 | 159 | Download |
Description
More information about the author
Requires the TomCat's Tours main addon
Latest features: All rare addons now have a description panel available (similar to the quest descriptions when you click a quest in the log).
The current releases have updated loot tables but will need the spawn descriptions filled and translated.  Any volunteers?
TomCat's Tours offers a lightweight tour of the Darkshore rares
View all of the rares locations on both the world map and the zone mini map.
HandyNotes and TomTom integration if you have it
Simple icons
Star means you can still kill and loot the rare.
Check mark means you have already looted this rare for the phase and have to wait for the reset to kill it again.
You can view the stars on the Darkshore map and Rares Log from anywhere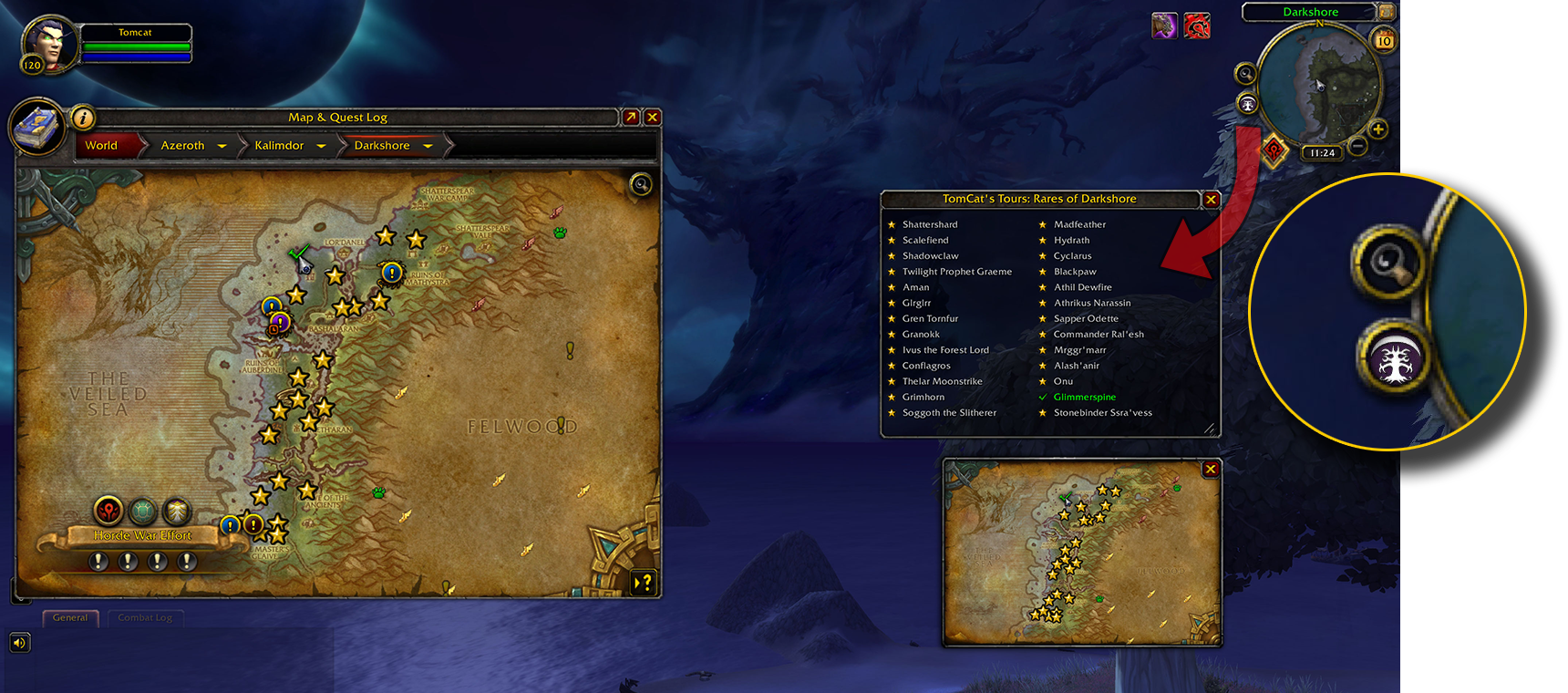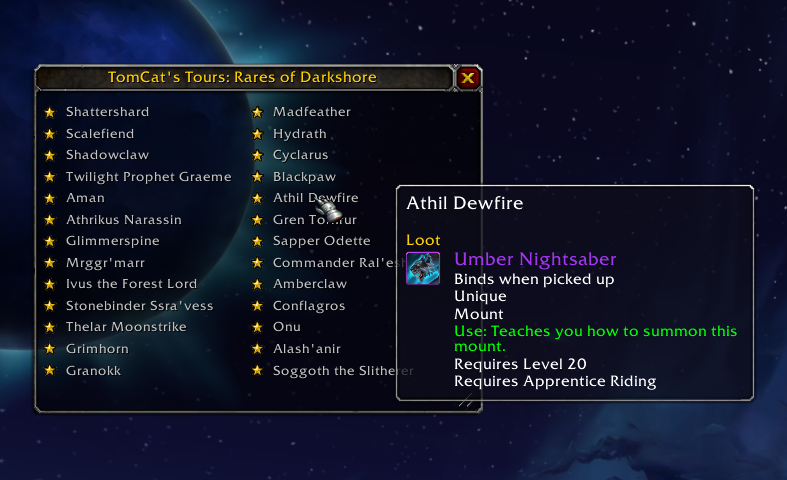 More features coming soon! 
Mentions:
PeperoniSH (@ Twitch) was nice enough to create a video demonstration of our addon (in Spanish):