Earlier Versions
| | | | | | |
| --- | --- | --- | --- | --- | --- |
| Underdog-Classic-001.zip release | 210.16 KB | Nov 21, 2021 | 1.14.1 | 0 | Download |
| Underdog-BCC-001.zip release | 210.16 KB | Nov 21, 2021 | 2.5.2 | 0 | Download |
Description

by Cixi@Remulos (Classic Oceanic)
Challenge yourself to kill a mob as many levels above you as possible.
It can be any mob in the world, but there are 2 simple rules:
1. IT HAS TO BE A SOLO KILL
Class pets are ok, but any intervention from any other player or npc will invalidate the kill.
This includes (but is not limited to), npc guards helping out, receiving a heal from a friend, or using someone else's AoE for example.
2. ALL BUFFS, POTS AND COOLDOWNS ARE ALLOWED
You can ask your friends for a class buff, and have your character in twink gear and fully enchanted.
You can use world buffs, flasks, potions and blast all your cooldowns to get the kill.
A few other things to note:
The addon will record your highest solo kills, for each character.
The latest 10 unique mob kills per character will be kept.
Normal and Elites mobs fall into different categories.
The addon checks that the rules are respected, but it is not infaillible.
Submit your kills at http://warcraftratings.com/underdog
And finally, if you want your kill to be verified, make sure you record it with your favourite streaming service, and then send us a link to the video recording.
WHAT THE ADDON IS FOR:
The Addon will keep track of your kills with the highest level difference.
It will ensure that you have not received help surviving the fight or killing the foe, and will allow you to export results to the Leaderboard.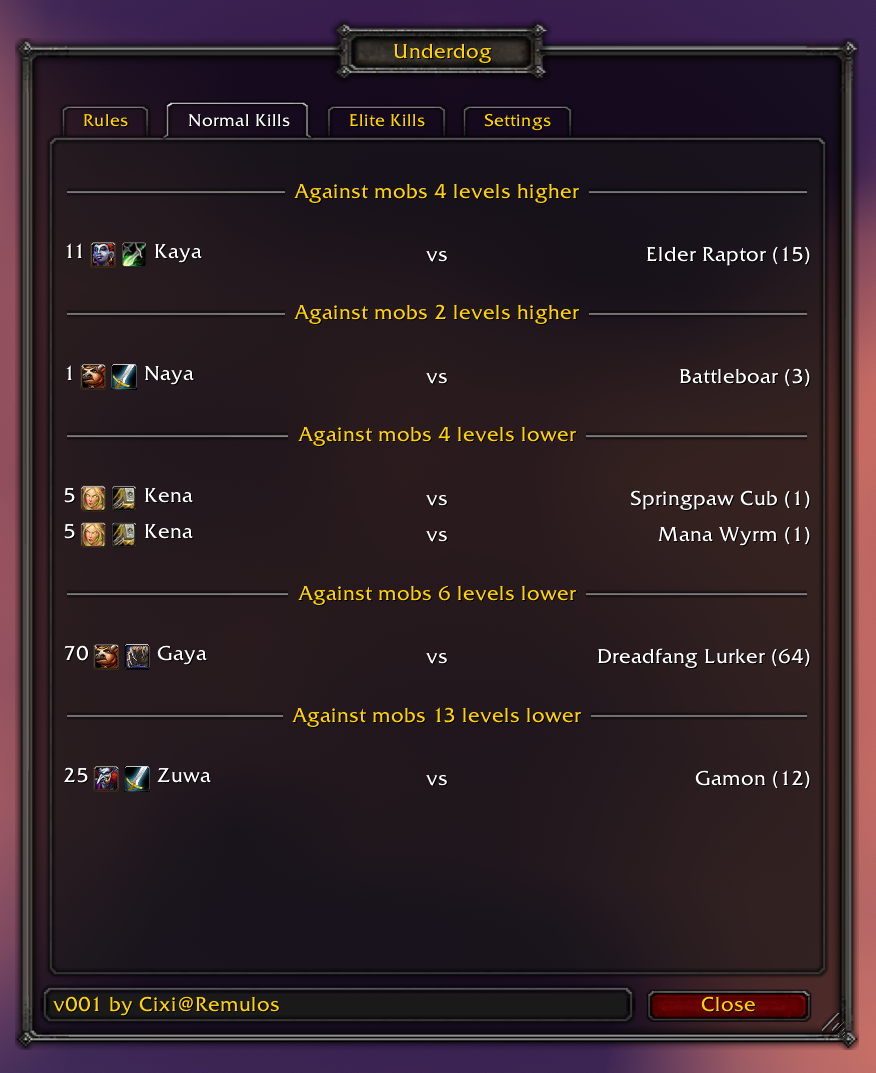 INSTALLATION:
– Copy the "Underdog" folder into your Wow Classic \Interface\AddOns\ folder
– Restart World of Warcraft Classic

HOW TO ACTIVATE:
Just type /underdog( or /ud) in chat to open the Underdog window.
Press [ESC] toc close it.

CONTACT:
Join our discord server to have a say in the direction of the addon
Submit bugs/suggestions/comments here: https://discord.gg/MpfDeBZ
Developing our addons and websites takes time and effort, and is a single-person job.
If you feel like participating in some way, you can donate to the cause 🙂


Huge thanks for downloading and using our addons, that's the best reward.
Good luck, have fun, and may the Earth Mother protect you all.
WarcraftRatings Website
Cixi / Gaya @Remulos Horde(Classic Oceanic server)