Earlier Versions
| | | | | | |
| --- | --- | --- | --- | --- | --- |
| 1.54 | 5138022 | Feb 23, 2019 | 8.1.0 | 13,962 | Download |
| 1.53 | 5117051 | Dec 21, 2018 | 8.1.0 | 12,712 | Download |
| 1.52 | 5096079 | Sep 12, 2018 | 8.0.1 | 15,134 | Download |
| 1.51 | 5064622 | Aug 25, 2018 | 8.0.1 | 6,779 | Download |
| 1.5 | 4991222 | Jul 26, 2018 | 8.0.1 | 6,563 | Download |
| 1.45 | 4991222 | Jan 30, 2018 | 7.3.5 | 8,159 | Download |
| 1.44 | 4980736 | Jan 10, 2018 | 7.3.0 | 3,392 | Download |
| 1.43 | 4959764 | Dec 27, 2017 | 7.3.0 | 2,611 | Download |
| 1.42 | 4938793 | Dec 18, 2017 | 7.3.0 | 2,203 | Download |
| 1.41 | 4896850 | Nov 26, 2017 | 7.3.0 | 2,552 | Download |
| 1.4 | 4875878 | Nov 16, 2017 | 7.3.0 | 1,646 | Download |
| 1.3 | 4833935 | Aug 31, 2017 | 7.3.0 | 3,069 | Download |
| 1.22 | 4823450 | Aug 19, 2017 | 7.2.5 | 1,638 | Download |
| 1.21 | 4823450 | Jun 27, 2017 | 7.2.5 | 2,084 | Download |
| 1.2 | 4771021 | Jun 20, 2017 | 7.2.5 | 868 | Download |
| 1.1 | 4655677 | Jun 15, 2017 | 7.2.5 | 238 | Download |
Description
DBM Voicepack in Korean Female (https://www.twitch.tv/mununyu)
This plug-in enhances Deadly Boss Mods (DBM) by voice guide.
How to setup
Install this addon to WoW addons folder
It requires DBM (Deadly Boss Mods), you should install DBM before installing this voicepack
Run WoW, open DBM setting by typing /dbm in game
Choose '무뉴뉴 (Korean Female)' voice pack in 'Spoken Alert' section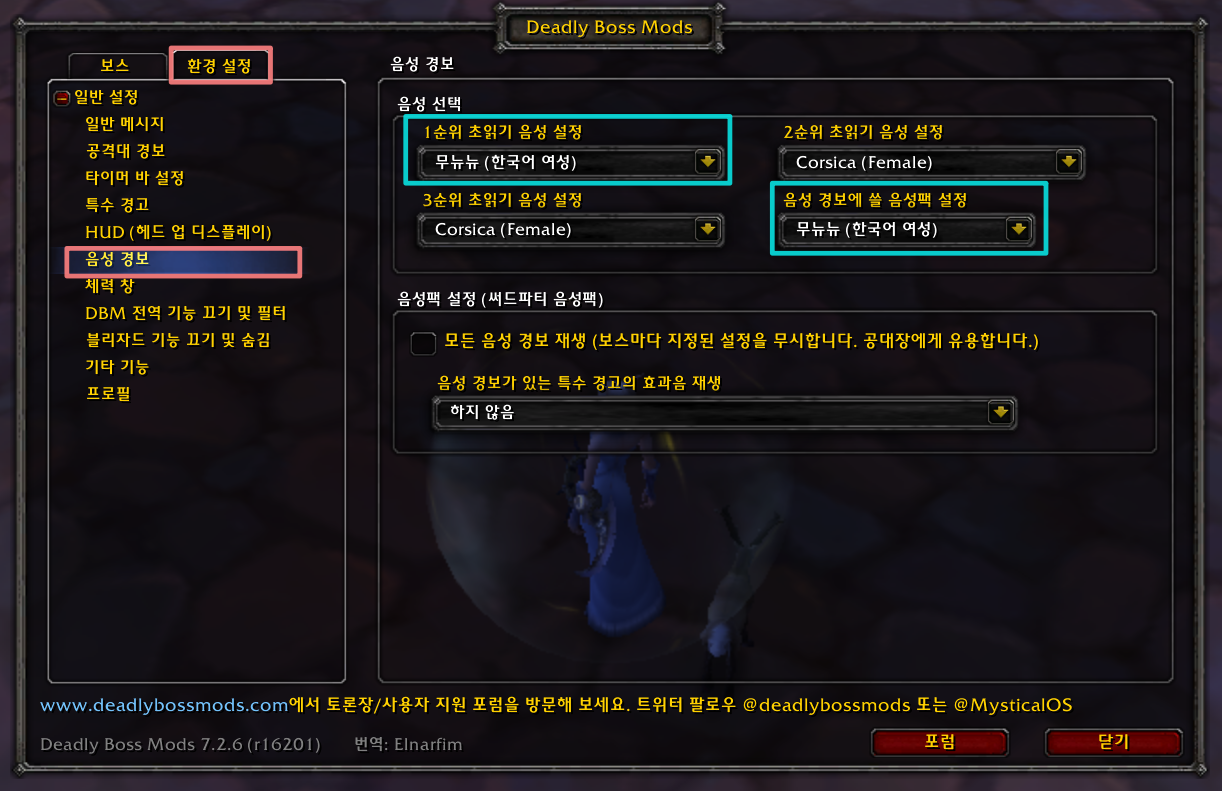 ---
트위치 스트리머 무뉴뉴 (인벤:Snowbunny / 루리웹:mununyu / 트위치:https://www.twitch.tv/mununyu) 님께서 음성을 자체 녹음한 것으로 저는 패키징과 업로드만 대행하고 있습니다
설치 후 DBM 설정창에서 아래 사진처럼 '음성 경보에 쓸 음성팩 설정' 옵션에서 음성팩을 지정해야 작동합니다.
풀링시(/pull) 카운트 음성을 무뉴뉴로 선택하려면 '1순위 초읽기 음성 설정' 옵션을 '무뉴뉴'로 지정해주시면 됩니다.
※ 음성 목록에서 무뉴뉴가 보이지 않을땐 마우스 휠을 스크롤 하시면 나옵니다.