Earlier Versions
| | | | | | |
| --- | --- | --- | --- | --- | --- |
| v1.0-20180531090254 release | 6.64 MB | May 31, 2018 | 7.3.5 | 727 | Download |
| v1.0-20180530090205 release | 6.62 MB | May 30, 2018 | 7.3.5 | 158 | Download |
| v1.0-20180529090310 release | 6.59 MB | May 29, 2018 | 7.3.5 | 171 | Download |
| v1.0-20180528090130 release | 6.56 MB | May 28, 2018 | 7.3.5 | 166 | Download |
| v1.0-20180527090107 release | 6.53 MB | May 27, 2018 | 7.3.5 | 145 | Download |
| v1.0-20180525090028 release | 6.47 MB | May 25, 2018 | 7.3.5 | 201 | Download |
| v1.0-20180524090044 release | 6.46 MB | May 24, 2018 | 7.3.5 | 141 | Download |
| v1.0-20180523090045 release | 6.43 MB | May 23, 2018 | 7.3.5 | 151 | Download |
| v1.0-20180522090158 release | 6.40 MB | May 22, 2018 | 7.3.5 | 162 | Download |
| v1.0-20180521090128 release | 6.37 MB | May 21, 2018 | 7.3.5 | 153 | Download |
| v1.0-20180520090048 release | 6.34 MB | May 20, 2018 | 7.3.5 | 172 | Download |
| v1.0-20180519085956 release | 6.30 MB | May 19, 2018 | 7.3.5 | 112 | Download |
| v1.0-20180518090201 release | 6.28 MB | May 18, 2018 | 7.3.5 | 142 | Download |
| v1.0-20180517090051 release | 6.25 MB | May 17, 2018 | 7.3.5 | 120 | Download |
| v1.0-20180516085947 release | 6.23 MB | May 16, 2018 | 7.3.5 | 163 | Download |
| v1.0-20180515090043 release | 6.20 MB | May 15, 2018 | 7.3.5 | 100 | Download |
| v1.0-20180514090031 release | 6.17 MB | May 14, 2018 | 7.3.5 | 144 | Download |
| v1.0-20180513085947 release | 6.14 MB | May 13, 2018 | 7.3.5 | 119 | Download |
| v1.0-20180512085918 release | 6.12 MB | May 12, 2018 | 7.3.5 | 128 | Download |
| v1.0-20180511085935 release | 6.09 MB | May 11, 2018 | 7.3.5 | 116 | Download |
| v1.0-20180510090047 release | 6.06 MB | May 10, 2018 | 7.3.5 | 122 | Download |
| v1.0-20180509085914 release | 6.04 MB | May 9, 2018 | 7.3.5 | 134 | Download |
| v1.0-20180508090006 release | 6.02 MB | May 8, 2018 | 7.3.5 | 141 | Download |
| v1.0-20180507085945 release | 5.98 MB | May 7, 2018 | 7.3.5 | 117 | Download |
| v1.0-20180506085903 release | 5.95 MB | May 6, 2018 | 7.3.5 | 110 | Download |
| v1.0-20180505085831 release | 5.91 MB | May 5, 2018 | 7.3.5 | 126 | Download |
| v1.0-20180504085855 release | 5.88 MB | May 4, 2018 | 7.3.5 | 124 | Download |
| v1.0-20180503085854 release | 5.86 MB | May 3, 2018 | 7.3.5 | 118 | Download |
| v1.0-20180502085759 release | 5.84 MB | May 2, 2018 | 7.3.5 | 115 | Download |
| v1.0-20180501085943 release | 5.79 MB | May 1, 2018 | 7.3.5 | 131 | Download |
| v1.0-20180430085849 release | 5.75 MB | Apr 30, 2018 | 7.3.5 | 95 | Download |
| v1.0-20180429090238 release | 5.70 MB | Apr 29, 2018 | 7.3.5 | 98 | Download |
| v1.0-20180428085842 release | 5.67 MB | Apr 28, 2018 | 7.3.5 | 125 | Download |
| v1.0-20180427085906 release | 5.63 MB | Apr 27, 2018 | 7.3.5 | 111 | Download |
| v1.0-20180426085800 release | 5.60 MB | Apr 26, 2018 | 7.3.5 | 109 | Download |
| v1.0-20180425085756 release | 5.57 MB | Apr 25, 2018 | 7.3.5 | 122 | Download |
| v1.0-20180424085925 release | 5.53 MB | Apr 24, 2018 | 7.3.5 | 118 | Download |
| v1.0-20180423085825 release | 5.49 MB | Apr 23, 2018 | 7.3.5 | 75 | Download |
| v1.0-20180422085814 release | 5.44 MB | Apr 22, 2018 | 7.3.5 | 122 | Download |
| v1.0-20180421090130 release | 5.39 MB | Apr 21, 2018 | 7.3.5 | 87 | Download |
| v1.0-20180420085728 release | 5.35 MB | Apr 20, 2018 | 7.3.5 | 118 | Download |
| v1.0-20180419133515 release | 5.31 MB | Apr 19, 2018 | 7.3.5 | 101 | Download |
| v1.0-20180417085909 release | 5.23 MB | Apr 17, 2018 | 7.3.5 | 154 | Download |
| v1.0-20180416085937 release | 5.20 MB | Apr 16, 2018 | 7.3.5 | 101 | Download |
| v1.0-20180415085932 release | 5.16 MB | Apr 15, 2018 | 7.3.5 | 103 | Download |
| v1.0-20180414085748 release | 5.11 MB | Apr 14, 2018 | 7.3.5 | 71 | Download |
| v1.0-20180413085800 release | 5.08 MB | Apr 13, 2018 | 7.3.5 | 122 | Download |
| v1.0-20180412085804 release | 5.05 MB | Apr 12, 2018 | 7.3.5 | 87 | Download |
| v1.0-20180411085828 release | 5.02 MB | Apr 11, 2018 | 7.3.5 | 111 | Download |
| v1.0-20180410223041 release | 4.98 MB | Apr 10, 2018 | 7.3.5 | 51 | Download |
| v1.0-20180410203808 release | 4.87 MB | Apr 10, 2018 | 7.3.5 | 21 | Download |
| v1.0-20180410085857 release | 4.96 MB | Apr 10, 2018 | 7.3.5 | 67 | Download |
| v1.0-20180409161701 release | 4.88 MB | Apr 9, 2018 | 7.3.5 | 60 | Download |
| v1.0-20180409131913 release | 4.93 MB | Apr 9, 2018 | 7.3.5 | 45 | Download |
| v1.0-20180408085730 release | 16.23 MB | Apr 8, 2018 | 7.3.5 | 121 | Download |
| v1.0-20180407210219 release | 16.05 MB | Apr 7, 2018 | 7.3.5 | 44 | Download |
| v1.0-20180407085704 release | 16.12 MB | Apr 7, 2018 | 7.3.5 | 75 | Download |
| v1.0-20180407023514 release | 16.00 MB | Apr 7, 2018 | 7.3.5 | 38 | Download |
| v1.0-20180406144051 release | 16.03 MB | Apr 6, 2018 | 7.3.5 | 61 | Download |
| v1.0-20180406134002 release | 16.02 MB | Apr 6, 2018 | 7.3.5 | 24 | Download |
| v1.0-20180406085844 release | 15.84 MB | Apr 6, 2018 | 7.3.5 | 19 | Download |
| v1.0-20180405221832 release | 15.84 MB | Apr 5, 2018 | 7.3.5 | 58 | Download |
| v1.0-20180405204414 release | 15.96 MB | Apr 5, 2018 | 7.3.5 | 22 | Download |
| v1.0-20180405195413 release | 15.94 MB | Apr 5, 2018 | 7.3.5 | 10 | Download |
| v1.0-20180405133650 release | 15.93 MB | Apr 5, 2018 | 7.3.5 | 48 | Download |
| v1.0-20180405113018 release | 15.91 MB | Apr 5, 2018 | 7.3.5 | 6 | Download |
| v1.0-201804050232 release | 15.87 MB | Apr 5, 2018 | 7.3.5 | 65 | Download |
| v1.0-20180405010615 release | 15.87 MB | Apr 4, 2018 | 7.3.5 | 18 | Download |
| v1.0-20180404085815 release | 15.87 MB | Apr 4, 2018 | 7.3.5 | 64 | Download |
| v1.0-20180403223015 release | 15.86 MB | Apr 3, 2018 | 7.3.5 | 45 | Download |
| v1.0-20180403180042 release | 15.78 MB | Apr 3, 2018 | 7.3.5 | 26 | Download |
| v1.0-20180403173219 release | 15.77 MB | Apr 3, 2018 | 7.3.5 | 7 | Download |
| v1.0-20180402223548 release | 15.70 MB | Apr 2, 2018 | 7.3.5 | 46 | Download |
| v1.0-20180401223701 release | 15.54 MB | Apr 1, 2018 | 7.3.5 | 56 | Download |
| v1.0-20180330223435 release | 15.33 MB | Mar 30, 2018 | 7.3.5 | 74 | Download |
| v1.0-20180330022327 release | 14.14 MB | Mar 30, 2018 | 7.3.5 | 74 | Download |
Description
We are going to take a break till bfa. This addon wont be updated anymore, until I rewrite some of our backend stuff.
Ruzzak
Mplus.gg will show you the M+ score and karma of any player you hover your mouse over.Also you have the option to show the score directly in the LFG Tool.  Additionally you will be presented a rating screen every time you finish a Mythic+ run, which you can use to rate the players you were playing with.
You can always track your score and past runs on our website: Mplus.gg
Coloring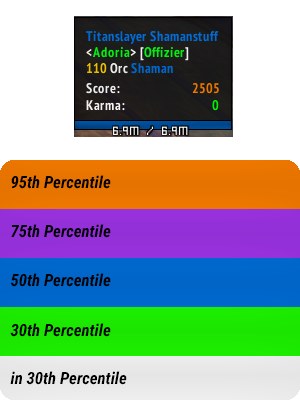 We use the well known item quality colors to visualize the score. The colors are not permanantly bound to a specific score, but rather to a percentile based system. Everytime the database is updated the required score for each bracket will be updated too. This way ensures that you can always trust the coloring and get a relative comparison between players, as keys are becoming easier to complete from week to week.  
Karma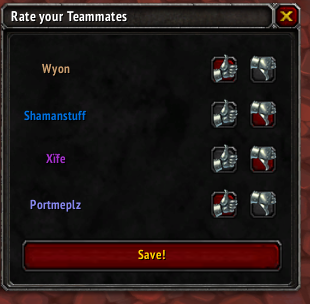 Karma is purely based on the ratings of your team mates. If your receive an upvote you will gain karma, if you receive a downvote you will lose karma. If the same player rates you multiple times the karma you receive will be reduced each time.
To rate your teammates follow these steps:
Activate the rating window in the addon settings under Interface > Addons > MplusGG (or use the Ingame Command /mplusgg activate)
Activate Advanced Combat Logging under System > Network > Advanced Combat Logging
Install the Mplus.gg Desktop Client available here: https://go.mplus.gg/client
Please note: The client is in open beta, issues might occur.
Please report all bugs either via Discord or on the Issue tracker on Github.