Earlier Versions
| | | | | | |
| --- | --- | --- | --- | --- | --- |
| PerfectDominance_Loot_Priority.zip release | 14.55 KB | Aug 18, 2020 | 1.13.5 | 0 | Download |
| PerfectDominance_Loot_Priority.zip release | 14.54 KB | Aug 9, 2020 | 1.13.5 | 84 | Download |
| PerfectDominance_Loot_Priority.zip release | 14.55 KB | Aug 2, 2020 | 1.13.5 | 68 | Download |
| PerfectDominance_Loot_Priority.zip release | 14.54 KB | Jul 30, 2020 | 1.13.5 | 27 | Download |
| PerfectDominance_Loot_Priority.zip release | 14.54 KB | Jul 26, 2020 | 1.13.5 | 69 | Download |
| PerfectDominance_Loot_Priority.zip release | 14.55 KB | Jul 23, 2020 | 1.13.5 | 50 | Download |
| PerfectDominance_Loot_Priority.zip release | 14.55 KB | Jul 22, 2020 | 1.13.5 | 46 | Download |
| PerfectDominance_Loot_Priority.zip release | 14.35 KB | Jun 5, 2020 | 1.13.4 | 90 | Download |
| PerfectDominance_Loot_Priority.zip release | 14.35 KB | Jun 2, 2020 | 1.13.4 | 50 | Download |
| PerfectDominance_Loot_Priority.zip release | 14.35 KB | May 29, 2020 | 1.13.4 | 54 | Download |
| PerfectDominance_Loot_Priority.zip release | 14.35 KB | May 28, 2020 | 1.13.4 | 41 | Download |
| PerfectDominance_Loot_Priority.zip release | 14.33 KB | May 26, 2020 | 1.13.4 | 43 | Download |
| PerfectDominance_Loot_Priority.zip alpha | 14.26 KB | May 26, 2020 | 1.13.4 | 9 | Download |
Description
Adds guild class/spec raid loot priority to ingame item tooltip. 
(Created for Perfect Dominance guild and the TROLLS (Tiered Rolls) Looting System we are using).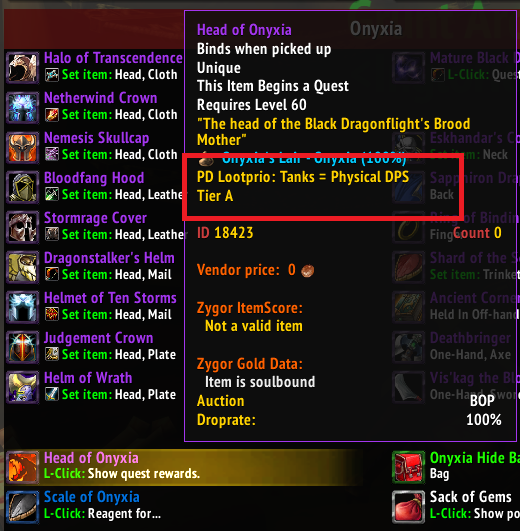 This addon adds PD Loot Prio to item tooltip for loot that have priority on it, so you can access guild raid loot information while ingame.
Using the addon everyone are able to check loot prio just by looking at the tooltip when loot drops.
The addon is mandatory for Master Looter in order to distribute loot correctly during raids.
It will say the priority if there is any, for example:
Mantle of the Blackwing Cabel from Razorgore: "PD Loot Prio: SPriest > Mage = Warlock"
This means Shadow priest have priority over mages and warlocks who would roll equally.
It adds the text "Tier A" if loot is distributed according to tiers.
The text "no tier prio" means everyone in the raid can roll equally using regular MS>OS rules.
See project images for examples taken from a few items ingame.
Tooltips are changed globally so you can see loot prio everywhere item tooltips are shown.