Earlier Versions
| | | | | | |
| --- | --- | --- | --- | --- | --- |
| RaidCDs v1.0.9 release | 23.43 KB | Jul 21, 2018 | 8.0.1 | 2,135 | Download |
| RaidCDs v1.0.8 release | 24.73 KB | Jul 14, 2018 | 8.0.1 +1 | 616 | Download |
| RaidCDs v1.0.7 release | 25.96 KB | Dec 16, 2016 | 7.1.0 | 1,754 | Download |
| RaidCDs 1.0.6 release | 25.89 KB | Aug 18, 2016 | 7.0.3 | 844 | Download |
| RaidCDs 1.0.5 release | 25.86 KB | Jul 29, 2016 | 7.0.3 | 284 | Download |
| RaidCDs 1.0.4 release | 26.30 KB | Jul 19, 2016 | 7.0.3 +1 | 226 | Download |
| RaidCDs 1.0.3 release | 25.85 KB | Oct 1, 2015 | 6.2.2 | 557 | Download |
| RaidCDs 1.0.2 release | 25.80 KB | Oct 1, 2015 | 6.2.2 | 116 | Download |
| RaidCDs 1.0.1 release | 25.78 KB | Jun 9, 2015 | 6.1.0 | 460 | Download |
| RaidCDs 1.0.0 release | 24.64 KB | May 19, 2015 | 6.1.0 | 162 | Download |
| RaidCDs 0.1.1 beta | 24.44 KB | May 6, 2015 | 6.1.0 | 168 | Download |
| RaidCDs 0.1.0 beta | 24.37 KB | May 6, 2015 | 6.1.0 | 56 | Download |
Description
Shows available Raid CDs and their remaining cooldown. Similar to TankCDs, but shows raid-wide damage mitigation and utility CDs instead of personal.
Makes use of LibGroupInSpecT functions to scan group member's specs and talents.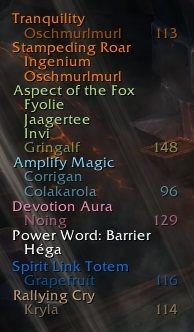 "/raidcds" to show command options (e.g. "/raidcds move" to move around).
Options are:
move: move the frame around
reset: reset position
toggle: show/hide the frame
hideself: show/hide the player's own CDs
showcr: show/hide combat rez timer
update: force a rescan of all raid members
Upon joining a group it may take a while for all CDs to show up.