Earlier Versions
| | | | | | |
| --- | --- | --- | --- | --- | --- |
| v3.0.2.8 release | 266.37 KB | Sep 4, 2019 | 8.1.5 | 786 | Download |
| v3.0.3.8 release | 266.37 KB | Sep 4, 2019 | 8.1.5 | 4 | Download |
| v3.0.2.7 release | 266.80 KB | Jun 7, 2019 | 8.1.5 | 1,948 | Download |
| v3.0.2.6 release | 266.84 KB | May 31, 2019 | 8.1.5 | 552 | Download |
| v3.0.2.5 release | 266.82 KB | May 31, 2019 | 8.1.5 | 53 | Download |
| v3.0.2.4 release | 267.14 KB | May 31, 2019 | 8.1.5 | 76 | Download |
| v3.0.2.3 release | 266.45 KB | May 30, 2019 | 8.1.5 | 124 | Download |
| v3.0.2.2 release | 267.03 KB | May 28, 2019 | 8.1.5 | 309 | Download |
| v3.0.2.1 release | 267.03 KB | May 28, 2019 | 8.1.5 | 9 | Download |
| v3.0.2 release | 267.02 KB | May 28, 2019 | 8.1.5 | 96 | Download |
| v3.0.1 release | 271.41 KB | May 26, 2019 | 8.1.5 | 291 | Download |
| v3.0.0 release | 254.77 KB | May 25, 2019 | 8.1.5 | 64 | Download |
| v2.0.8 release | 249.96 KB | May 19, 2019 | 8.1.5 | 404 | Download |
| v2.0.7 release | 249.99 KB | May 18, 2019 | 8.1.5 | 193 | Download |
| v2.0.6 release | 249.91 KB | May 16, 2019 | 8.1.5 | 254 | Download |
| v2.0.5 release | 249.91 KB | May 12, 2019 | 8.1.5 | 219 | Download |
| v2.0.4 release | 250.03 KB | May 12, 2019 | 8.1.5 | 51 | Download |
| v2.0.3 release | 249.97 KB | May 12, 2019 | 8.1.5 | 88 | Download |
| v2.0.2 release | 250.25 KB | Apr 30, 2019 | 8.1.5 | 367 | Download |
| GuildRecruiter v2.0.1 release | 257.39 KB | Apr 25, 2019 | 8.1.5 | 249 | Download |
| GuildRecruiter v2.0.0 release | 258.19 KB | Apr 24, 2019 | 8.1.5 | 76 | Download |
| v3.0.0-beta beta | 254.58 KB | May 25, 2019 | 8.1.5 | 11 | Download |
Description
Before you download: This is not SGI or SGI Reborn! This addon does not invite. It only sends whispers.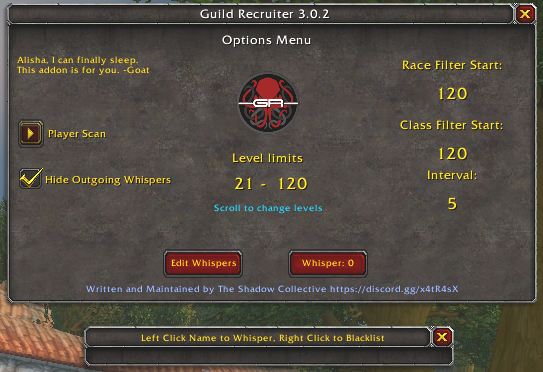 What this addon does:
Scans the game for unguilded players and displays them in a list for you.

Allows you to left click player names and whisper them with a recruitment message.

Allows you to right click a player name and add them to a blacklist.

Allows you to set 3 separate guild recruitment whispers to be randomly sent to players.

Allows you to filter players by race and/or class.

Adds an "Invite to Guild" option to the right click menu.

Gives you the option to hide outgoing whispers so that your chat window doesn't fill with your whisper spam.
Again, this addon does not invite players to your guild. It will only whisper them.
 Support: https://shadowco.io
When posting bugs, please let me know what you were doing when the error occurred, what version of the addon you were using, and if possible what other addons you are running. 
We have started to notice that some addons are causing conflicts and we'd like to narrow it down to which ones.
Good Luck Recruiting!