Earlier Versions
| | | | | | |
| --- | --- | --- | --- | --- | --- |
| v3.0.2.2 | 280001249 | May 28, 2019 | 8.1.5 | 291 | Download |
| v3.0.2.1 | 280001249 | May 28, 2019 | 8.1.5 | 8 | Download |
| v3.0.2 | 279990764 | May 28, 2019 | 8.1.5 | 92 | Download |
| v3.0.1 | 284594012 | May 26, 2019 | 8.1.5 | 285 | Download |
| v3.0.0 | 267145708 | May 25, 2019 | 8.1.5 | 61 | Download |
| v2.0.8 | 262102057 | May 19, 2019 | 8.1.5 | 387 | Download |
| v2.0.7 | 262133514 | May 18, 2019 | 8.1.5 | 188 | Download |
| v2.0.6 | 262049628 | May 16, 2019 | 8.1.5 | 253 | Download |
| v2.0.5 | 262049628 | May 12, 2019 | 8.1.5 | 217 | Download |
| v2.0.4 | 262175457 | May 12, 2019 | 8.1.5 | 50 | Download |
| v2.0.3 | 262112543 | May 12, 2019 | 8.1.5 | 87 | Download |
| v2.0.2 | 262406144 | Apr 30, 2019 | 8.1.5 | 364 | Download |
| GuildRecruiter v2.0.1 | 269892977 | Apr 25, 2019 | 8.1.5 | 245 | Download |
| GuildRecruiter v2.0.0 | 270731837 | Apr 24, 2019 | 8.1.5 | 70 | Download |
| v3.0.0-beta beta | 266946478 | May 25, 2019 | 8.1.5 | 8 | Download |
Description
Version 3.0.2 is out and with it some changes.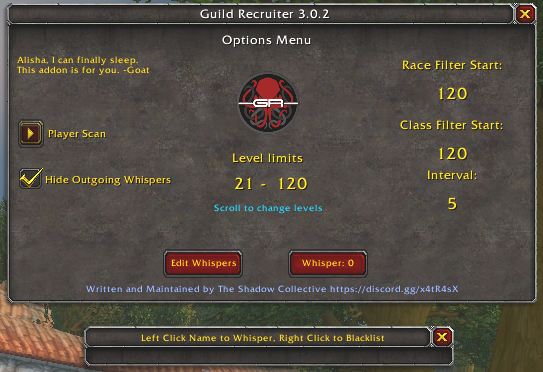 I really think this is the final form. I apologize for all the constant changes, but I'm new to this and a little OCD. I removed the checkboxes for the Advanced Scan Options and the Background Scan. They didn't really work anyway. Race Filter, Class FIlter, and Interval options are now static. The Player Scan Button is now static… and is currently how you start and stop a scan. Also, pressing the play button will bring up your Whisper List. Having a Scan button seemed redundant to me. So I removed it. It'll probably be a long time before I do anything with the blacklist, so I removed that button as well.
I created a separate addon for auto grats and guild welcoming, so I removed those options as well. Filtering is gone. It will come back sometime in the future… for now, it didn't work correctly and the windows looked stupid. So it's gone.
The biggest thing you are going to notice is that the "Hide Outgoing Whispers" option now works. Someone requested it, so I did my best to provide it in a timely manner.
Here in the next few days, I will be cleaning up code to the best of my ability. I'm going to be removing unnecessary files and redundant code. My code is sloppy. I'm new to this.
I will be making changes to the way people are added to the blacklist. I recruit on a connected realm. I want real names (Name-Server) for everyone in my blacklist, not just some. I will be working on a way to display the blacklist in an easy to read fashion. I also want to be able to manually add and remove people… and a way to keep people on the list permanently. At this current moment, I'm working on a way to sync blacklists between guildies. I have multiple people recruiting and this is a necessity for us.
Oh! And no more bright green stuff! I'm pretty sure I fixed all the textures so you don't see that bright green stuff anymore.
New Look!
Logo fixed in 3.0.1 although you'll have to restart wow to get rid of the green box.
Version 2.0.7
Fix by Beezknees for the issue some people where having when trying to edit whispers.
Thank you!
Version 2.0.5
What this addon does:
Scans the game for unguilded players and displays them in a list for you.

Allows you to left click player names and whisper them with a recruitment message.

Allows you to right click a player name and add them to a blacklist.

Allows you to set 3 separate guild recruitment whispers to be randomly sent to players.

Allows you to filter players by race, class, and level.

Allows you to set custom filters.

Adds an "Invite to Guild" option to the right click menu.

Gives you the option to automatically welcome new members to the guild (enabled by default.)

Give you the option to autograts guild members for achievements (disabled by default)
This addon does not invite players to your guild. It will only whisper them.
— Currently working on implementing a way to block outgoing whispers from showing in the chat window.
— Working on changing the GUI.
For support please visit https://discord.gg/x4tR4sX and post in the GuildRecruiter Addon category.
When posting bugs, please let me know what you were doing when the error occurred, what version of the addon you were using, and if possible what other addons you are running. 
We have started to notice that some addons are causing conflicts and we'd like to narrow it down to which ones.
If you like my work, please let me know @ https://discord.gg/x4tR4sX or send a few dollars my way @ https://paypal.me/goataraz
Any support is appreciated.
Good Luck Recruiting!