Earlier Versions
| | | | | | |
| --- | --- | --- | --- | --- | --- |
| UnclaimedChest-9.0.2-001 release | 9.25 KB | Nov 27, 2020 | 9.0.2 | 0 | Download |
| 0.2.0 release | 9.17 KB | Jan 8, 2020 | 8.2.5 | 51 | Download |
| 0.1.1 release | 9.00 KB | Jan 3, 2020 | 8.2.5 | 16 | Download |
| 0.1.0 release | 9.03 KB | Jan 3, 2020 | 8.2.5 | 7 | Download |
| 0.0.3 release | 8.54 KB | Jan 3, 2020 | 8.2.5 | 7 | Download |
| 0.0.1 release | 8.52 KB | Jan 3, 2020 | 8.2.5 | 8 | Download |
| 0.0.2-beta beta | 8.54 KB | Jan 3, 2020 | 8.2.5 | 8 | Download |
Description
Mythic+ Unclaimed Chests
This is a small LibDataBroker addon that provides data on your characters unclaimed mythic+ chests.
This addon will track every character, above level 120.
On each of those characters, it will show the state of the chest as either:
incomplete – You still need to complete a mythic this week
complete – You have completeted a key, but waiting for reset
claimable – You have a claimable mythic+ chest on this character.
FAQ
The addon is still new, so little testing has been done.
If you do have any issues though, you can leave an issue on github, or ping me on discord (psykzz#4695).
Images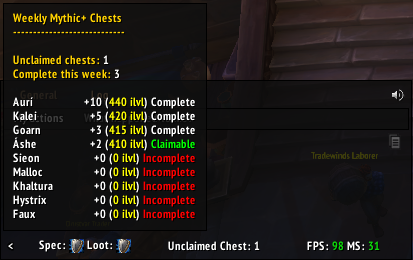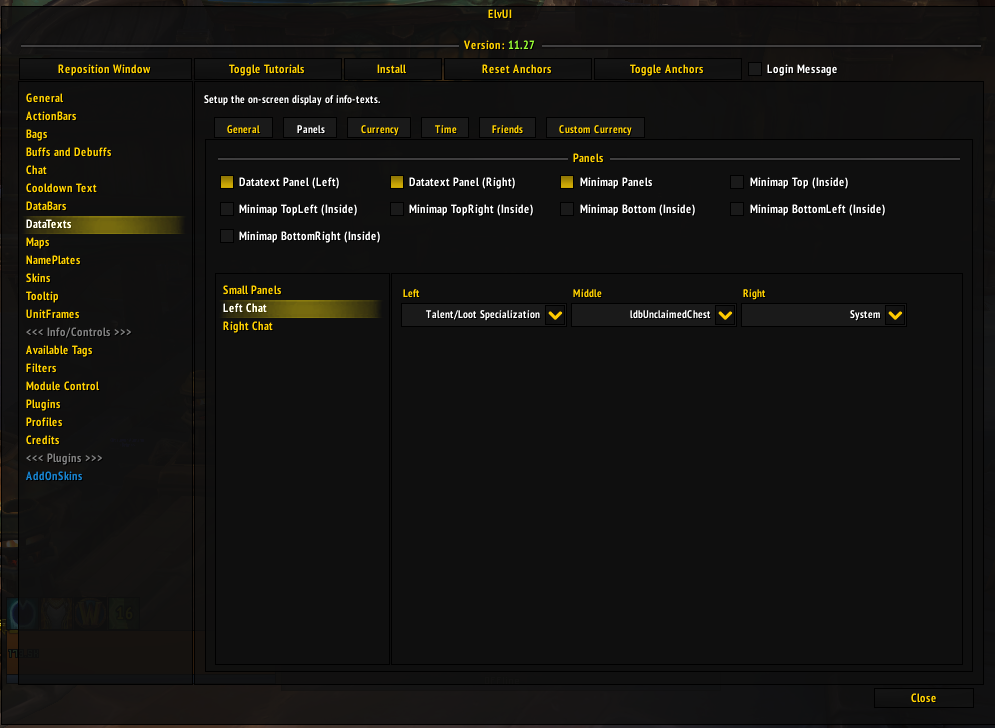 Other links