Earlier Versions
| | | | | | |
| --- | --- | --- | --- | --- | --- |
| v9.2.5 - Retail release | 640.23 KB | Jun 6, 2022 | 9.2.5 | 503 | Download |
| v2.5.161 - TBC release | 640.64 KB | Jul 19, 2021 | 2.5.1 | 9,555 | Download |
| v9.1.11 - Retail release | 640.64 KB | Jul 19, 2021 | 9.1.0 | 19,101 | Download |
| v1.13.78.1 - Classic release | 640.64 KB | Jul 19, 2021 | 1.13.7 | 659 | Download |
| v2.5.16 - TBC release | 640.65 KB | Jul 15, 2021 | 2.5.1 | 1,394 | Download |
| v9.1.1 - Retail release | 640.65 KB | Jul 15, 2021 | 9.1.0 | 6,873 | Download |
| v1.13.78 - Classic release | 640.65 KB | Jul 15, 2021 | 1.13.7 | 176 | Download |
| v2.5.15 - TBC release | 640.64 KB | Jul 5, 2021 | 2.5.1 | 2,115 | Download |
| v1.13.77 - Classic release | 640.64 KB | Jul 5, 2021 | 1.13.7 | 147 | Download |
| v9.1.0 - Retail release | 640.64 KB | Jul 5, 2021 | 9.1.0 | 8,781 | Download |
| v1.13.76 - classic fix release | 640.55 KB | Jun 12, 2021 | 1.13.7 | 219 | Download |
| v3.6.21 - Retail fix release | 640.55 KB | Jun 12, 2021 | 9.0.5 | 11,362 | Download |
| v2.5.14 - tbc fix release | 640.55 KB | Jun 12, 2021 | 2.5.1 | 3,257 | Download |
| v3.6.21 - Retail release | 640.60 KB | Jun 11, 2021 | 9.0.5 | 1,767 | Download |
| v2.5.14 - tbc release | 640.60 KB | Jun 11, 2021 | 2.5.1 | 894 | Download |
| v1.13.76 - classic release | 640.60 KB | Jun 11, 2021 | 1.13.7 | 108 | Download |
| v2.5.13 fix 2 - tbc release | 640.63 KB | May 23, 2021 | 2.5.1 | 3,483 | Download |
| v1.13.75 fix 2 - classic release | 640.63 KB | May 23, 2021 | 1.13.7 | 332 | Download |
| v3.6.2s fix 2 - Retail release | 640.63 KB | May 23, 2021 | 9.0.5 | 8,054 | Download |
| v2.5.13 fix - tbc release | 640.75 KB | May 23, 2021 | 2.5.1 | 451 | Download |
| v1.13.75 fix - classic release | 640.75 KB | May 23, 2021 | 1.13.7 | 117 | Download |
| v3.6.2s fix - Retail release | 640.75 KB | May 23, 2021 | 9.0.5 | 907 | Download |
| v1.13.75 - classic release | 640.74 KB | May 22, 2021 | 1.13.7 | 165 | Download |
| v3.6.2s - Retail release | 640.74 KB | May 22, 2021 | 9.0.5 | 1,650 | Download |
| v2.5.13 - tbc release | 640.74 KB | May 22, 2021 | 2.5.1 | 898 | Download |
| v3.6.2 Update - Retail release | 640.53 KB | May 18, 2021 | 9.0.5 | 6,079 | Download |
| v2.5.12 Update - tbc release | 640.53 KB | May 18, 2021 | 2.5.1 | 2,438 | Download |
| v1.13.74 Update - classic release | 640.53 KB | May 18, 2021 | 1.13.7 | 2,393 | Download |
| v1.13.74 release | 640.57 KB | May 14, 2021 | 1.13.7 | 980 | Download |
| v2.5.12 release | 640.58 KB | May 14, 2021 | 2.5.1 | 125 | Download |
| v3.6.2 release | 640.58 KB | May 14, 2021 | 9.0.5 | 4,391 | Download |
| v1.13.73 release | 565.68 KB | May 10, 2021 | 1.13.7 | 1,257 | Download |
| v2.5.11 release | 565.68 KB | May 10, 2021 | 2.5.1 | 158 | Download |
| v3.6.1 release | 565.68 KB | May 10, 2021 | 9.0.5 | 5,622 | Download |
| v1.13.72 release | 565.69 KB | May 8, 2021 | 1.13.7 | 868 | Download |
| v2.5.1 release | 565.69 KB | May 8, 2021 | 2.5.1 | 170 | Download |
| v3.6 release | 565.69 KB | May 8, 2021 | 9.0.5 | 3,708 | Download |
| v3 - 0.5.6 Small Update release | 472.52 KB | Jan 4, 2021 | 9.0.2 | 18,056 | Download |
| v3 - 0.5.6 Minor Fix release | 472.47 KB | Dec 29, 2020 | 9.0.2 | 7,902 | Download |
| vClassic v0.3 release | 472.45 KB | Dec 25, 2020 | 1.13.6 | 4,016 | Download |
| v3 - 0.5.6 release | 472.44 KB | Dec 25, 2020 | 9.0.2 | 7,416 | Download |
| v3 - 0.5.5 release | 472.44 KB | Dec 7, 2020 | 9.0.2 | 10,527 | Download |
| v3 - 0.5 Minor Fix release | 472.44 KB | Nov 21, 2020 | 9.0.2 | 7,417 | Download |
| vClassic v0.2 Minor Fix release | 472.44 KB | Nov 21, 2020 | 1.13.5 | 2,789 | Download |
| v3 - 0.5 Hot Fix release | 472.36 KB | Nov 20, 2020 | 9.0.2 | 2,135 | Download |
| vClassic v0.2 Hot Fix release | 472.37 KB | Nov 20, 2020 | 1.13.5 | 536 | Download |
| v3 - 0.5 release | 472.29 KB | Nov 19, 2020 | 9.0.2 | 1,123 | Download |
| vClassic v0.2 release | 472.30 KB | Nov 19, 2020 | 1.13.5 | 409 | Download |
| v3 - 0.4 Update release | 472.17 KB | Nov 18, 2020 | 9.0.2 | 1,460 | Download |
| vClassic v0.1 Update release | 472.18 KB | Nov 18, 2020 | 1.13.5 | 428 | Download |
| vClassic v0.1 release | 472.17 KB | Nov 17, 2020 | 1.13.5 | 466 | Download |
| v3 - 0.4 release | 472.19 KB | Nov 17, 2020 | 9.0.1 | 1,883 | Download |
| v3 - 0.3 release | 471.77 KB | Nov 16, 2020 | 9.0.1 +1 | 614 | Download |
| v3 - 0.2 release | 694.27 KB | Nov 4, 2020 | 9.0.1 +1 | 1,873 | Download |
| v9.0.1 v2 release | 695.93 KB | Oct 25, 2020 | 9.0.1 +1 | 1,774 | Download |
| Updated 9.0.1 release | 695.82 KB | Oct 14, 2020 | 9.0.1 +1 | 2,107 | Download |
| Quick Update release | 695.21 KB | Apr 16, 2020 | 1.13.4 +1 | 17,500 | Download |
| v3-.01 release | 695.21 KB | Apr 15, 2020 | 1.13.4 +1 | 1,790 | Download |
| v3 Test release | 695.17 KB | Apr 15, 2020 | 1.13.4 +1 | 339 | Download |
| CrossGambling.zip release | 694.88 KB | Nov 30, 2019 | 8.2.5 +1 | 7,274 | Download |
| v2 Test release | 694.96 KB | Nov 26, 2019 | 8.2.5 +1 | 914 | Download |
| CrossGambling release | 9.62 KB | Oct 21, 2019 | 8.2.5 +1 | 2,527 | Download |
| V0.3 Test release | 9.62 KB | Sep 16, 2019 | 8.2.0 +1 | 2,050 | Download |
| V0.2 Test release | 9.94 KB | Sep 15, 2019 | 8.2.0 +1 | 207 | Download |
| V0.1 Test release | 9.90 KB | Sep 15, 2019 | 8.2.0 +1 | 240 | Download |
| 8.2.0 / 1.13.2 release | 9.84 KB | Sep 15, 2019 | 8.2.0 +1 | 157 | Download |
| 8.0.1-8 release | 9.47 KB | Aug 2, 2018 | 8.0.1 | 28,574 | Download |
| 8.0.1-7 release | 9.34 KB | Jul 23, 2018 | 8.0.1 | 7,657 | Download |
| 8.0.1-6 release | 9.27 KB | Jul 21, 2018 | 8.0.1 | 4,525 | Download |
| 8.0.1-4 release | 9.01 KB | Jul 20, 2018 | 8.0.1 | 3,479 | Download |
| v8.0.1 release | 9.01 KB | Jul 20, 2018 | 8.0.1 | 2,082 | Download |
| Cross Gambling v.05 release | 8.84 KB | Jul 24, 2015 | 6.2.0 | 37,269 | Download |
| Cross Gambling v.04 release | 8.64 KB | Mar 17, 2015 | 6.1.0 | 4,864 | Download |
| Cross Gambling v.04 release | 8.65 KB | Mar 17, 2015 | 6.1.0 | 344 | Download |
| Cross Gambling v.03 release | 8.65 KB | Nov 8, 2014 | 6.0.3 | 2,878 | Download |
| Cross Gambling v.02 release | 8.71 KB | Nov 8, 2014 | 6.0.3 | 646 | Download |
| Cross Gambling v.01 release | 8.66 KB | Nov 8, 2014 | 6.0.3 | 460 | Download |
| v1 New Start beta | 694.56 KB | Nov 22, 2019 | 8.2.5 +1 | 220 | Download |
Description
If you wish to support this project and have me continue to update it and add new features you can donate here.


Looking for translators for addon
---
.:Description:.
This is a gambling addon that requires users to roll the amount of gold they wish to bet.
The winnings and losses are calculated from the difference between the highest and lowest numbers rolled.
Now with a new chat function so you can play in secret with out running it for the rest of your group with clutter.
More features to come!
---
.:Instructions:.


To start a game is pretty simple, you set an amount where the "100" is, then you can go ahead and press "Host Game" this is a one time thing to make sure you're the host, after that you only have to hit "New Game" every time. It will ask if you want to join, you can either Press "Join Game" or type 1 in chat, to leave the game you can press "Leave Game" or type -1 in chat. Then the host of the game can press "Lastcall" to see if any more people wanna join, after that they will press "Start Rolling" if you press "Start Rolling" a second time it will let you know who hasn't rolled yet. From here you can either /roll (Number) or press "Roll Me" to continue the game, the game will then report in chat the results. You can also change which chat you're playing by simple clicking "Party" and there is different game modes, to change them just press "< Game Mode >" Example of a game played in Silent Chat: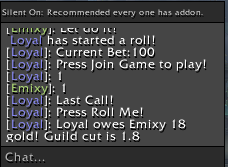 Now if you wish to have your guild take a cut of the profit you can turn on guild cut and set a percentage of what the guild will take from the winnings. Simple click "Guild Cut (ON)" or "Guild Cut (OFF)" depending on which you want to do and the game will auto detect it.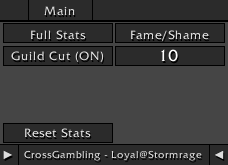 This is a new example of the roll interface, here you can track the rolls of everyone who is entered into the game, to open this menu you simple have to click on the "Arrow" on the left hand bottom side of the game. This does not have to be open though for the game to track properly. But will be needed if you want to see the rolls in Silent Mode.
This is the chat feature, you can simple open it by clicking the "Arrow" on the bottom right hand side, by doing so you are turning on Silent chat mode, which will allow you to play the game in Silent, it is recommended that if you're using this chat mode that all other players are using it as well, you can gamble inside of it and also chat inside of it just like you would normally but with out disturbing that rest of the group.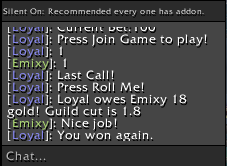 ---

.:CrossGambling Commands:.
/CrossGambler

– Show command list
/CG

– Show command list
/CG

show – Show's the UI
/CG

hide – Close the UI if unable to click the X
/CG

reset – Resets the addon (incase games bugs)
/CG

resetstats – Resets the stat tracker on wins / losses
/CG

joinstats [main] [alt] – Join the two character's win/loss amounts on stat tracker
/CG

unjoinstats [alt] – Unjoins the Alt from whomever it's attached to
/CG

ban – Ban players from joining
/CG unban – Unbans a previously banned player
/CG

banlist – Check the list of those who are banned
/CG

removelastroll – removes the last roll
---
---
---